Published on February 3rd, 2016 in: Eulogy, Music, Today In Pop Culture |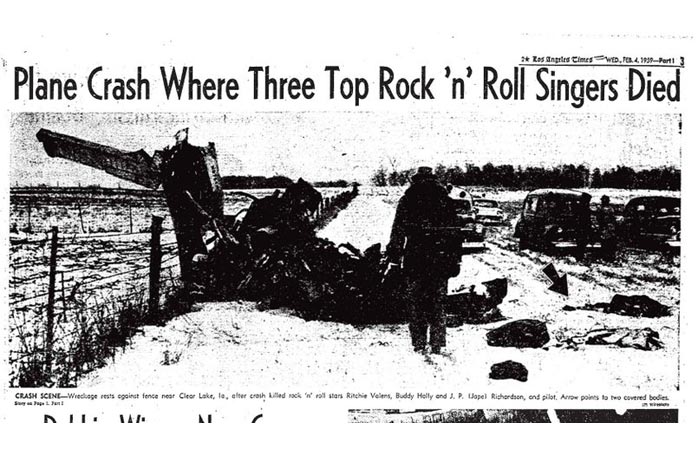 Dear rock and roll musicians:
Please stop using air travel.
Thanks,
Everybody
This is The Day The Music Died.
Not all of it, obviously, but a pretty good chunk of it. Buddy Holly, Ritchie Valens, and J.P. "The Big Bopper" Richardson and their pilot, Roger Peterson, all perished when their small aircraft went down in freezing fog near Clear Lake, Iowa. Being Iowa, the plane crashed in a cornfield.
The plane was filled with some of the greatest rock and roll performers of the time, perhaps of all time.
Buddy Holly had just dumped his backing band, the Crickets, the year before and had put together a new backing band. His bass player was future country outlaw legend, Waylon Jennings. Jennings was almost on that plane, too. He ended up giving his seat to the Big Bopper, who was ill and didn't want to take the tour bus, in which the heater had gone out.
Jennings felt survivor's guilt about the crash, especially since he had joked with Holly about the plane going down, right before they took off.
Ritchie Valens' career was just starting to build up steam when he boarded that plane. He had a couple of hits, the largest one being "La Bamba," which he adapted from a Mexican folk song. Valens pioneered the Mexican rock sound that inspired such artists as Los Lobos, Tito Larriva, and filmmaker Robert Rodriguez. Valens was only 17 when that plane went down.
J.P. "The Big Bopper" Richardson was 28 at the time of the crash, but Valens had more big hits than he did. Age isn't an indicator of talent or taste, but the Bopper's biggest hit, "Chantilly Lace," is still known today. One wonders if Richardson got his style from Jerry Lee Lewis or if it was the other way around. They both had a way of talking through their songs and referring to themselves in the third person. He was one of the first rockabilly stars, paving the way for modern acts like Jason and the Scorchers and Robert Gordon.
Not only did Buddy Holly look just like Buddy Holly, he was the one and only Buddy Holly. His thick-rimmed glasses, his love of the Fender guitar, and his distinctive vocals made him a star. Songs like "That'll Be the Day," "Peggy Sue," and "Not Fade Away" topped the charts.
There's no way to gauge Holly's effect on rock and roll. You can hear a little bit of his influence in such disparate bands as the Ramones and Tom Petty & the Heartbreakers. He had an instinctive understanding of the power of three-chord rock, but wasn't afraid to push the boundaries of the genre. "Everyday," another of Holly's hits, was driven by the celesta instead of the guitar. The percussion was provided by drummer Jerry Allison slapping his hands against his lap. Certainly not the standard set up for a jukebox single, but it was a hit.
That song was covered by such different artists as James Taylor, John Denver, Fiona Apple, and Don McLean. McLean was also the man behind the epic song, "American Pie," which commemorated the plane crash, although in vague and mysterious language.
The plane crash in that cold cornfield is one of those breaking points in music history. What could have happened if it had never happened? Valens and Holly were stretching the bars of the rock and roll jails they were in. Could we have had more Mexican rock and roll earlier had Valens lived? Would the Beatles have even bothered forming had Holly lived? His influence on them is obvious and long-lasting.
Then again, maybe rock and roll is better off that those folks passed away when they did. It's a strange thing to say, but that plane crash was the final stab in the heart of what we think of as Fifties music. One wonders if the Sixties would have progressed in the direction they did had those guys not died. Would we have had psychedelia? Would we have been trapped in another decade of doo-wop and easy listening?
Speculation, speculation.
But it somehow makes it rest easier on my heart to think that The Day the Music Died may actually have been The Day the Music was Reborn.