Published on January 29th, 2016 in: Current Faves, Music, Music Reviews, Reviews |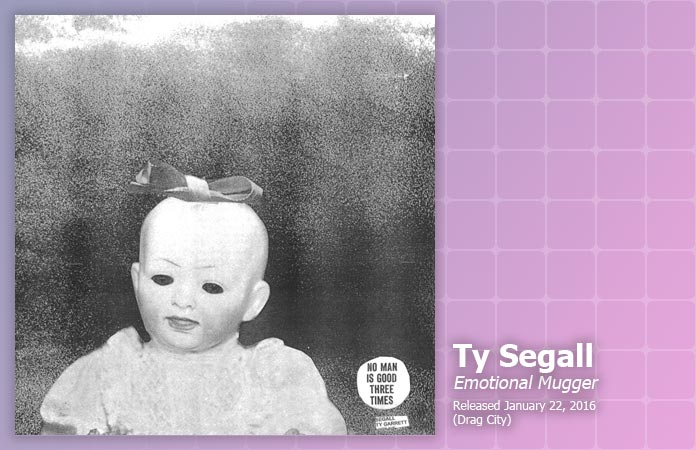 American nightmare, guilty generation / fingers on the pulse of their parents' alienation / from the history, histories of Western civilization
–Ty Segall, "California Hills"
There was a 1987 SPIN magazine cover story on David Bowie called "What Next, Put Together Man?" and while I can't recall the article's content exactly, that question has lingered in my brain ever since. At the time I was only just beginning to grasp the depth and breadth of Bowie's shape-shifting abilities, and it took me years to fully understand the significance of that particular query.
It's a fair question to ask of Ty Segall, who at 28, is around the same age as Bowie was when he released Young Americans. Over eight years, Segall has released dozens of EPs, albums, and singles through various personas, and while none may have been as genre smashing as Ziggy Stardust, Aladdin Sane, or The Thin White Duke, he certainly seems to have an appetite for gobbling up as many different rock and roll genres as he possibly can.
With Manipulator, his last full-length release under the "Ty Segall" name, he finally gave us that album we'd all been waiting for, the kind Bowie himself was so fond of making: songs that fit together to form a more perfect union (though many fans, including me, felt it was a little too long).
Now he's released Emotional Mugger, a semi-concept album, based loosely on the suggestion that Internet culture has made us all shallow, superficial and self-absorbed. It's a potent idea, one amplified by the fact that the word "mugger" has two meanings, either exaggerated physical displays for humorous effect or a burglary committed through extreme violence.
Whether this promise is fulfilled from a lyrical standpoint is difficult to state; for the first time in a long time, there were no lyrics provided with this release. What does bind the songs on Emotional Mugger together is a nervous energy that we haven't heard before from Segall, a kind of high-pitched neurosis that feels extremely uncomfortable and difficult to parse upon first listen. (If the creepy cover art is anything to go by, Segall might be implying that if you give a man a mask, he'll tell you the truth.) Yet, by the second go-round, distinctive Segall-esque melodies are soon revealed, insinuating themselves in your brain like so many neuritic plaques.
Though he borrows from a host of others, there's no mistaking a Ty Segall record. There are those melodies, yes, but also that idiosyncratic faux-English voice, which here is alternated with a throaty growl that you feel in your groin. Emotional Mugger is as close to pure Ty Segall as we've gotten thus far. It's more cohesive and focused than Manipulator, more tonally consistent, and not at all what I was expecting, 11 tracks of treble fuzz and insistent, stuttering melodies, including a riveting cover of The Equals' "Diversion," a thematic reverse of REM's "The One I Love."
That's not to say that the Bowie vibes found on Manipulator aren't present on Emotional Mugger, but if anything, there's more T. Rex here, particularly "Leopard Priestess" and "Squealer Man," the latter of which sounds like late-period Bolan with Gloria Jones on backup vocals. It's almost raunchy, far sweatier and sexier than anything Segall's ever done. And in that vein, what are we to make of a song called "Big Baby Man (I Need a Mommy)"? This isn't the straightforward scene we wandered into on Manipulator's "Stick Around," that's for sure.
Despite the not-so-peaceful and uneasy feelings on the album, Segall is a hook junkie (and apparently has a massive sweet tooth for something). "Candy Sam" might be the best track in an album full of remarkable ones, a song about—what else?—candy that stands out because you can't dampen that bubble-gum enthusiasm no matter how much treble fuzz you throw on.
In a post-Bowie world, we've still got Ty Segall, and though Bowie left behind his glam trappings decades ago, it's still a viable genre. Like band mates and friends/collaborators Wand, Segall is often lumped in with nouveaux garage rock or psych, but the silver lipstick he's been sporting lately is more than just retro fashion sense. Emotional Mugger feels like new-millennium glam rock, and by the dark gods, we need it now more than ever.
Emotional Mugger was released by Drag City on January 22.