Published on January 29th, 2016 in: Matshifter, Pro Wrestling, Reviews, Sports, TV, TV Reviews, Underground/Cult |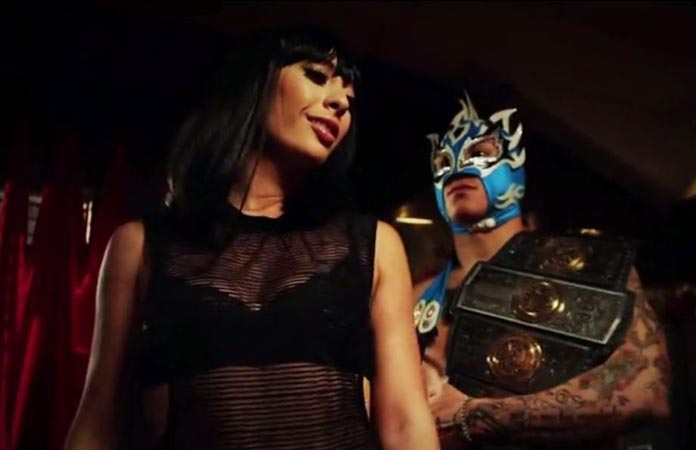 We're back, folks! The second season of Lucha Underground is underway and it's going to be darker than ever.
To that point, we open on Vampiro, in some kind of institution or prison hospital (this is explained in Lucha Underground's now-canon comic book). It's been six months, says a doctor, evaluating him for potential release. This is shot really well–questions from the doctor asking him about violent thoughts, hallucinations, and memories are inter-cut with scenes from Vampiro and Pentagon's bloody match from last season's Ultima Lucha finale.
When the doctor asks if he can stay away from the things that brought him here (meaning the Temple, Lucha, and Pentagon), Vampiro flips on the guy, slamming his head into the table, biting a chunk out of his neck, and choking out some orderlies. This is shown to be a fantasy, and after–clearly sarcastically–promising to leave that life behind, Vampiro is released into the care of Matt Striker. He reveals that the two have been invited back to the Temple, but that it's "a much darker place." They drive away in a sweet low-rider and we get the Lucha Underground title card and WHOMP WHOMP theme.
Catrina's taken over Dario Cueto's office and it's awesome. It's basically exactly the same except it has some spooky candles and stuff around. Fenix walks in with the Gift of the Gods belt, which earns him a shot at Mil Muertes' world title with a week's notice, though it's something he has to defend and can lose. Catrina explains that the match will take place next week, but Fenix must win a match and defend the Gift Of The Gods against King Cuerno, a man that's been hunting him since last season, and Mil will be watching.
Striker and Vampiro welcome us back to the Temple, and we pan over to Mil Muertes on a sweet throne of skulls, overseeing the festivities. Striker refers to Muertes' throne setup as "Dark Olympus," and Muertes remains there throughout the episode, every bit the Shao Kahn of the Temple.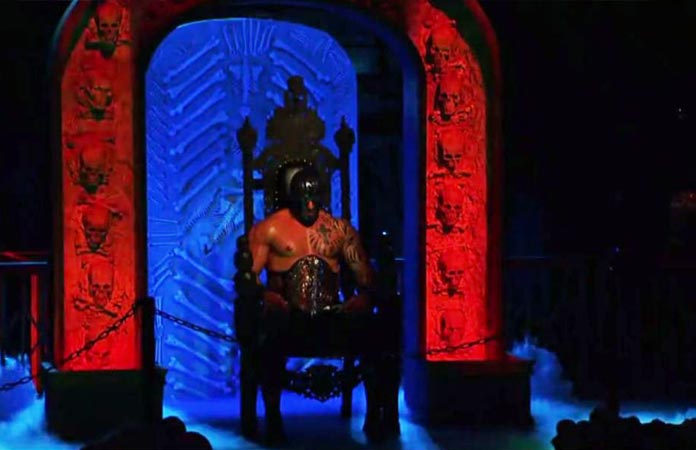 King Cuerno enters, wearing an actual deer's head and pelt because he's a hunter, see. Fenix, the Gift of the Gods champion, is in to face him. They have a great back and forth match where Fenix kicks out of Cuerno's "Thrill of the Hunt" finisher. The battle ends shockingly with Cuerno winning the match and the title, which now gives him the shot at Muertes. Poor Fenix can't catch a break.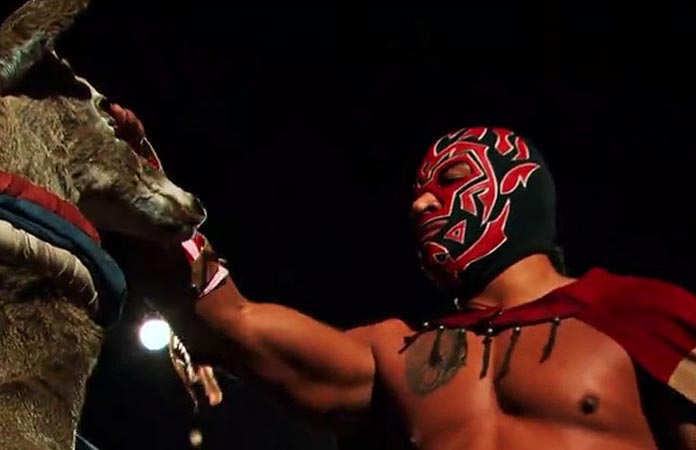 Ivelisse, Angelico, and Son of Havoc are meeting with Catrina in a graffiti-covered loading dock. Catrina shows she's exactly as much of a jerk as Dario Cueto by breaking the news to the newly-reconciled team that they'll have to face each other tonight, and the winner will get a shot at Mil Muertes. Havoc is rightly pissed because he's been mending bridges between the three since last season, but Ivelisse quickly accepts the match and tells Catrina that when she wins the title, she's coming after her next.
Cuerno, wearing his cowboy hat, street clothes, and Lucha mask, is at his locker when Catrina appears out of nowhere! Cuerno tells her that Mil has nothing to worry about from him and neither does she, meaning that he won't cash in his title shot. Catrina vanishes again while Cuerno looks as confused as a man in a cowboy outfit and a wrestling mask can look (very confused).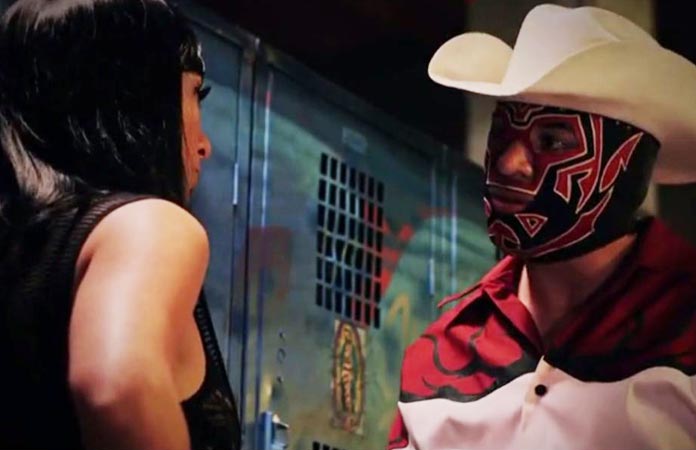 Catrina is at ringside and calls over ring announcer Melissa Santos. She creepily whispers something into Melissa's ear and takes off. Melissa announces that the next match is to determine the new number one contender for the world title. Ivelisse, Angelico, and Son of Havoc all enter and have a match that's a little slower than I'd expect (for reasons that become clear later), but still a lot of fun. In another shocking finish, Ivelisse wins and will face Mil Muertes tonight, and he looks down menacingly from Dark Olympus or whatever.
Three random bros are driving around Boyle Heights, looking for the Temple. They stop and ask directions from, as luck would have it, Black Lotus. She says she'll take them there.
Oh god, Ivelisse has to face Mil Muertes right now and I'm very afraid for her. She's obviously still in the ring, having just competed in a match, when Mil enters. Angelico and Havoc are cheering her on when Trios's champions and Catrina's henchmen, the Disciples of Death, take them out, leaving Ivelisse to fend for herself. The match is a lot of Mil just dominating Ivelisse for a long time before she pulls off a sweet tornado DDT and almost wins, but even after avoiding interference from Catrina, Mil proves to be too much for her and hits her with the Flatliner for the pin.
After the match, Muertes goes to attack Ivelisse again when Prince Puma runs in to pull her out of the ring. While Muertes is distracted by this, Pentagon, Jr. appears, clamping the arm-breaker onto Muertes while the crowd goes wild. Amazing finish with the crowd chanting Pentagon's "CERO MIEDO" ("no fear") catchphrase.
Black Lotus brings the three bros to… Dario Cueto! One of them cracks wise about Lotus, who smacks the shit out of him, while Cueto takes some cash from the other two and leads them into what looks like a shipping container, where he says they'll be the ones fighting tonight. He locks them in, we hear their screams (presumably they're being killed and maybe eaten by Cueto's feral brother Mantanza), and we're done for this week.
What a way to start the season. We got a world title match and two matches for shots at the title, plus a little storyline advancement.
I have to hand it to Ivelisse here. She was really the star of the show to me, wrestling in two tough matches back-to-back, and doing some pretty decent character work along the way. You could tell the crowd was way into everything she was doing as well. Though the produced segments, probably the most expensive part of the show, have been shortened, they're sprinkled throughout the episode and keep the action flowing nicely, and they still have a very professional feel. I can't wait to see where they take this thing next, because there's a few potential directions they can go.
See you next week, folks!