Published on January 28th, 2016 in: Current Faves, Feminism, Music, Music Reviews, Reviews |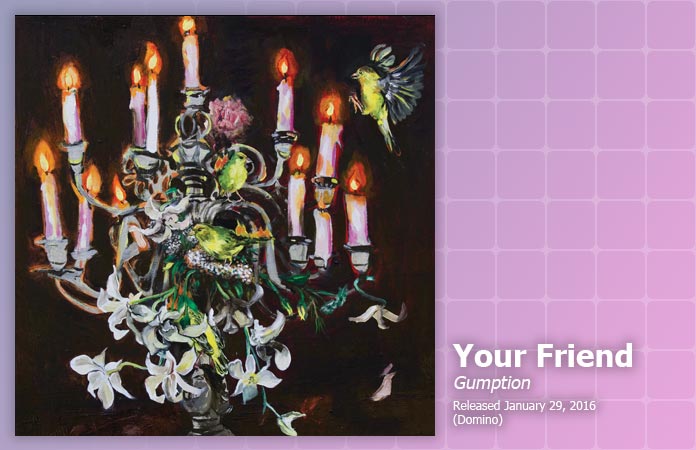 Your Friend's follow up to 2014's self-recorded EP, Jekyll/Hyde, is richly textural and gorgeously produced. Gumption is enigmatic, with much to unpack. You can listen to the layers and loops, you can listen for Taryn Miller's fascinating vocals, you can close your eyes and let the waves of sound wash over you. It's an immersive, intriguing album.
Lawrence, Kansas-based Miller does field recordings and incorporates them into Gumption. Burbles of brooks become rhythmic and mechanical on the disorienting track, "To Live With." It sounds like being in an isolation tank filled with water, with grunts that become a constant, threatening sonic companion. The track is wordless and dense, fading into the sound painting of "Desired Things." Miller's vocals languidly swoop and change over layers of quiet throbbing, eerie and haunting.
The opening track, "Heathering," with its reverb-laden guitars and inorganic beats, sets up a hazy, dream-like state, with snatches of synths that cut through like a laser, snapping the listener back into conscious thought. It's a shimmering, vast ocean of sound. Miller's vocals are enormously changeable.
On "Heathering," she sounds like Nico, with teutonic solidity. On the stunning, moody darkness of "I Turned In," her voice is like glimmering sun on water (think "music played under a lake") before fading into "Who Will I Be In The Morning?" with her vocals multi-tracked into a glowing organism. The guitar echoes like a whale song and the effect is dreamy, like trying to swim to the surface. Miller doesn't always enunciate, so sometimes her vocals are more like a series of shapes, like on the hypnotic "Come Back From It." The beat marches, with a thundering low end married to a sunny flourish of synths. On the bridge, the music becomes heavy, subterranean. It's all quite subtle and incredibly effective.
Gumption is both ethereal and earthly. It's a thoughtful, quiet album that bears a good set of headphones and focus. There are layers of beauty and moments that are unable to be described, only felt. Your Friend's debut is both luminous and dark, meditative and lovely.
Gumption will be released on January 29 via Domino.
Tour Dates:
Wed. Mar. 9 – Washington, DC @ Rock & Roll Hotel
Thu. Mar. 10 – Richmond, VA @ Strange Matter
Fri. Mar. 11 – Carrboro, NC @ Cat's Cradle – Backroom
Sat. Mar. 12 – Savannah, GA @ Savannah Stopover Festival
Sun. Mar. 13 – Orlando, FL @ Backbooth
Mon. Mar. 14 – Tallahassee, FL @ Club Downunder
Wed. Mar. 16 – Houston, TX @ Walters
Sat. Mar. 19 – Dallas, TX @ Spillover Music Fesst
Mon. Mar. 21 – Denver, CO @ Lost Lake
Tue. Mar. 22 – Salt Lake City, UT @ Kilby Court
Wed. Mar. 23 – Boise, ID @ Treefort Music Fest
Thu. Mar. 24 – Portland, OR @ Analog Cafe
Fri. Mar. 25 – Seattle, WA @ Vera Project
Sat. Mar. 26 – Vancouver, BC @ The Cobalt
Mon. Mar. 28 – San Francisco, CA @ Rickshaw Stop
Tue. Mar. 29 – Los Angeles, CA @ The Echo
Thu. Mar. 31 – Santa Ana, CA @ Observatory – Constellation Room
Fri. Apr. 1 – San Diego, CA @ Che Cafe
Sat. Apr. 2 – Phoenix, AZ @ Rebel Lounge
Sun. Apr. 3 – Albuquerque, NM @ The Co-Op
Tue. Apr. 5 – Omaha, NE @ Slowdown
Wed. Apr. 6 – Minneapolis, MN @ 7th St Entry
Thu. Apr. 7 – Madison, WI @ UW Student Union
Fri. Apr. 8 – Grinnell, IA @ Grinnell College – Gardner Lounge
Sat. Apr. 9 – Chicago, IL @ Bottom Lounge
Sun. Apr. 10 – Detroit, MI @ Majestic Cafe
Mon. Apr. 11 – Toronto, ON @ Horseshoe Tavern
Tue. Apr. 12 – Boston, MA @ Middle East Downstairs
Wed. Apr. 13 – Brooklyn, NY @ Music Hall of Williamsburg
Thu. Apr. 14 – Philadelphia, PA @ Union Transfer
Fri. Apr. 15 – New York, NY @ Bowery Ballroom