Published on January 27th, 2016 in: Current Faves, Metal, Music, Music Reviews, Reviews |
By Tim Murr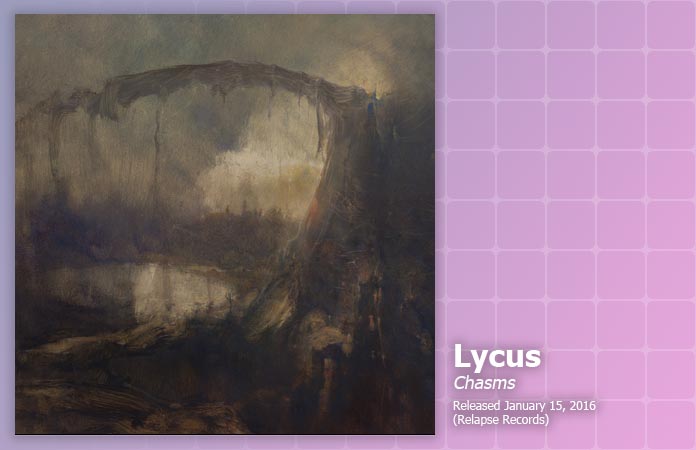 I don't know if "beautifully arranged" is a phrase often applied to funereal doom metal, but it certainly applies to the new album from Lycus, Chasms. The four long tracks that make up Chasms play like a four-part symphony of despair at the death of the world.
Lycus come from Oakland, California. Chasms is their second album following 2013's Tempest. They bring elements of black metal, death metal, noise, darkwave, and shoegaze into their take on doom metal. It's a compelling mix that actually works on Chasms, raising it above its own sub-genre, demanding the listener's attention. The cello accents are a particularly nice touch.
Vocally, Lycus gives us a mix of the expected guttural growls, but also clean vocals, and gang vocals that sound like mourning monks. The rising and falling tempos within the songs are like waves on an ocean of violence crashing into a beach of bones. The guitars wash over you with menace and bitterness. This is not an album you take lightly.
While Chasms may not be a giant step forward from Tempest, there is obvious maturation in their songwriting. And though far from commercial, Chasms is an easier listen, especially comparing Chasms' "Solar Chamber" to the title track from Tempest, which is a pulverizing 20minutes long.
Relapse Records has released Chasms on CD, digital, and vinyl (with a cassette version available soon). Though it's sold out at the online store, there is a beautiful black and gold vinyl release that might be worth scouring your local record stores for. The album cover is a darkly gorgeous painting by Italian artist Paolo Girardi. It's a blasted, otherworldly landscape that fits the album's songs like a steel glove.
Chasms was released on January 15 from Relapse Records.