Published on January 18th, 2016 in: Eulogy, Horror, Movies, Obituary |
By Tim Murr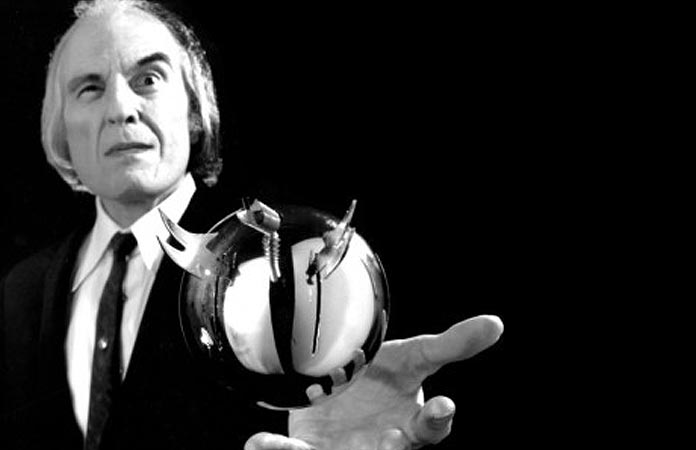 It's only been a few days since actor Angus Scrimm died at the age of 89. Though he also worked outside of the franchise, it was the Phantasm series, in which he played the Tall Man, that made Mr. Scrimm a horror household name. His final film, Phantasm: RaVager, is set to be released sometime this year.
Phantasm, directed by Don Coscarelli (John Dies At The End, Beastmaster), is a about a young boy named Mike who discovers a terrible secret about the local undertaker. Mike tries to convince both his brother Jody and family friend Reggie of the danger before he becomes the next victim. The undertaker is known as the Tall Man, an otherworldly being with great strength and strange powers. He is able to shrink the dead into dwarfs and employs flying silver spheres with blades and drills as weapons. Scrimm was a unique horror villain. He provided a sinister gravity to a film that played fast and loose with reality and dreams, leaving the audience to debate what really happened.
The first Phantasm was a coming of age story about death and loss. It was weird, funny, creepy, confusing, and iconic. It was original in the way it twisted the story around, layering on mystery and intrigue rather than just piling up a body count. The Tall Man was a striking villain. A tall, thin, longhaired, old man in an ill-fitting suit, with a voice and a scowl you'd never forget.
Each of the sequels took Mike and Reggie deeper into a strange, crumbling world of zombies, emptied graveyards, and ghost towns. Every battle with the Tall Man appeared more and more futile. While the three sequels are more linear than the original, each Phantasm film is still a unique experience within the realm of horror.
I caught Phantasm II on cable in the middle of the night when I was a kid and had no idea what I was watching. I caught it about 20 minutes in, but it had my attention and I rode it out to the end. Mr. Scrimm was an amazing antagonist, like something out of an old horror comic. When I finally figured out what it was, I rented the original and I had no clue what to do with what I saw. At that point, I was watching Tales From The Darkside and whatever slasher film I could catch on late-night cable. Phantasm wasn't like Friday the 13th or even A Nightmare On Elm Street. There was a beautiful, weird poetry to Phantasm which was also unnerving. I remember being excited when I walked into one of the local gas stations and saw the cover of the new Fangoria which featured Phantasm III: Lord of the Dead. That article helped me make better sense of things and around the time PIII hit my local video store I watched all of them back to back. I was in love.
As I mentioned before, we are supposed to get Phantasm: RaVager this year, which will bring the saga to a close. On the one hand, it's been a hell of a long wait since Phantasm: OblIVion and I'm excited to see the end, but it's bittersweet. That will be all. But! 2016 will also see the release of the 4K remaster of the original Phantasm, headed up by JJ Abrams, who also named a character in Star Wars: The Force Awakens (Captain Phasma) after the film.
Angus Scrimm had an amazing gift for portraying menace and evil on screen, though by any account I've read about him, he was an incredibly nice man in real life. He leaves behind a great legacy and won't be forgotten.