Published on January 14th, 2016 in: Current Faves, Pro Wrestling, Sports |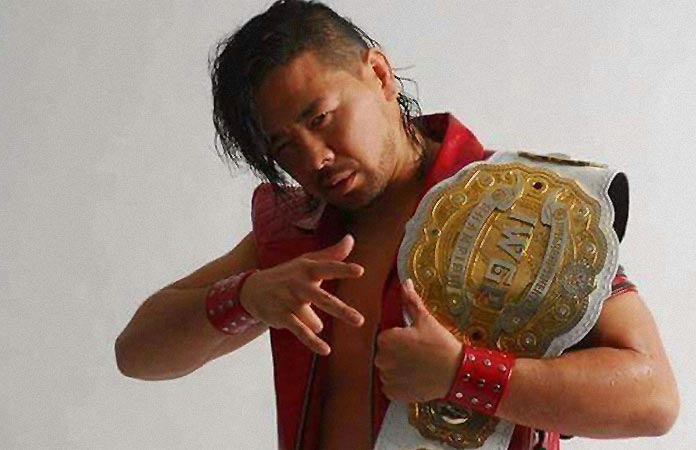 Nakamura: The Child of God. The Black Saviour. The King of Strong Style.
If you don't follow wrestling much, or if WWE is your only outlet for it, the name Shinsuke Nakamura is an unfamiliar one. It would probably, then, be surprising to know that this enigmatic Japanese star is, with little debate, the greatest active wrestler on the planet. And he's coming to North America to the one of the only big stages left in the industry–the WWE.
If titles in wrestling confer a performer's legitimacy (debatable, though Japanese titles are generally treated much more seriously than North American ones), it's hard to argue Nakamura's cred. In 2003, he became the youngest IWGP Heavyweight champion–the top prize in Japanese wrestling–to ever hold that belt. Two more IWGP Heavyweight championship reigns and several other titles later, he's one of the most decorated stars in Japanese wrestling history. In recent years, he has barely had a single match that isn't a blow-away affair that earns praise from the industry and fans alike (WWE stars Bray Wyatt, Antonio Cesaro, and Nakamura's former roommate Daniel Bryan are big supporters of his). On top of this, Nakamura has faced the best of the best in both Japanese and foreign talent. This is a list including Brock Lesnar, Kurt Angle, AJ Styles, and every active top star Japan has to offer, putting most of them down with his devastating "Boma Ye" flying knee.
At first blush, Nakamura seems anything but imposing. His physique, while not slight, is certainly not the over-muscled frame that typifies a lot of the WWE's top stars. The menace of Nakamura is truly put on display when he moves, using the high-impact, real-looking strikes (that often do connect for real) and holds of an MMA fighter–all the hallmarks of the Japanese "Strong Style." This style is actually a completely different way of storytelling than WWE's much safer, more (many would say excessively) choreographed style, and hopefully it will translate to that audience. In all likelihood, Nakamura will have to develop some hybrid style that exists between the extremes of Strong Style and WWE style in order to work with WWE's talent, but I'm confident that this won't be a problem for the best wrestler in the world.
As with many great wrestlers, there's no easy way to describe Nakamura's gimmick. He's not a redneck, not a rich and arrogant asshole, not an undead mortician, or even the fire-wielding brother of an undead mortician. Nakamura is what you'd get if you took a Japanese Michael Jackson impersonator, gave him way too much Ecstasy, and taught him how to do MMA. His mannerisms are completely unlike anything else in wrestling, often evoking the unhinged madness of Hunter S. Thompson on an ether binge.
Nakamura is one of those stars, like Mick Foley and Bray Wyatt, who can embody a demented, enigmatic persona and really make you buy in as a fan because they buy into it. The difference between Nakamura and those guys, however, is that he says everything he needs to say entirely with physical charisma and without the aid of promos (at least to me, since I don't speak Japanese). You can learn everything you need to know about The King of Strong Style from just watching a match.
Will Nakamura be successful in WWE? No one can say for sure, least of all me. WWE has a spotty track record with the promotion of foreign wrestlers, and lately with wrestlers in general that aren't named John Cena or Brock Lesnar. But there has rarely been a more favorable set of conditions for Vince McMahon's machine to allow a wrestler like #Swagsuke to thrive, than right now.
At the time of this writing, WWE's roster is plagued by a litany of injuries to many of its top stars. John Cena, one of the only bankable stars the company has left, will miss Wrestlemania this year with an injury. Other top stars like Daniel Bryan, Randy Orton, Seth Rollins, Antonio Cesaro, and Sting are also on the shelf. Even the female talent is in bad shape, with Nikki Bella, Paige, and Sasha Banks all reportedly hurt. All of these hits to the roster have unfortunately occurred during the most important time of year for WWE–the January to April "Wrestlemania season"–and this year is one of the most pivotal since the company will have to fill the gigantic AT&T Stadium in Dallas, Texas, making it the biggest Wrestlemania to date.
I think that Nakamura could be a piece of that puzzle, and, given a chance to impress at WWE's marquee event, he would thrive. With the right presentation, storyline, and the right opponent, it's a real possibility that you could hear 100,000 WWE fans chanting "YEAAOH!" on the biggest, grandest stage of them all.