Published on January 6th, 2016 in: Movies, Music, Teh Sex, Today In Pop Culture |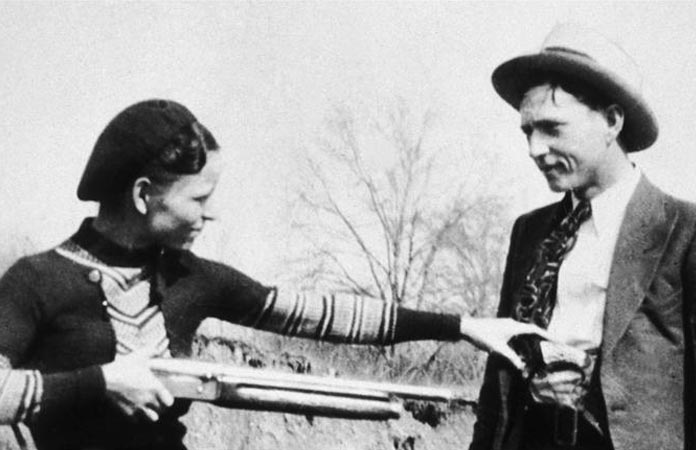 When one is living a life of crime, some days don't seem as bad as others. This is subjective, of course, because when a good day consists of only killing one human being, it might be time to reevaluate one's priorities. So if the murder of Deputy Sheriff Malcolm Davis comes across as a minor event, it is only in comparison to the other deeds of the man who killed him: Clyde Barrow.
The year is 1933, and the public is fascinated and terrified by the brazen exploits of the criminal couple known simply as Bonnie and Clyde. On January 6, Clyde Barrow gunned down Deputy Sheriff Davis when he and some members of his gang, including Bonnie Parker, walked into a trap. Ironically, the police had set the trap for a different outlaw. That's some good detective work, right there.
It was just another notch in the collective gunbelt for the gang. This bunch of thieves and killers had more personnel changes than Guns 'n Roses, but at the forefront, the stalwarts who gained all the attention were Bonnie Parker and Clyde Barrow.
Even today, Americans love a good crime spree, often turning the bad guys into folk heroes. The exploits of Bonnie and Clyde were splayed on the front pages of newspapers across the country. Every graphic detail of their blood-soaked trail of robbery and murder across rural America delighted the public. When one tries to figure out why this couple, whom most people would consider to be reprehensible, captured the hearts and minds of the people as thoroughly, researchers point to one thing: this photograph.
Perhaps the tagline from the 1967 film about them says it best: "They're young, they're in love… and they kill people." In the 1930s, this picture and all it implied were the epitome of illicitness. Americans lived vicariously through the exploits of Bonnie and Clyde. They were robbing banks and grabbing that dough. They were fighting against authority, taking the law into their own hands. And they were banging, without having to submit to the rules of holy matrimony.
For a while, there was nothing more free than Bonnie and Clyde.
Public opinion did finally turn against them after the murder of two officers near Grapevine, TX. Eyewitness accounts claimed that Bonnie was involved in the killings. Instead of being just a playful gun moll along for the ride, Bonnie was now seen as a cold-blooded killer. It's okay for a man to go around killing cops and small rural families, but a woman? That went against everything Depression-era news readers held dear.
Bonnie and Clyde lived in a spectacular fashion, and they went out with a bang. Lots of bangs. Caught in a police ambush, the couple was shot more than 50 times. The posse that mowed them down suffered temporary deafness from all the gunfire. The coroner reported difficulty embalming the two of them because of all the holes in their bodies.
But just because they killed Bonnie and Clyde doesn't mean they died. Their legend lives on, even to this day.
The aforementioned film about them, simply titled Bonnie and Clyde, starred Warren Beatty and Faye Dunaway. It was nominated for ten Academy Awards, winning two. Their story was given a modern makeover by director Oliver Stone, operating from a screenplay by Quentin Tarantino, in the controversial film, Natural Born Killers.
They left their mark on the music industry, too, as the rap culture discovered the legend of Bonnie and Clyde. Eminem's song "'97 Bonnie and Clyde" reconstitutes the relationship dynamic by making Bonnie representative of his own daughter. The song details how Em and his little girl go on the lam after he kills her mother and dumps the body. Creepy? You bet, but nowhere near as chill-inducing as Tori Amos's version, with its whispered lyrics that give the song a sense of intimacy that is truly uncomfortable.
And who better to represent Bonnie and Clyde than Bey and J? Hip-hop's power couple certainly did take the world by storm, gaining the spotlight with their every move. "Down to ride 'til the very end, it's me and my boyfriend," Beyoncé sings, echoing the devotion felt back in the 1930s by America's favorite outlaws.
That spirit, that sense of taking what you need and to hell with the powers that be, is still very much alive today. And it all goes back to the people in that black and white photo, the reckless lives they lived and a love that fed on bullets and blood.
Bonnie and Clyde, y'all.