Published on December 7th, 2015 in: Current Faves, Music, Music Reviews, Reviews |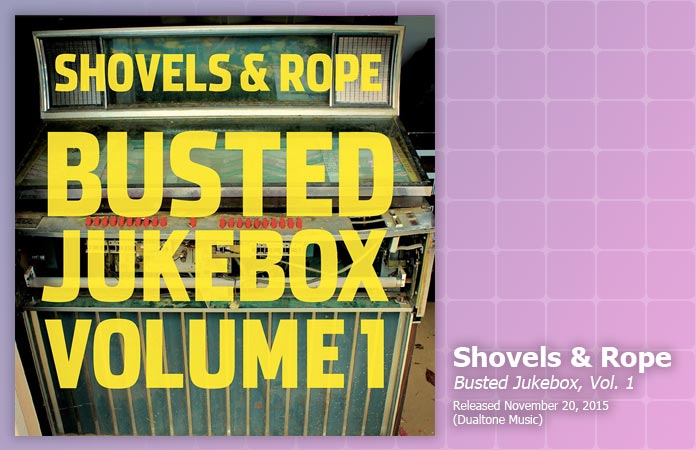 When a band releases an all covers album, sometimes the things revealed by their choices are baffling (I'm looking at you still, Duran Duran). When a band like Shovels & Rope release an all covers album, their choices are illuminating.
While they're an indie folk/Americana band, their influences are disparate and surprising. On Busted Jukebox, Vol. 1, Shovels & Rope are joined by a revolving cast of co-conspirators (Lucius, Preservation Hall Jazz Band, Shakey Graves, J Roddy Walston, Butch Walker, et al) on covers that range from Lou Reed to Nine Inch Nails to Emmylou Harris. It's a delightful surprise, dropped on the unsuspecting public in the dead of night (it could have been the morning, come to think of it). Ta dah!
There are tracks that sound utterly like Shovels & Rope. Their take on "(What's So Funny 'Bout) Peace, Love & Understanding" is undeniably them, a bit rough hewn and rustic, but they're joined by Lucius, who add painfully glorious backing vocals, sounding like avenging angels. When Shovels & Rope are joined by the Preservation Hall Jazz Band on Lou Reed's "Perfect Day" the result is haunting. It's a languid, moving cover, with quietly soaring vocals on the chorus. Preservation Hall Jazz Band adds just enough color to the proceedings with understated tuba and an elemental piano. Shovels & Rope tackle Emmylou Harris's "Leaving Louisiana In The Broad Daylight" alone, and it's a pared down version with an overabundance of charm.
Shakey Graves takes the world weary lead on Neil Young's "Unknown Legend." Shovels & Rope play the instruments and provide back-up vocals, including some gorgeous harmonies. It's a big, rangy song with a big, rangy guitar sound. Butch Walker joins the band on a version of his own verbose "Bullet Belt." It's gritty and dirty and the lyrics are spit out at a fiery clip, but it's also appealingly loose. Words are muffed and ignored and it's swell. The Guns and Roses chestnut "Patience" is a leisurely cover with the Milk Carton Kids, but do stick around to the last bit, because it gets really brilliant.
When Caroline Rose joins Shovels & Rope for Nine Inch Nails's "Last," it becomes exactly what you want a cover to be: it fundamentally reimagines the track to something mind-blowingly inventive. The song becomes (in the words of Shovels & Rope) "a psychobilly hoedown from hell." It's wonderful—grimy and bouncy, with squawks of feedback and handclaps, and a memorable dab of madness. It's spare and odd and Rose's vocals are sassy and strident. JD McPherson doesn't reinvent Touissant McCall's "Nothing Takes The Place Of You," but the song doesn't need that. Instead, McPherson's vocals are incredibly rich and soulful; he just belts it from his toes. Shovels & Rope provide backup vocals here, and stripped-down instrumentation.
Busted Jukebox, Vol. 1 is a terrific covers album, with an easy, laid-back feeling. In collaborating with their friends, Shovels & Rope make the record seem almost familial. It's warm, engaging, and admirably easy.
Busted Jukebox, Vol. 1 was released on November 20 by Dualtone Music.
2016 Tour Dates:
2/11 & 12 – Austin, TX – ACL Live at the Moody Theater*
2/16 – Dallas, TX – South Side Ballroom*
2/17 – St. Louis, MO – Peabody Opera House*
2/19 – Indianapolis, IN – The Murat Theatre*
2/20 – Chicago, IL – Chicago Theatre*
2/25 – New York, NY – Beacon Theatre*
2/27 – Boston, MA – House of Blues*
2/29 – Toronto, ON – The Danforth Music Hall*
3/1 – Royal Oak, MI – Royal Oak Music Theatre*
3/2 – Pittsburgh, PA – Benedum Center for the Performing Arts*
3/5 – St. Augustine, FL – St. Augustine Amphitheatre*
3/18 – Wilmington, NC – Brooklyn Performing Arts Center
3/20 – Saxaphaw, NC – Haw River Ballroom
3/22 – Rocky Mount, VA – Harvester
3/23 – Alexandria, VA – The Birchmere
3/25 – Annapolis, MD – Ram's Head
3/26 – Nelsonville, OH – Opera House
3/29 – Covington, KY – Madison Theater
3/30 – Louisville, KY – KCD Theater
4/2 – Lafayette, LA – Acadiana Center for the Arts
4/3 – Tuscaloosa, AL – Druid City Music Hall
* w/Jason Isbell