Published on November 24th, 2015 in: Culture Shock, DVD, DVD/Blu-Ray Reviews, Horror, Movie Reviews, Movies, Reviews |
By Tim Murr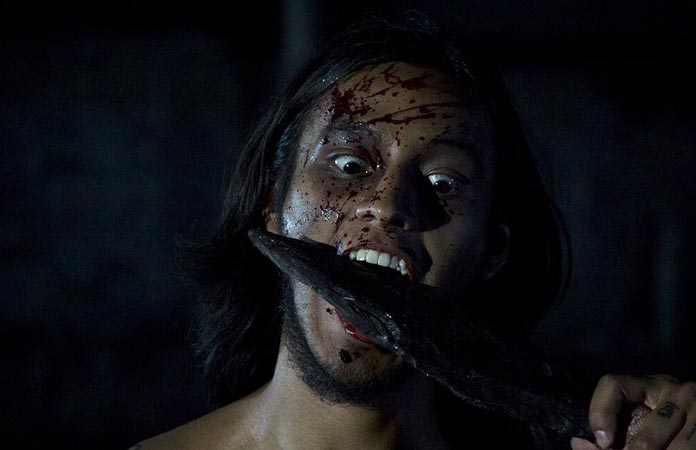 "Eight terrifying films from Mexico's top horror directors." México Bárbaro (or Barbarous Mexico in English) almost lives up to its own tag line with four excellent and compelling shorts, one really good one, and three that you couldn't pay me to say something nice about. Still, the good to bad ratio makes this anthology better than the first V/H/S, in my opinion.
The film serves up some of Mexico's most terrifying traditions, myths, and legends. "Tzompantli" directly addresses the current horror of the drug war Mexico faces with scores of bodies piling up from a series of brazen murders. This is one of the best segments in México Bárbaro and I'd like to have seen it stretched into a feature-length film (the same goes for the other three best ones). It's about a journalist investigating a massacre at a club who meets a cartel member who's willing to talk. "Tzompantli" connects the current violence to appeasement of the old gods.
"Jaral de Berrios" is a cool Western about two bad men on the run who hole up in an abandoned mission believed to be cursed. It doesn't take long before they learn they're not alone.
"Drena" is the first of the three films that I strongly disliked here. I won't go into details, but I just felt like it was cheap, lazy, and nonsensical, going for shock value when it could have done something very creepy.
Next is "La Cosa Mas Preciada," the lone creature feature of México Bárbaro. It's grainy like an old VHS tape, and goes for the gross-out factor (lots of puking and monster hard-ons) that I assume wants to call back to Troma, but lacks any of the charm or humor of Troma and instead crams a virgin's rape down our throats for way too long.
Next, "Lo Que Importa Es Lo De Adentro," just made me sad more than anything. A mother verbally abuses her disabled daughter while doting on her perfect son. The son falls prey to a child killer and the director chooses to show us everything. At that point I stopped the film for the night.
The next day I finished México Bárbaro alone and fortunately, the film comes back from those three lows.
"Munecas" has a touch of The Texas Chainsaw Massacre with a woman fighting for survival against a frightening psycho, but there's a twist and it has to do with word munecas or "dolls"…
"Siete Veces Siete" might be my favorite of the bunch. It involves murder, revenge, black magic, a disfigured protagonist, and some of the best visuals of the film, including a body horror transformation that bears rewinding.
"Dia De Los Muertos" closes México Bárbaro with some kick-ass ladies in Day of the Dead make up who are righting some wrongs. It's well shot, action packed, and leaves you wanting more. It's a great ending to this uneven collection and along with "Siete Veces Siete," helps redeem the film despite those three duds.
There have been several of these kinds of horror anthology films in recent years (Theater Bizarre, The ABCs of Death, V/H/S) and they are good proving grounds for young directors, though none of them have been completely good.
México Bárbaro ranks near the top, not just for its storytelling, but also for drawing on Mexico's rich history and creating a harrowing journey. I do think it should come with a trigger warning for the rape and child murder scenes, though.
México Bárbaro was released by Dark Sky Films on November 3.