Published on October 30th, 2015 in: Blu-Ray, Canadian Content, Current Faves, DVD/Blu-Ray Reviews, Horror, Movie Reviews, Movies, Reissues, Retrovirus, Reviews |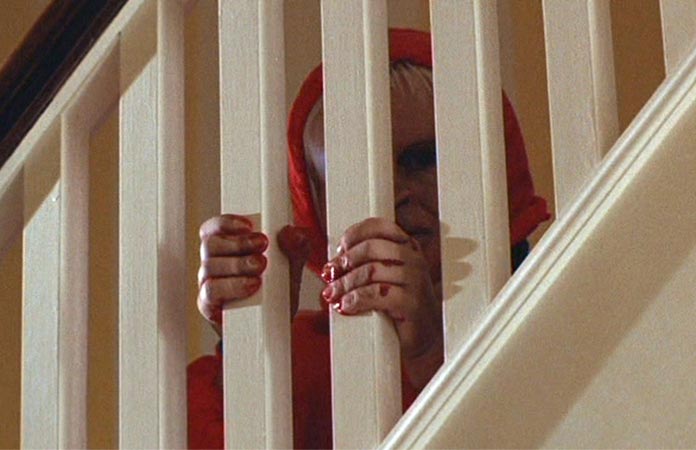 Let's get this out of the way first: whenever someone asks about my favorite David Cronenberg film, my knee-jerk response is, The Brood. Having seen almost all of Cronenberg's pre-A History Of Violence movies, it still stands out. Perhaps it doesn't have as much of the gruesome depravity of Videodrome or Dead Ringers (both excellent films in their own right), but there's just something about it that continues to fascinate me.
Criterion's release of The Brood on Blu-Ray is as wonderful as you'd imagine and the transfer is impressive. One thing about the film that always sticks in my mind is that color palette. I was the same age as actress Cindy Hinds (who plays Candice Carveth) in 1979, and the costume and art design bring back memories of my own childhood. The colors are non-confrontational: beige, avocado, rust. The aura in the film even makes the would-be cheery yellow kitchen of the first murder scene look sickly. When red appears—Candy's snowsuit, Nola's smock;it stands out like an open wound.
The look of The Brood feeds into the atmosphere of the film as a whole: everyone in it seems drugged, emotionally stunted, or otherwise mentally preoccupied. Frank Carveth (Art Hindle) is dealing with a custody battle and an unstable ex-wife whom he despises. Nola Carveth (Samantha Eggar) spends most of the movie in an odd fugue state, portraying different characters from her life or past versions of herself. Even Oliver Reed is subdued as Dr. Hal Raglan, mostly speaking in a soft, placating voice… except when he's provoking the already-fragile mental state of his patients into hysterical dependency upon him and his unscrupulous methods.
This Criterion Blu is accompanied by an outstanding essay from film critic Carrie Rickey; it's one of the best articles on the film I've yet read. The back of the fold-out insert containing the text is a poster with artwork of the brood themselves, the mutant children who give the film its title.
Several of the featurettes on the disc were produced by Severin Films, and have been ported over from Second Sight's UK Blu-Ray release in 2013. The interview with producer Pierre David in the comprehensive, fascinating "Birth Pains" is from that Severin featurette and has been seamlessly edited in amongst interviews with Samantha Eggar, DP Mark Irwin (who worked on several Cronenberg films), assistant director John Board, and Rick Baker and Joe Blasco, who worked on special effects for Videodrome and Shivers, respectively. They discuss the filming process, the climate of Canadian cinema at the time (particularly horror cinema), and as far as the cast and crew are concerned, what it was like working with Oliver Reed (no matter how many hijinks he got into, he was always professional on set).
"Meet The Carveths" is another Severin featurette and is more casual and humorous in tone. Fangoria's Chris Alexander interviews Art Hindle and Cindy Hinds in Toronto's now-defunct Projection Booth theater as well as on location at the Brown School, where the classroom scenes were shot.
"The Early Years", also from Severin, is a single camera interview with David Cronenberg in which the director goes into even more detail about his early independent films and how financing and film reviews played a huge role in his career as well as the mentoring process of Cinepix heads André Link and John Dunning. For anyone interested in Canadian film history, independent film making, or Cronenberg in general, it's an informative and at times amusing interview.
The most unusual and delightful featurette isn't a featurette at all, however, it's actually a clip from a 1980 episode of The Merv Griffin Show featuring Charo, Orson Welles, and Oliver Reed and it is indeed as bizarre, hilarious, and amazing as it sounds. It's almost worth the price of the disc by itself and reminds me of a time when talk shows were far more entertaining and insightful than they are now.
Finally, the disc also contains one of Cronenberg's first features, 1970's Crimes of the Future, which indicates that his fascination with sex and grotesque bodily functions was at play from the very beginning of his career.
For North American fans of David Cronenberg and The Brood, this release is a definite must-have. If you've never seen The Brood, you need to get this version.
The Brood was released by The Criterion Collection on October 13.