Published on October 21st, 2015 in: Horror, Listicles, Movies, Science Fiction |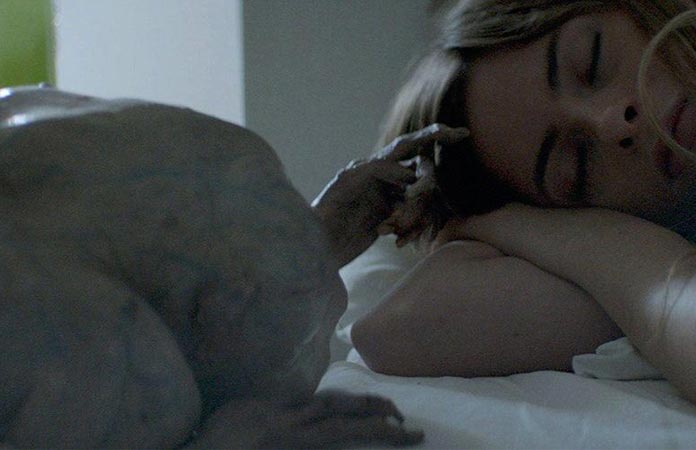 "Pssst, do you have any Reese's Pieces?"
Have you seen Der Nachtmahr yet? Probably not if you haven't been to the three film festivals where it has screened (Locarno, TIFF, Warsaw).
What's Der Nachtmahr about, you ask? "After a wild night out, a Berlin party girl finds herself haunted by a twisted, repellent little creature that no one else can see."
Is he an alien? Is he good or evil? Is he a parasite? You'll have to see the film to find out (and you can read my review), but in the meantime I thought I'd pay my respects to some well-known (or perhaps underrated) cinematic parasites.
Parasite, 1982
Set in the nearly impossible to imagine future of 1992, when gas is $40 a gallon, this is a Charles Band production, the guy who gifted the world with the Puppet Master series as well as Evil Bong: High 5, currently in pre-production according to IMDB. Parasite not only boasts Demi Moore's first film role as "the lemon girl," it also includes former Runaway Cherie Currie as a "hooligan." You might be able to find it on YouTube; I'm not sure.
Basket Case, 1982
Parasite never had a chance against Frank Henenlotter's deliriously twisted creation. Filmed in a grody and gritty pre-Guiliani New York City, and using actual residents of the seedy Times Square area, Basket Case is both funny and frightening. Duane Bradley carries his deformed conjoined twin named Belial around in a basket as they seek vengeance for the surgeon who separated them.
How To Get Ahead In Advertising, 1989
Before Mad Men's Don Draper, there was Richard E. Grant as the unfortunately named Denis Dimbleby Bagley, whose obsession with trying to promote a new pimple cream backfires in the most grotesque way: he develops a huge boil that becomes sentient and begins talking to him. It's delightfully and horribly hilarious.
The Bay, 2012
I couldn't talk about parasites without mentioning my favorite, the Unofficial TIFF Midnight Madness Blog Mascot: The Isopod! Ifirst fell in love with these cuddly creatures in Barry Levinson's The Bay, which not only played at the Festival but also definitely appears in the Top Ten list of best found footage movies.
This article was originally published on the Toronto International Film Festival Vanguard programme blog.