Published on October 9th, 2015 in: Current Faves, Music, Music Reviews, Reviews |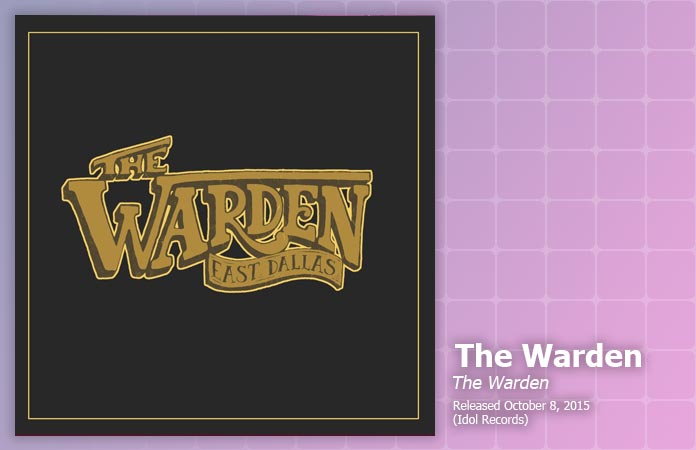 You know those nights? The kind where someone ends up in jail, someone goes to the ER, and maybe you wake up the next morning with a whole bunch of bruises and a suspicious tattoo and why are your shoes so muddy and exactly what is that smell? The self-titled debut album from The Warden is the aural equivalent of that.
The Warden is Ward Richmond, an East Dallas, Texas musician who has cut his musical teeth locally with a variety of bands, playing bass, writing songs, and kicking around. On his debut, he's surrounded himself with some fine musicians, who bring his vision of "East Dallas honky tonk" to life. The Warden has a grumbly voice, a little evangelizing, a little growly. There's something reminiscent of David Lowery's work in Cracker in his vocals: they're earnest and there's a sometimes tenuous relationship with pitch. But it's perfect and completely believable in relation to the lyrics.
Oh, the lyrics. The Warden says the lyrics are autobiographical, but slightly fictionalized. "Tonked up," he calls it. They're evocative and hilarious (at times). On "County Line," The Warden recounts all the things he's going to quit (smoking, drinking, cocaine, and carousing), and that he plans on leaving wherever he is as soon as he can raise some cash. Selling his apartment is suggested. And dismissed. His plainspoken delivery of the lines, backed up by a chorus of soulful ladies sells it, as does the propulsive beat that chugs along like a freight train. The next track, "Our Town," with the repeated motif of "Miller Lights, and shots, and fights / Repeat that 5000 nights" conjures up, well, my hometown, with alarming specificity. The trumpet that blows through like an elegy is a nice touch.
There are wonderful moments on The Warden, like the nod to Gram Parsons's "Las Vegas" on "Salvation" and the whole of the rollicking break-up song, "50 Bucks" (the line, "You're like my punishment for breaking a mirror" is genius, really). The Warden's backing band is top notch, with some delicious guitar solos tossed in, as well as fine pedal steel. They're perfect for giving his songs the kind of life they deserve. The mixture of honky tonk and punk of "High Life" must be heard to be appreciated: rollicking is the closest descriptor. It rollicks all over the place.
There's a sense of place on The Warden. It feels like Texas; it's in the slide guitar, the driving drums, The Warden's gruffness, and in the honey sweet vocals of Madison King. King duets on "Bullets," a regretful, harsh by the light of day track, and "Interstate," a road song/tour song/love song, where The Warden busts out an endearing croon. Of course, "Livin' In The EDT" is the most specific of songs: a travelogue of East Dallas, wry and clever.
The Warden is a fantastic debut. The world he's crafted with his words is specific and honest, and often funny as hell. He's got a one of a kind voice (vocally and lyrically) and a great, cock-eyed worldview. I love this rowdy album unabashedly. It makes me happy every time I hear it.
The Warden was released on October 8 from Idol Records.