Published on October 8th, 2015 in: Current Faves, Feminism, Kickstarter Campaign, Music, Music Reviews, Reviews |
By Tyler Hodg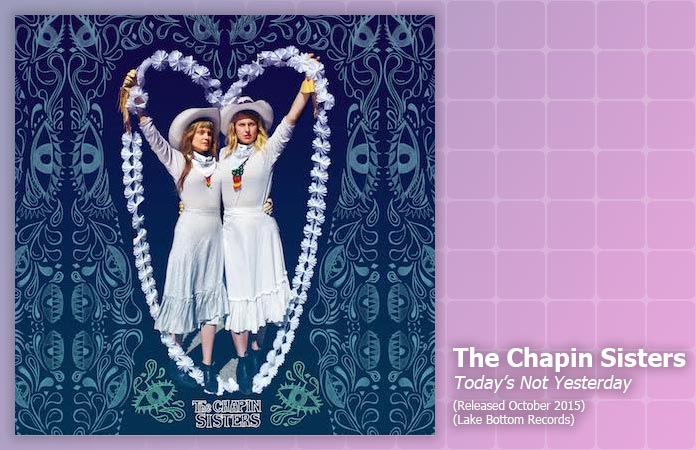 The Chapin Sisters harness the sounds and feelings of folk music of the past, all while staying current with their latest release, Today's Not Yesterday. It's the follow-up to the duo's 2013 Everly Brothers cover album (review), and their first album of original material in five years. While their style has remained fairly intact as the years have passed, the production now sounds more crisp than ever before.
Like all of their previous albums, Today's Not Yesterday showcases The Chapin Sisters' beautifully intertwined vocals. Perhaps it's some family black magic, but history has shown that siblings often make the best singing pair. Neither Abigail nor Lily Chapin outshines the other, and their voices truly work in tandem. There are moments when the sisters aren't singing together, but the solo work is shared fairly evenly throughout the record.
The strength of The Chapin Sisters may be their greatest weakness; they have an honest and fluid sound, but some may find it verging on repetitive. Each song feels similar to the others, and that style may become tiring somewhere in the 12 tracks if this type of music isn't exactly your thing. But when evaluating the songs themselves, they are all fairly well-written pieces that are sure to please those who love open-feeling folk music.
There are definitely standout tracks on Today's Not Yesterday. The opening track, "Autumn," has a fantastic, laid-back groove, coupled with an annoyingly catchy hook that will be stuck in your head for days. "Angelino" and "Getaway" serve as the album's upbeat, energetic songs, while the uplifting feel created by an awesome sounding organ makes the closing track "We Will Not Stop" the perfect song to sum up the record.
The Chapin Sisters' Today's Not Yesterday is a great representation of modern folk music. Although the album may fly under a lot of people's radars, that doesn't meant it's not worthy of being recognized for what it is: a wonderful record. There is a bright future shining ahead of The Chapin Sisters, and Today's Not Yesterday is a large step toward the light of greater success.
The final mastering of Today's Not Yesterday is currently being crowdfunded via Kickstarter with a planned release date later this month through Lake Bottom Records.