Published on October 2nd, 2015 in: Culture Shock, Current Faves, Music, Music Reviews, Reissues, Retrovirus, Reviews |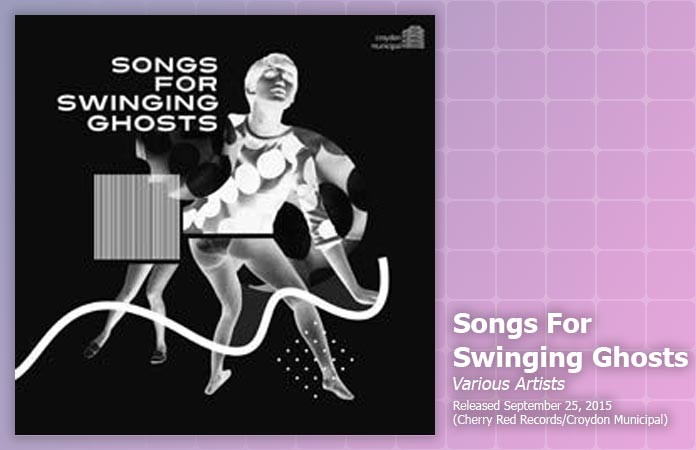 Attention humans: be prepared for your record collection to become marginally spookier, but a whole lot weirder with the delightful new release from Croydon Municipal/Cherry Red Records (and just in time for Halloween), Songs For Swinging Ghosts.
Croydon Municipal, run by Saint Etienne's Bob Stanley, routinely finds the kind of hidden gems you pore over used record bins for, little vinyl treasures that make the hips shake and the brain twitch, and compiles them into brilliant, thematic CDs, unearthing music that, in some cases, hasn't been heard in ages. Stanley has teamed up with DJ Martin Green to plumb the depths of their spooky music collections on Songs For Swinging Ghosts. It's a fine soundtrack for your Halloween shindig, like a CD version of The Aquarium Drunkard's legendary Halloween compilations. But with liner notes. And on CD.
A couple of the tracks are truly eerie. Janine De Wayleyne's "Faces In The Dark" is a creepy instrumental played on the ondes martenot, which sounds much like a theremin but relies on the oscillation of vacuum tubes to make its ghostly sounds. The always reliable Screaming Lord Sutch does his screaming on "Til The Following Night" complete with rattling chains, moans, laboratory bubbles, the occasional zombie, and skeletons. It's a perfect Halloween track.
Johnny Otis's "Casting My Spell" is my new favorite song. It's amazing: rapid-fire lyrics (the ingredients for a spell), a Bo Diddley beat, and propulsive and catchy. Kay Starr's sublime take on "Ghost Riders In The Sky" is jazzy and spare, with a sassy fadeout.
Of course, there are novelty songs. "Diabolical Twist" from Max Bygraves (a pseudonym?) doesn't so much count down things that are diabolical but rather unfortunate—his dog has puppies, he has no ice cream in the bottom of his Cornet, he thought he was going to see a monster movie "but it was full of sex!" he bellows. His pronunciation of "twist" is closer to "choice," which is curious. While Sharkey Todd & The Monsters have the best band name on the album (followed closely by The Vampires), their song "The Horror Show" is silly and slight, but their "Cool Gool" is simply ripping with skeleton xylophone and stuttering guitar. Mike and Bernie Winters's "Fallout Shelter," recorded around the time of the Cuban Missile Crisis, is a recounting of the awesome things in said shelter, over a twist-friendly beat.
Tony Hatch's theme from ITV's "Ghost Squad" is here, in its whistle-along glory. And while Charles Blackwell's "Death Valley" isn't particularly frightening, it is driving and dramatic. "Demon Lover" from Lyn Cornell is slinky and jazzy with a chorus of backup vocals sung like Igor might.
Songs For Swinging Ghosts is another fine collection from Croydon Municipal. It's delightful fun, a little creepy, and thoroughly enjoyable. The sheer amount of vinyl oddities and rarities that Bob Stanley keeps unearthing is staggering, and you know if it's on Croydon Municipal, it's going to be a joy.
Songs For Swinging Ghosts was released by Cherry Red Records/Croydon Municipal on September 25.