Published on September 28th, 2015 in: Comic Reviews, Comics, Current Faves, Music, Music Reviews, Reviews |
By Tyler Hodg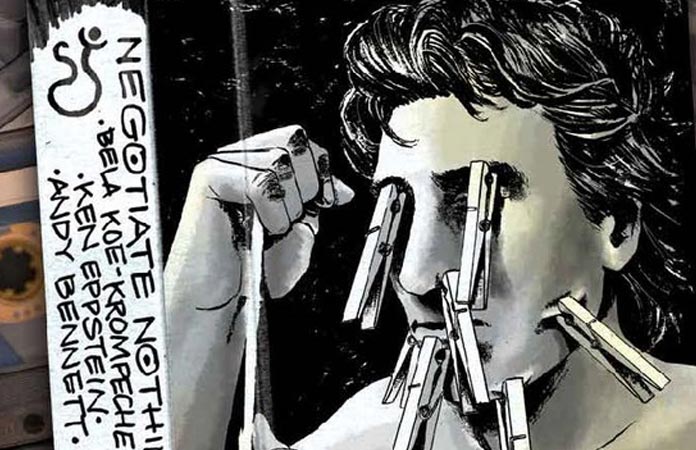 To many, the name of musician Jim Shepherd isn't significant. Aside from signing with Rick Rubin's American label just two years prior to his death, he spent the majority of his career underground, recording his and others' music to no quantifiable success.
To Bela Koe-Krompecher, however, Jim Shepherd meant a great deal. A blog post recalling his days with Shepherd has been transformed into the second issue of the Nix Rock N' Roll Comics series, and is titled Negotiate Nothing after a quote from his lost friend. While Koe-Krompecher's first entry into the series may be centered around a more familiar topic—the first time he met The Ramones—Negotiate Nothing paints a chilling portrait of the life of a clearly tortured soul.
The structure of the writing doesn't have a set path, as it jumps from encounter to encounter. The comic isn't so much about continuity as it is about specific moments in time, scattered across multiple years. There is no mention of how Koe-Krompecher and Shepherd met, but it is not vital to the story being told. You are placed right in the middle of their lives, when the two outsiders had a parallel understanding of each other and their relationship.
Jim Shepherd ultimately took his own life. The stories included in the comic don't necessarily show him as a completely depressed being; he was more misunderstood than anything. There are some people who are just difficult to comprehend, and Shepherd falls under that category. Despite his internal struggles, one constant theme running through every tale was that he loved music, something in which he engulfed himself.
The comic features actual photos of Shepherd, in addition to detailed illustrations by Andy Bennett. The black and white drawings are perfectly paired with the narrative, as it is not exactly the most colorful of stories. Sharp lines help bring a sense of humanity to the work, and any sort of fun, cartoony edge has been eliminated almost completely.
It's easy to say that Negotiate Nothing is irrelevant—and that wouldn't be incorrect—but there is something intriguing about the lore of Jim Shepherd. His elusiveness adds to the mysticism of his story, and his death feels like a heavy weight despite the fact that most readers will have not met the man. Bela Koe-Krompecher's recollection of the late musician honors their friendship in an appropriate way, all while being a worthy read.
Jim Shepherd: Negotiate Nothing was published by Nix Comics on September 23.