Published on August 7th, 2015 in: Current Faves, Feminism, Music, Music Reviews, Reviews |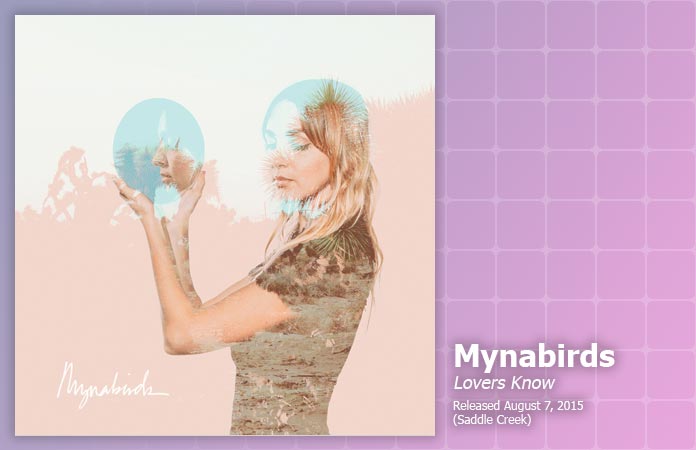 The newest Mynabirds album, Lovers Know, has an intoxicating quality. Featuring shimmering synths, electronic drums, and reverbed guitars, there's a hint of '80s electronica, as well as a shoegazey dreaminess, but there's also a vitality that could only be borne of today. Frontwoman Laura Berhenn's splendid vocals are by turns touching and exhilarating, and always beautifully intimate.
Berhenn's vocals are well served by the songwriting. A thread of heartbreak and hopefulness connects the songs on Lovers Know: the songs are about searching for connection, embracing life, moving, and moving on.
The crushingly lovely "Omaha" is elegiac, with Berhenn asking, "Omaha, will you still call me darlin'?/ Omaha, will I still be your girl?" It builds from a hush, then swells with layers of synths and a quiet chorus, and the sound of the drums is reminiscent of the roll of thunder across the plains. It is just stunning, and never fails to move me (perhaps because I, too, love Omaha). Paired with the driving "One Foot," a song about heading west and starting anew, it becomes painfully poignant.
Berhenn's gorgeous vocals are also the focus on the sparkling "All My Heart," with its heavy bass drone bubbling underneath an arresting wash of synths. The elegantly languid "Velveteen" channels Kate Bush, with a chorus of swooning, breathy female voices and Berhenn's graceful performance.
"Orion" is the second song I've gotten to write about that shares the concept of falling in love with Orion (the other is Connie Converse's "Man In The Sky"). With appropriately cosmic guitar and a fine layer of fuzz and tinkly piano, the track is lovely and impassioned. What is it about the fella with the belt in the sky?
"Say Something" jitters and slashes until Berhenn's vocals break in. Voices layer boldly and dreamily, until a man's voice pushes to the surface. He sings a duet with Berhenn of which neither seems aware. It's wonderful. The Jack Kerouac inspired "Wildfire" is edgy—handclaps and synths like knives, and a cavernous drum sound that echoes like an empty desert.
Lovers Know is such a rich album and one that requires multiple listens. The songs have layers to unpeel, metaphors to unpack, ideas to explore, and Laura Berhenn's wonderful voice to guide you. The Mynabirds have made the ideal late summer album, as perfect for road tripping as it is for introspective nights.
Lovers Know was released by Saddle Creek on August 7.
Tour Dates:
8/20 Los Angeles @ Santa Monica Pier w/Ariel Pink
9/2 San Diego @ Soda Bar
9/10 Seattle, WA @ Sunset Tavern w/ Bad Bad Hats
9/11 Portland, OR @ Bunk Bar w/ Bad Bad Hats
9/12 Boise, ID @ Neurolux w/ Bad Bad Hats
9/14 Salt Lake City, UT @ Kilby Court w/ Bad Bad Hats
9/15 Denver, CO @ Hi-Dive w/ Bad Bad Hats
9/17 Omaha, NE @ Slowdown w/ Bad Bad Hats
9/18 Minneapolis, MN @ 7th Street Entry w/ Bad Bad Hats
9/19 Chicago, IL @ Schubas w/ Bad Bad Hats
9/20 Cleveland, OH @ Beachland w/ Bad Bad Hats
9/23 Philadelphia, PA @ Boot & Saddle w/ Bad Bad Hats
9/25 Brooklyn, NY @ Rough Trade w/ Bad Bad Hats & Stranger Cat
9/26 Washington, DC @ U Street Music Hall w/ Bad Bad Hats & Stranger Cat
9/28 Richmond, VA @ Strange Matter
9/29 Atlanta, GA @ Aisle 5
10/1 Austin, TX @ Mohawk
10/2 Dallas, TX @ Three Links
10/5 Tucson, AZ @ Flycatcher
10/6 Phoenix, AZ @ Valley Bar
10/7 Las Vegas, NV @ Bunkhouse
10/8 San Francisco, CA @ Swedish American Hall
10/9 Los Angeles, CA @ The Echo