Published on July 10th, 2015 in: Current Faves, Feminism, Music, Music Reviews, Reviews |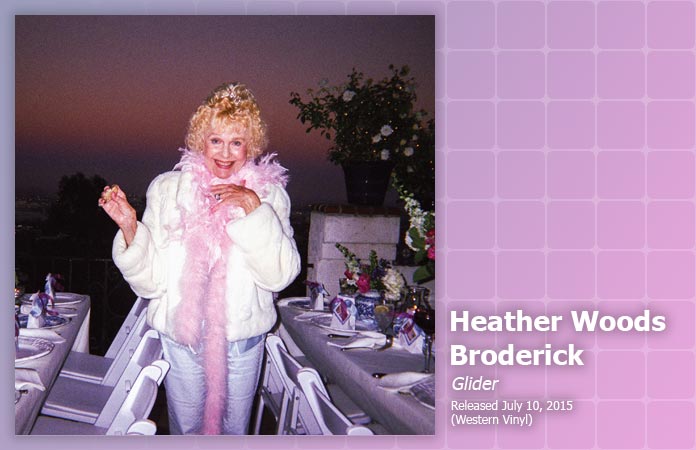 There's an air of wanderlust to Heather Woods Broderick's Glider. A gifted multi-instrumentalist and vocalist, Broderick has toured and recorded with Efterklang, Horse Feathers, and Sharon Van Etten's band. On Glider, Broderick gently coaxes out her vision, one that is introspective with lovely layers of vocals.
Opening track "Up In The Pine" has the quiet feeling of looming dark. Its acoustic guitar is delicate like fireflies and swoons of strings mimic birdcalls. Also evocative is "Wyoming," a languid song with palpable enormity that shows how easy it is to get lost in Broderick's vocals. "A Call For Distance" begins with a feeling of "Music From The Hearts Of Space" that morphs into a jazzy beat, accompanied by echoed tribal drums. It's an elegant opus that moves between genres with ease and grace.
Heather Woods Broderick's vocals are incredible on "All For A Love." Layers of painfully pretty harmonies that inspire goosebumps provide the framework, while an impressionistic, wandering guitar line runs through the song, along with a muted trumpet. The title track, a marriage of delicate flute and piano, is gorgeous and quiet, and Broderick's repeated "had enough" becomes a hypnotic hymn. "Fall Hard" pulls the instruments back, leaving hushed piano and strings with a simple long pull of a note, making Broderick's ethereal voice the focus. On the spare arrangement of "The Sentiments," the vocals have space to breathe.
Glider is a moody, hazy, dream-like piece of work. The atmosphere that Heather Woods Broderick creates with her gossamer vocals and evocative songcraft is all encompassing. Glider is rich, phantasmagoric, and sometimes unbelievably beautiful.
Glider was released on July 10 via Western Vinyl and is available on iTunes.