Published on June 26th, 2015 in: Canadian Content, Concert Reviews, Music, Music Festivals, Reviews |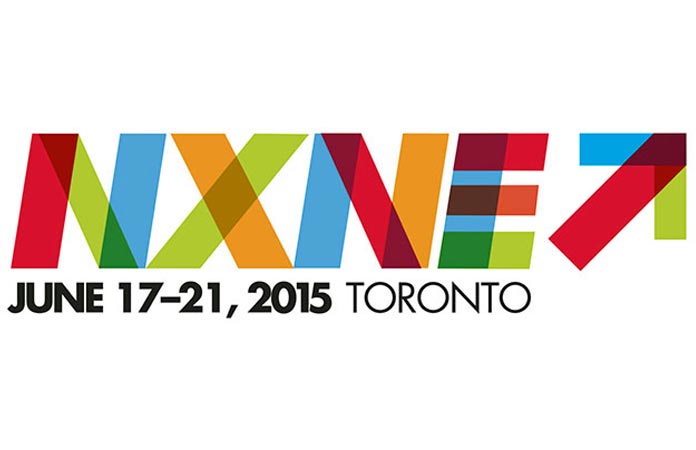 The musical tornado that was NXNE 2015 blew into Toronto on Wednesday, June 17, boasting hundreds of bands performing over a five-day span, not to mention various film screenings, installations, and even a record sale. It's not for the faint of heart or the weak of feet, but it is an exhilarating, if exhausting, event.

June 17, Day One: Lee's Palace
Louise Burns kicked off the night with a set of jangly pop that wouldn't feel out of place in 1985—or 1995, for that matter. She has a lovely voice and switched between guitar and bass. Along with her bandmates, she provided a pleasing set of tunes, including a nice cover of The Sundays' "Here's Where The Story Ends."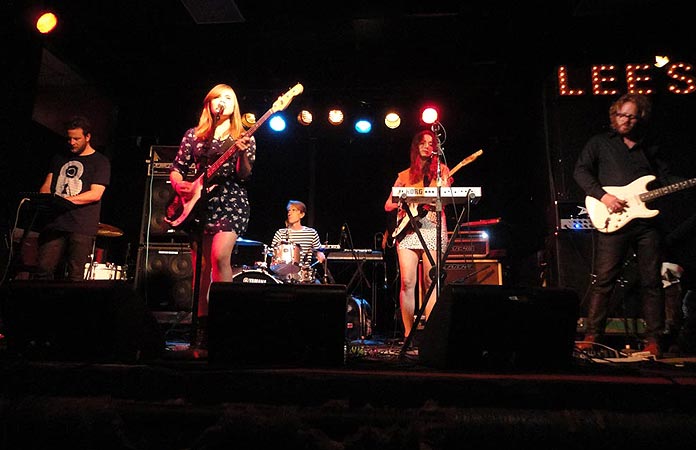 As charming as Burns was, the next act was unforgettable. If you haven't heard of Dinner, née Anders Rhedin, there's little I could say to properly explain his amazingness. He's a one-man band, a crazy dancer, a gifted raconteur, and the most enthusiastic and engaging performer I've seen in ages. Rhedin splits his time between Copenhagen, Berlin, and Los Angeles, and the cultural tensions between those three cities are likely the crux of the indescribable weirdness within Dinner's aesthetic. Perhaps if DAF were more disco or if disco were more DAF, you'd be edging closer to what it's like to experience Dinner. I hesitated to include video or audio links here, lest they diminish the wonderment you would feel upon seeing Dinner live and in the flesh, but here's a particularly evocative track.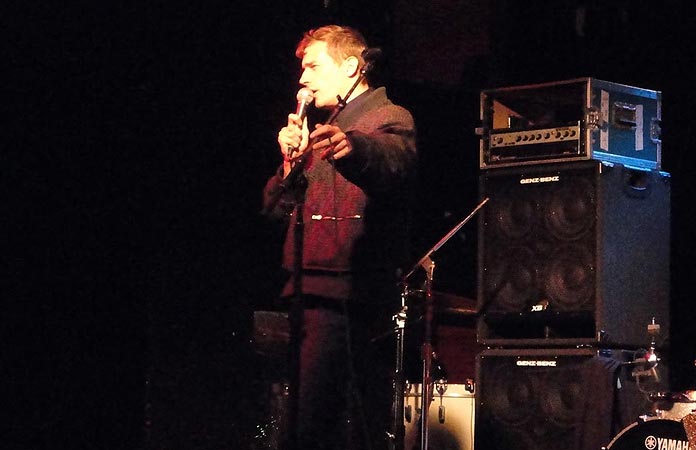 It would be nearly impossible for anyone to provide a proper follow up to Dinner, except perhaps Ziggy Stardust, but PROGRAMM is a particularly good band, so kudos to whoever put this lineup together. They were the comedown after the party. I'd first seen them perform during CMW and their set tonight was much the same, minus the groovy light show they'd had at The Garrison. I was also reminded of just how textured PROGRAMM's music is. Drummer Andrew Reesor continues to impress, providing a steely spine around which the other band members can drape their sheets of sonic bliss.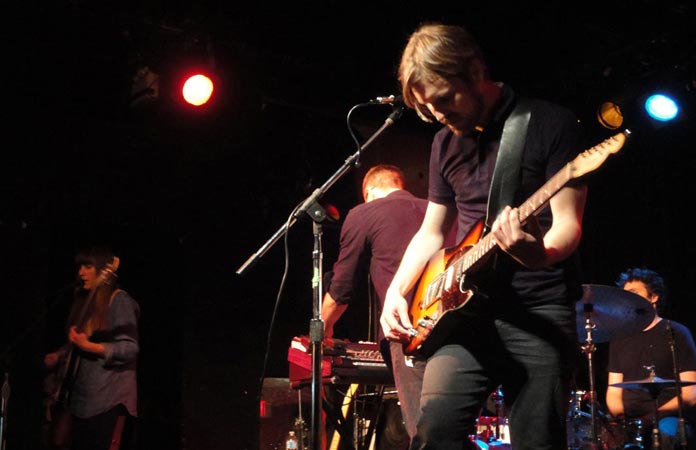 Having heard Doomsquad's eclectic and difficult to describe sound, but not having seen them perform yet, I wasn't sure what to expect. They did not disappoint. Siblings Trevor, Jaclyn, and Allie Blumas have built a world of their own in Doomsquad; they play off of each other in a way that is remarkable. Reminiscent of witch house bands like Demdike Stare, Doomsquad are less cerebral and more tribal, with some inventive guitar work from Trevor, and chilling vocals from Jaclyn and Allie. Their performance was woefully short; 40 minutes is not enough time to let their unique universe envelop your senses.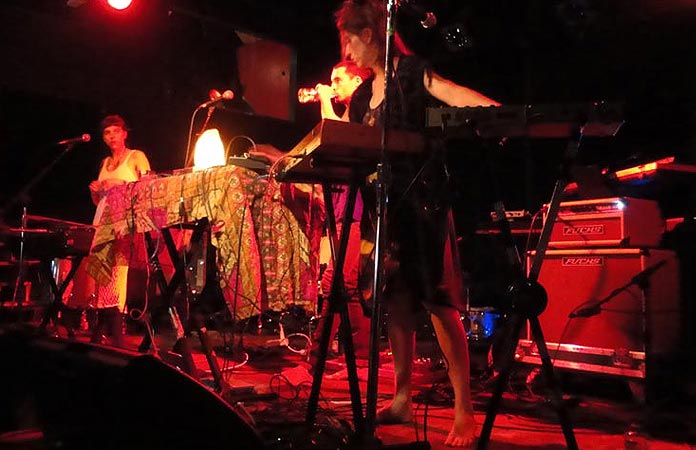 Zola Jesus was the next performer, and for me she was also the last, because I had to take transit home. The smell of incense burning was the first thing I noticed; the second was the near-absence of lighting, save for a few blue spotlights on the three band members at the back of the stage. Nika Roza Danilova performed her entire set in darkness, which no doubt frustrated all of the Toronto band photographers in the audience. It was the perfect way to focus, however, on her excellent band and of course, her incomparable vocals. Her set was far shorter than the one at The Horseshoe in January; such is the one real problem with having so many bands perform in one night. Still, she frequently flailed around the stage, climbed all over the amps and at one point, nearly into the crowd. Danilova is the definition of perpetual movement; Zola Jesus shows are not to be taken lightly.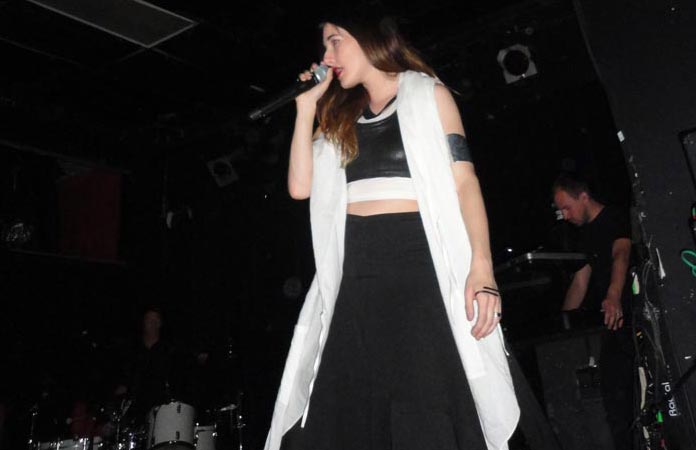 June 18, Day Two: The Opera House
Odonis Odonis's Hard Boiled Soft Boiled was on my Top Ten of 2014 so I was eagerly anticipating their appearance. Accompanied by a dazzling light show, the band played a set of mostly new songs (with the exception of "Blood Feast" and "Order in the Court") and I was impressed by the heavy industrial direction their sound is taking. Unfortunately there were a few gaps between songs, possibly due to technical issues, but that did little to dampen the band's invigorating performance.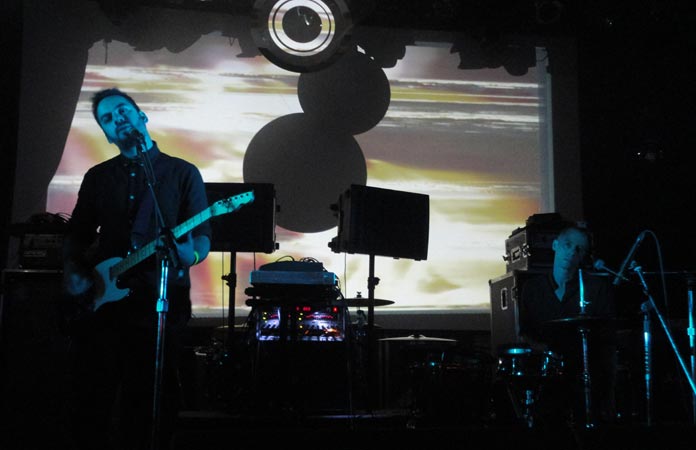 A Place To Bury Strangers was another band I'd heard but not seen live. When a band sells earplugs at their merch table, you have to assume that the rumors about "New York City's loudest band" are true. But oh, what a beautiful noise they make! Oliver Ackermann hugged his guitar close and then heaved it into the air; the many missing chunks of wood that it displayed gave evidence that this is common practice. Not to be outdone, bassist Dion Lunadon did much the same. APTBS also included a light show in their set, which made it nearly impossible for me to photograph them, but that's not really why we were all there, was it? At one point, the band left the stage to find a new home at the back of the venue, encircled by a throng of fans, where they finished their set with an excruciating version of "I Lived My Life To Stand In The Shadow Of Your Heart."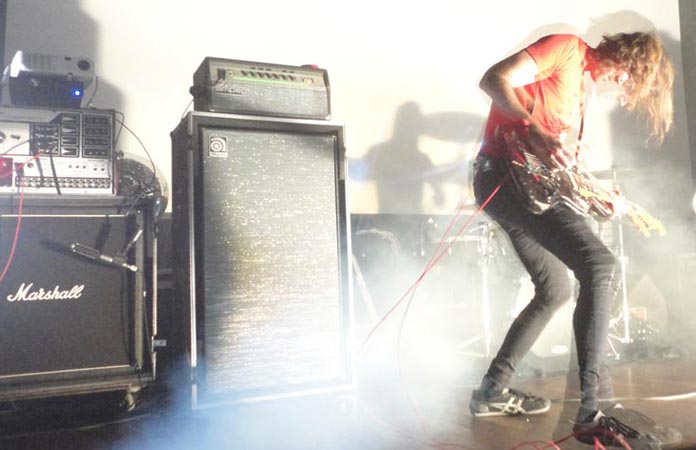 Then it was Iceage, whose theatrical, volatile music is far more suited to the expanse of The Opera House than it was to The Horseshoe in October of 2014. Singer Elias Bender Rønnenfelt swoons like Morrissey or Brett Anderson at their most histrionic, but with an anguish and ardor that belies his tender age. Rønnenfelt gets a lot of shit from male bloggers for being a prick or a nihilist, but I suspect that is a whole load of projection from entitled creeps who twist rude concert cell phone behavior and questionable journalistic ethics into insults. It's a pity that the remaining members of Iceage—Dan Kjær Nielsen (drums), Jakob Tvilling Pless (bass), Johan Surrballe Wieth (guitar)—don't get more attention, because they are all outstanding musicians. Wieth in particular is astonishingly good at shifting from ramshackle to restrained with the flick of a wrist. All in all, it was a glorious spectacle. Do not miss Iceage if you get the chance to see them live.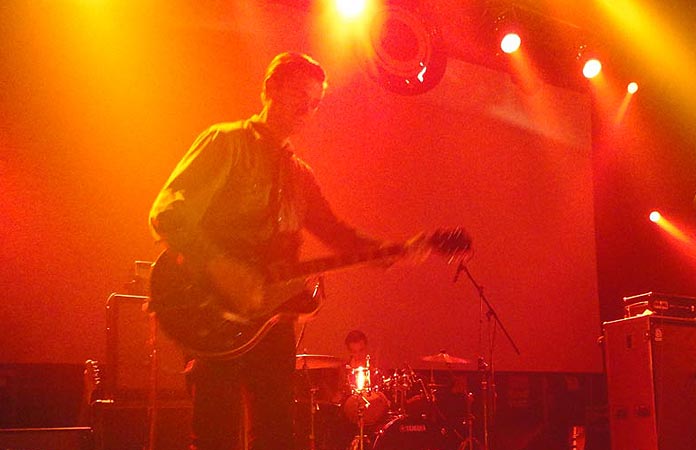 For some incredible photos that truly capture the aura of awesome that night at The Opera House, check out this set from Cameron McDonald.
June 20, Day Four: Adelaide Hall
I'm only human, so I had to skip Day Three. As nice as it would have been to see Muuy Biien, Odonis Odonis, and Cold Cave at The Garrison, I had to sleep.
I'd never been to Adelaide Hall, but I was not impressed. The size of the venue is intimate and I appreciate that I don't have to crane my neck to see the bands onstage, but otherwise I was disappointed. The sound mix was terrible; everything was too loud and too muddy. Nowhere was this more apparent than for opening band Das Rad.
Perhaps if I'd been better able to hear singer and bassist Allyn Norris I would have liked Das Rad more. They also played nine songs, which seemed inappropriate given the fact that they were only the first in a lineup that included five other bands and started later than scheduled, but they were enjoyable enough.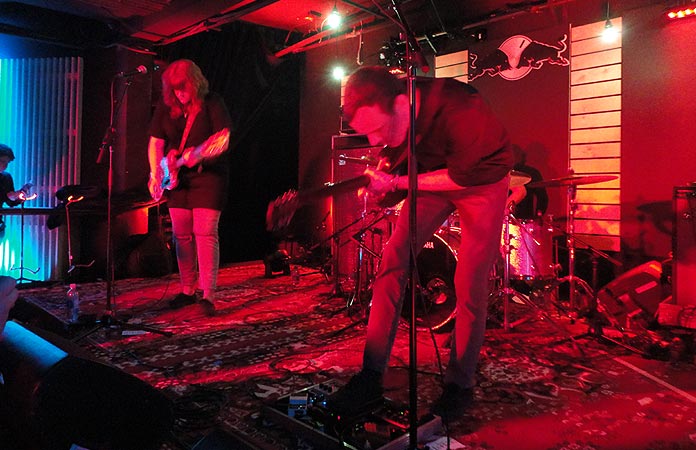 Next was PROGRAMM who probably thought I was stalking them at this point. Again, they were wonderful, even though they only played six songs. I stole the setlist so I could remember the names of my two favorites, "Nothing" and "E.A.O.," the latter of which has that great Ultravox keyboard melody. I snagged a copy of their Like The Sun EP after the show.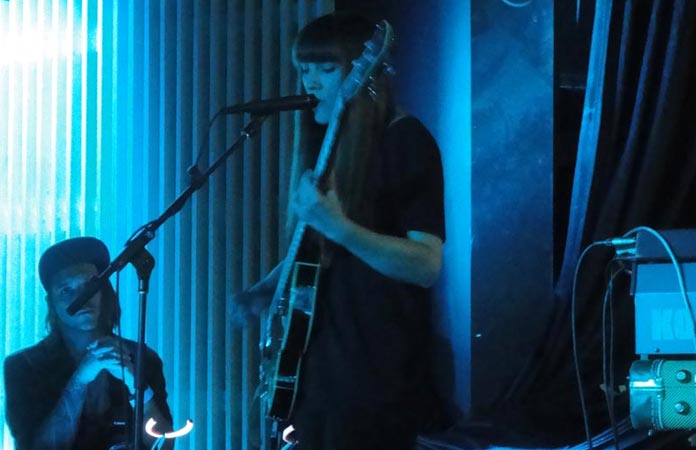 There was a distinct change in tone with the next band, Greys, a viciously tight hardcore quartet that literally did not stop thrashing around the stage. Their set was impeccable and loud in the very best way, despite Adelaide Hall's questionable sound.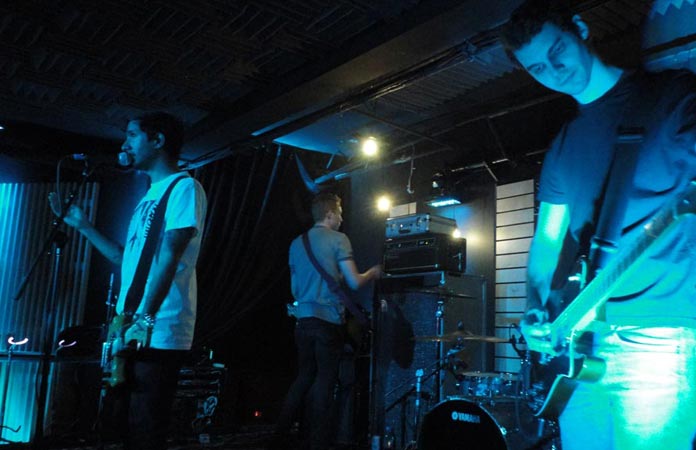 The best surprise of the evening was L.A.'s Cold Cave, the moniker of one Wesley Eisold, who performed with a nameless, but beautiful, woman on synth and samplers. Cold Cave's goth and industrial sound was bracing and Eisold's vocals and onstage presence are a genuine shock to the senses. If you thought goth was all droopy and boring then you've never heard Cold Cave. I was so impressed I bought the last copy of their Full Cold Moon 12-inch.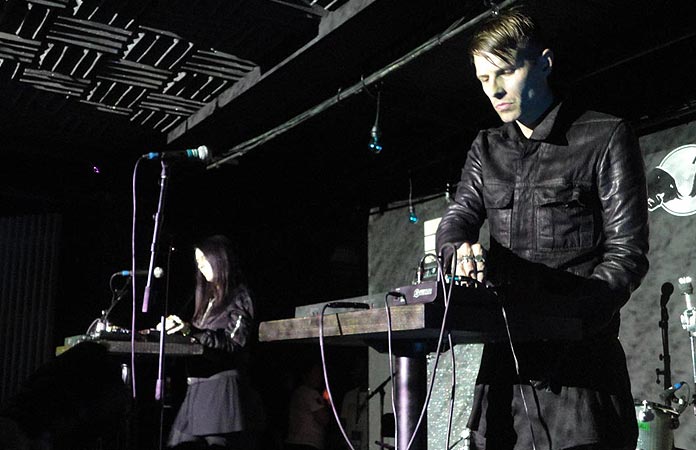 Once again, I had to leave to catch transit, thus missing Deafheaven and "surprise guest" Fucked Up. On the way home, I wandered through the crowd of entertainment district club hoppers, feeling a bit like Andie from Pretty In Pink going to that party at Steff's house, but it was just fine. I had a great evening! I'm looking forward to what NXNE 2016 brings.