Published on June 19th, 2015 in: Culture Shock, Current Faves, Music, Music Reviews, Retrovirus, Reviews |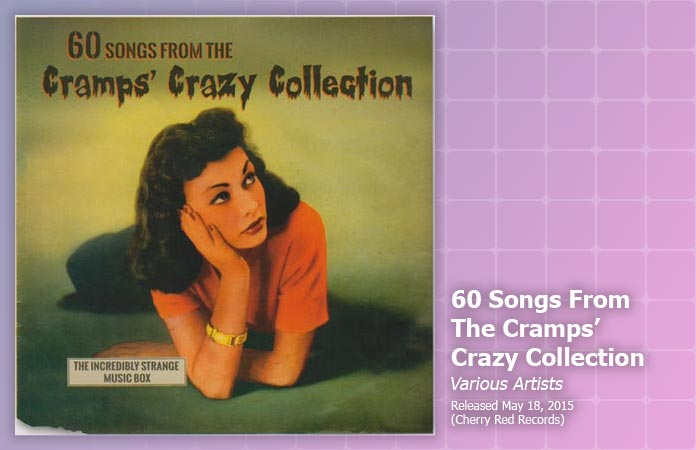 The record collection of The Cramps' Lux Interior and Poison Ivy was massive and eclectic, as well documented on the Internet, the truest of all informational sources. In 2013, Cherry Red Records released Loose Lips Might Sink Ships (review), a 26-track album of instrumentals from their collection, and now, a follow-up has arrived: 60 Songs From The Cramps' Crazy Collection: The Incredibly Strange Music Box. It's the kind of riff-filled, oddly charming, mish mash of things that one would expect and hope for. There's exotica, rockabilly, novelty singles, and a curious preoccupation with voodoo and fancy words ("Ginchy" "Groovy" and "Limbo"!). It's enormously fun.
With two discs and 60 tracks (60! Tracks!), there is something for everyone, provided that everyone can embrace the strange. A cornucopia of singles from the late '50s to the early '60s, The Cramps' Crazy Collection has one-hit wonders (the amazingly named Sparkle Moore, whose "Skull And Crossbones" is a rockabilly confection) and well-established artists (The Ventures are well-represented here with a killer version of "Green Onions," a surfy "Flight Of The Bumblebee" called "Bumble Bee Twist (The Wasp)," and "Ginchy," a trebley treat).
There's exotica galore on The Cramps' Crazy Collection. Despite the name, "Gumbo" from Shades of Rhythm is tropicalia with yelled back-up vocals and the prerequisite sax solo. There is no shortage of sax solos on the album. More songs have them than not. I review a lot of brass bands and have not heard THIS many sax solos collected in one place.
"Twistin' In The Jungle" from Buddy Bow is hip-swiveling, ridiculous exotica with a rapid-fire chorus. The Forbidden Five's "RFD Rangoon" hits the magic calculation: theremin + organ + monkey noises + banjo = musical excellence. Finest, though, is Martin Denny's take on Dick Dale's classic "Misirlou." Denny strips the urgency and guitar from the song and instead turns in an elegant, lovely rendition. There's not a better song title than "Signifying Monkey," a hep cat shuffle with a loquacious narrator.
On this collection anything over three minutes feels a bit excessive, especially when there are 60! Tracks!. Therefore, if brevity is the soul of a good song, Gene Summers's "Straight Skirt" is a fine one, clocking in at two minutes of piano-pounding rockabilly. "Whistle Bait" from The Collins Kids sounds uncannily like a lost Wanda Jackson track. Roland James's twangy "Guitarville" features someone playing bottles as percussion. Another Gene Summers track, the befuddling "Twixteen," still rocks a bit. I mean, if she's almost 16, then that means the girl is 15, right? Why not just call it "Fifteen"? Mickey and Sylvia's "No Good Lover" is outstanding: excellent vocals, a heavy guitar riff, a bit of innuendo and washboard playing.
The Cramps' Crazy Collection doesn't skimp on doo wop, either. The Blenders cut right to the chase on "Don't Fuck Around With Love." It's not a novelty song, but it's hilarious because it's honest, and musically it's quite wonderful, with excellent vocals. The Aladdins' "Munch," about a lady who loves food, is bolstered by the curious addition of kettledrums and is deliciously odd.
But what kind of collection would it be without oddities? Garry and Larry's "Garlic Bread" is a swinging marriage of organ and piano that erupts into. . . a kazoo solo? A comb and tissue paper solo? Some odd yelping? The world may never know. Jerry Neal's "I Hates Rabbits" isn't exactly about Bugs Bunny, and the guy supplying the bunny's vocals isn't Mel Blanc, but the breakneck beat, silly voices, and gunshots add up to quite the curiosity. "Boo Hoo" from Marvin Rainwater sounds as if Rat Fink is singing the lead and "Stutterin' Cindy" from Charlie Feathers is flat-out ridiculous, right down to the way Feathers apes Elvis's vocals. Kenyon Hopkins's "Let Me Out" is hair-standing-up-on-the-back-of-the-neck creepy.
When listening to The Cramps' Crazy Collection, you can certainly hear some of the cornerstones of The Cramps' sound. If you put these songs in a blender, out would come "Goo Goo Muck." Even if you removed the link to the Lux and Ivy, The Cramps' Crazy Collection would still be a great listen, an ear-opening jaunt through an utterly amazing record collection.
60 Songs From The Cramps' Crazy Collection: The Incredibly Strange Music Box was released on May 18 from Cherry Red Records.