Published on May 22nd, 2015 in: Blu-Ray, Culture Shock, Current Faves, DVD/Blu-Ray Reviews, Horror, Movie Reviews, Movies, Reissues, Retrovirus, Reviews |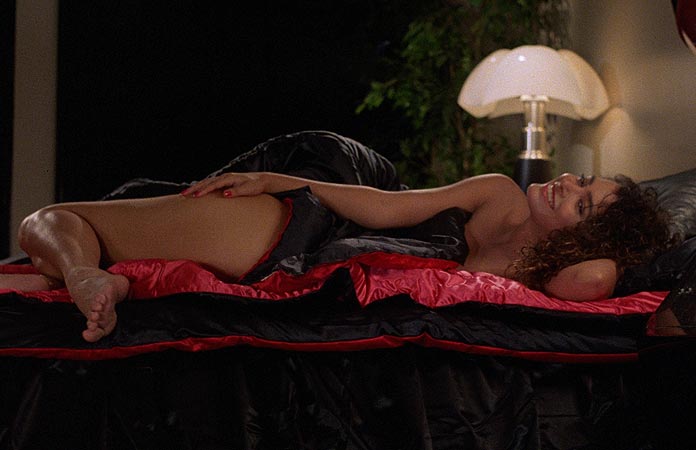 Oh how we all get richer / Playing the rolling game
Only the poor get poorer / We feed off them all the same
—Society's version of the Eton Boating Song
How do you explain a movie like Brian Yuzna's Society? It truly is one of those things you must experience for yourself. The 1989 film is an important chapter in the body horror/ero goru subgenre, but it's also just plain weird.
Bill Whitney (Billy Warlock) is in therapy because he thinks something is wrong with him. He feels like an alien in his own family. Then his sister's ex-boyfriend David (Tim Bartell) plays a tape for him that seems to confirm his suspicions but actually further deepens the disturbing mystery. The whole thing culminates in a literal flesh orgy at the end of the film, a climax that once seen, cannot ever be unseen.
If you think I'm being vague on purpose, you're right. That's mostly because it's best to go into Society without knowing the whole story. The film seems more relevant than ever in its skewering of class issues and the late '80s fashion on display is certainly ripe for a resurgence, no matter how much those of us who endured it the first time may object.
As social commentary films go, Society is a bit stilted at times, but that only feeds the sense of paranoia, that something is seriously wrong with everyone but Billy. If it sounds like I'm selling the film short by stating that the end sequence is worth the price of admission, I'm not, but trust me, the end sequence is worth the price of admission.
With unparalleled special effects from Screaming Mad George, the final act of Society is both grotesque and gorgeous, rivaling even Rob Bottin's work on The Thing or Chris Walas's contributions to the 1986 version of The Fly.
For those who've been eagerly anticipating a Blu-Ray release of this film for years, Arrow Films has made it worth the wait by delivering an exceptional package. The visuals are crisp, clear, and vivid and the sound is equally so. The subtle, spooky noises throughout the first part of Society contribute to the audience's growing sense of unease and being able to hear each creepy nuance is a real bonus.
The Severin Films-produced featurettes are outstanding. "Governor Of Society" is a new single camera interview with Brian Yuzna, who discusses his career and the genesis of Society. (Note: I hope someone revisits the idea of making The Men.)
Next is "Masters Of The Hunt," featuring current, individual interviews with Billy Warlock, Tim Bartell (David Blanchard), Devin De Vasquez (Clarissa), and Ben Meyerson (Ted Ferguson). This featurette is well edited and includes many great, insightful anecdotes from everyone.
"Champions Of The Shunt" focuses on Screaming Mad George: he explains how his artwork was the inspiration for the special effects in the film and how much work was done to get the final scene ready. This featurette also includes interviews with effects artists Nick Benson and Dave Grasso.
There's a 40-minute Q&A with Yuzna from a 2014 screening of Society at Celluloid Screams, which provides even more interesting background on the film. The Blu-ray also includes the film's original trailer and a music video from Screaming Mad George as well as a new commentary track with Brian Yuzna and Severin Films' David Gregory.
Although it's the shortest of all the special features, my favorite is a brief backstage interview with Yuzna from the film's 1989 premiere, during which he distills everything horror fans love about horror in two precise, passionate minutes. It's enough to make you stand up and applaud.
Society was released by Arrow Films and MVD Entertainment Group on May 19.