Published on April 17th, 2015 in: Current Faves, Music, Music Reviews, Reissues, Retrovirus, Reviews |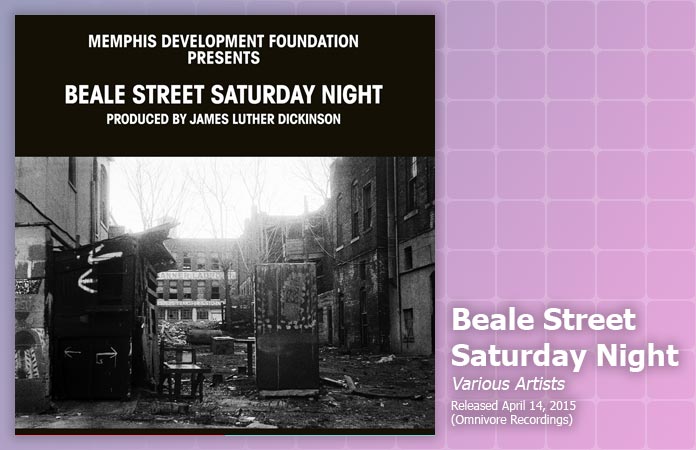 Beale Street Saturday Night is a historical document that you could dance to, if you were so inclined. In 1976, James Luther (Jim) Dickinson (who played with loads of people, from the Stones to the Cramps, and produced Big Star, The Replacements, et al) set out to document the music and the musicians that played on the storied street where rock and roll arguably began. He recorded blues musicians at home, at clubs, and at the Orpheum theater, creating a sonic trip with spoken reminiscences from the artists cut in to their songs. The resulting album, Beale Street Saturday Night, was released in a limited run in 1978 and fetches astounding prices for original copies.
The fine folks at Omnivore Recordings, though, want you to hear this classic. Beale Street Saturday Night is being reissued for the first time on all the fine platforms (CD, digital, and clear vinyl) with new liner notes from Jim Lancaster (who also worked on the original), new photos, and the help of the Dickinson family.
It's an amazing album that kicks off with Sid Selvidge's musical gumbo of "Walkin' Down Beale Street." A melange of gorgeous piano, a magnificent choir, fingerpicked guitar, and a smattering of horns, it's a summation of disparate ingredients that come together to make the Memphis Blues. It's one of the few straightforward musical performances on Beale Street Saturday Night. Most tracks, like Fred Ford's arpeggio-jumping sax solo "Hernando Horn," have snippets of spoken interviews with the artists interspersed with their performances.
The interviews are intriguing. There's an economy of words here, an honest communication. Sleepy John Estes's "Big Fat Mama/Liquor Store," recorded in his living room, is intriguing. He says, "Beale Street was the greatest place on Earth, 'til they ruined it." At the time this was recorded, Beale Street was in serious decline, and it wasn't until 1977 that Memphis was officially declared the "Home of The Blues" by an act of Congress (always doing the hard work).
Thomas Pinkston was a surviving member of WC Handy's Orchestra at the time of his interview. He tells an evocative story about a fellow ("Ben Griffin Was Killed In The Monarch. . . ") while he plays piano.
The liner notes point out that Furry Lewis could smoke and drink at the same time as he played and sang "Furry's Blues." That's incredible. The song is simple and direct, hypnotic in its virtuosity, without being showy. His "Chicken Ain't Nothin' But A Bird" is mad and wonderful, with smart discordant fingerpicking.
To me, the unsung hero of Beale Street Saturday Night is Grandma Dixie Davis. Her inimitable voice is outstanding on "Beale Street Blues" and the charming as anything "Roll On Mississippi," a fabulous travelogue of a paddleboat trip.
Beale Street Saturday Night is a fascinating time capsule of a very specific moment and place. It captured these artists and gave them their due before it was too late (which, surely, needs to be done more), and thanks to Omnivore, these artists get a moment in the sun once again.
Beale Street Saturday Night was reissued by Omnivore Recordings on April 14.