Published on April 17th, 2015 in: Music, Music Reviews, Reviews |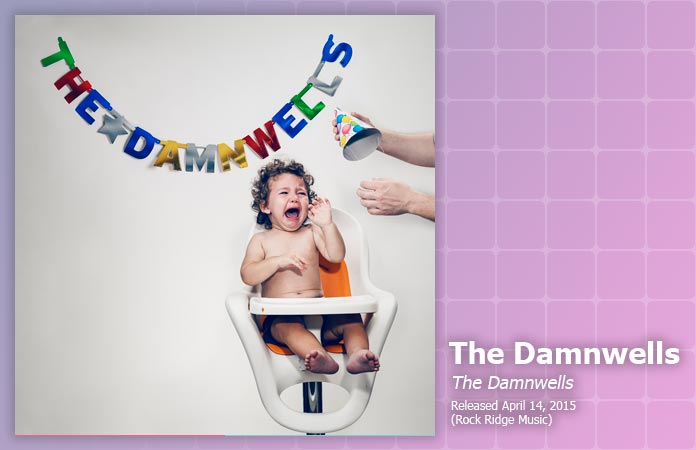 On the song "Too Old To Die Young" from their self-titled album, The Damnwells' Alex Dezen sings, "We could have been Everclear." Herein lies the problem with the record. The Damnwells make accessible pop/rock that would not be radio-unfriendly in the mid-'80s to '90s. It seems wholly inspired by The Outfield (sans clarion vocals) or the Goo Goo Dolls. Someone likes that sort of thing; those bands sold lots of records. It's just not inspiring music. It's not music that makes you yearn for more, music that makes you feel something, that makes you excited, happy, mournful. It's the one-ply toilet paper of music. And the Damnwells' new album is that. Meh.
The Damnwells starts promisingly, with the well-named "Money And Shiny Things." The song is jangly and energetic with serviceable harmonies. It starts and stops on a dime. "Lost" sports a fine melody and swoony guitars. "The Girl That's Not In Love With You," also well-titled, feels urgent, and the backup vocals have a hint of despairing rawness to them. "None Of These Things" is a bit pretty and a bit sad and sounds quite like Explosions In The Sky. "Kentexas" has a pleasing sonic sheen, with a shiny synth riff, and Dezen has an agreeable gruffness to his vocals, but it's almost too slick.
All the agreeable gruffness in the world won't make up for Dezen's insipid lyrics. Surface and cliched, the words don't add up to much. Take "Kill Me," a recitation of dreadful reality stars and shows with the exhortation "Kill me now" over chiming guitars and a sassy beat. It could be a companion piece to Bobcat Goldthwait's excellent film, God Bless America, but it lacks fire. It just lacks. The sunny with a drop of sax "Too Old To Die Young" aspires for inspiring, but misses the mark.
The Damnwells have made a perfectly inoffensive, self-titled album. It's fine background music that doesn't ask much of the listener. But is that what a band really wants? Is that what a listener asks for?
The Damnwells was released on April 14 through Rock Ridge Music.
Tour Dates:
5/8 – New York, NY / Irving Plaza
5/10 – Atlanta, GA / Shaky Knees Festival
5/14 – St. Louis, MO / The Firebird
5/15 – Chicago, IL / Double Door
5/16 – St. Paul, MN / Turf Club
6/4 – Austin, TX / Red 7
6/5 – Houston, TX / Fitzgerald's Downstairs
6/6 – Dallas, TX / Gas Monkey
6/10 – Seattle, WA / Tractor Tavern
6/12 – San Francisco, CA / Brick and Mortar
6/13 – West Hollywood, CA / Roxy
6/14 – San Diego, CA / Voodoo Room at House of Blues
6/26 – Washington, DC / Howard Theatre
6/27 – Boston, MA / Brighton Music Hall