Published on April 17th, 2015 in: Culture Shock, Music, Music Reviews, Reissues, Retrovirus, Reviews |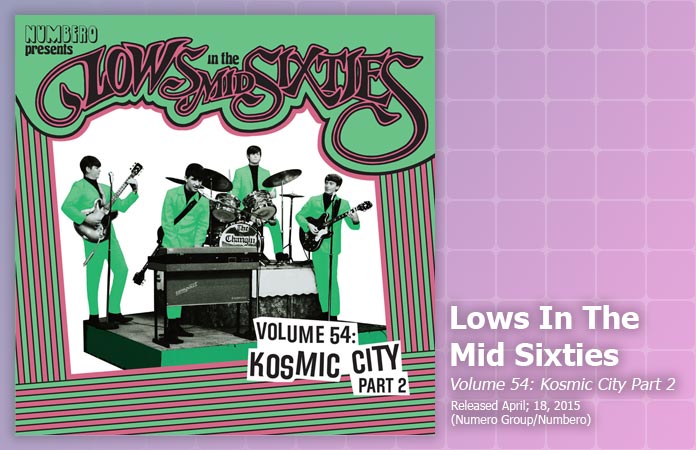 Who doesn't love Record Store Day? Piles of picture discs, odd singles, repressings of things you've always wanted but couldn't shell out the car payment-prices for on Ebay. Numbero (an offshoot label of the amazing Numero Group) is releasing Lows In The Mid Sixties, Volume 54: Kosmic City Part 2, on vinyl for Record Store Day 2015, and it is . . . odd.
The tracks are culled from the archives of Cavern Sound, a recording studio in Independence, Missouri that operated out of a limestone mine. The peculiar ambiance that comes from the recording situation is the highlight of these tracks; there's a level of reverb and strangeness that happens organically when you record in a mine. A mine! Under the ground! The mind simply reels, doesn't it?
The songs are from obscure bands in the late 1960s that, as the press release says, "barely mustered a session of cover tunes, much less a single." There are some better-than-pretty-good versions on Kosmic City, however. Bobby and The Fantastics' stellar take on "Tobacco Road" (the Nashville Teens chestnut) is truly fine. The lead singer's voice has a well-honed rasp that works quite nicely. Bobby and The Fantastics don't fare as well on "Show Me," a truncated version of the Joe Tex number. Missing verses don't help, and the audio sounds a bit degraded, but the main problem is that, despite having a driving beat, it's just passionless (I know, we can't all be Joe Tex, but c'mon. Funk it up a bit).
There's an incredible amount of Hammond organ on these songs. Montaris's cover of "In The Midnight Hour" sports a swinging organ solo and even calls out for the "big finish." "I Can Only Give You Everything," as done by Dearly Beloved, has a fair amount of swagger and a filthy, churchy organ sound. Their nimble version of "Keep On Running" is charming. The guitar is just fuzzy enough but the best part? A surprise tambourine break. Twice.
The Town Criers sound as if they've just woken up from a nap on their two Stones covers. "The Last Time" is bloodless with a sloppy take on the signature riff. The harmonies are OK, but the lead vocals are somnambulant. "Heart Of Stone" is a bit better, but the lead vocals, again, lack any sort of nuance. Jagger could pull off the lazy singing, but when you're imitating Jagger's vocals (as this singer does), you have to bring something.
Sleepy, too, are the vocals on "Mister You're A Better Man Than I," Here and After's take on the Yardbirds' song. The guitar solo is nice and grimy and the organ holds one note forever. It could have been fantastic if they just would have gone for harmonies on the chorus. They're right there, you can almost hear them, but the band missed the opportunity. Another Yardbirds cover, "Happenings Ten Years Time Ago" from Montaris, is spacey and psychedelic and oddly offkey. It tries so hard, with echoey vocals and the world's most painful organ solo. It's sonically horrifying.
If Davy Jones and Neil Diamond had a baby, it would sound like the lead singer of American Sound LTD. "Don't Leave Me Baby" is an anomaly on Kosmic City: flutes, strings, and horns are here instead of garagey grunge. It's the changing of the guard, where slickness takes over the AM dial. It's an oddly pleasing song, rich and surprising. It sounds like intermission music at a drive in.
Lows In The Mid Sixties, Volume 54: Kosmic City Part 2 is a fine companion piece to your Nuggets collection, or your Highs In The Mid Sixties records. They're not the greatest cover versions you'll ever hear, but I, personally, am a sucker for vinyl curiosities. And Kosmic City is certainly a curiosity. Did I mention it was recorded in a mine?
Lows In The Mid Sixties, Volume 54: Kosmic City Part 2 will be released by Numbero on April 18.