Published on April 10th, 2015 in: Current Faves, Music, Music Reviews, Reviews |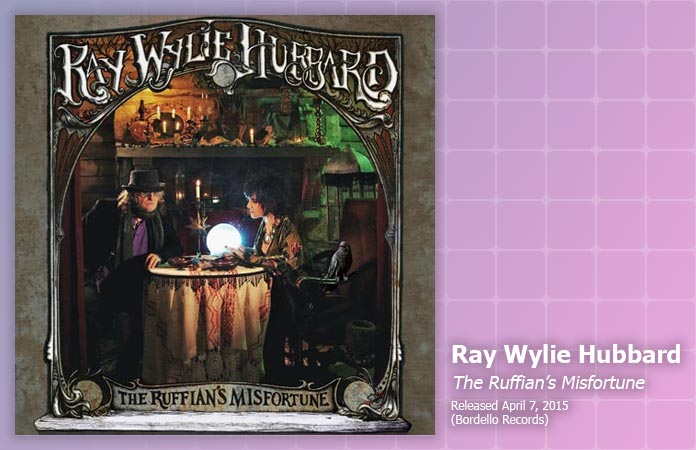 Ray Wylie Hubbard is the kind of artist that it takes the world a bit to catch up with. Making a sort of bluesy, country-tinged, mystic-thinking, completely rocking sound, he should have been huge in the Outlaw Country days. Instead, his fame was mostly limited to Texas, despite having made critically acclaimed albums.
Now, Ray Wylie Hubbard is regarded as sort of an elder statesman. On his latest, The Ruffian's Misfortune, he makes music that begs to be played loud. Gritty and heavy with thought-provoking lyrics, it's an album that works beautifully. The production (by Hubbard and his bassist George Reiff) is impeccable—a wall of sound with crisp percussion and a rich, twin guitar attack.
The Ruffian's Misfortune kicks off with the swampy and stalking "All Loose Things," in which Hubbard sings, "The gods can't save us from ourselves." There's a poetry to his words, a Flannery O'Connor-esque line of righteous sinners, devils, and angels who aren't so angelic. The woman described in "Too Young Ripe, Too Young Rotten" is self-possessed and lovely, and Hubbard captures her in well-chosen words. This song is beautifully produced, intimate, and completely reverent, and the gorgeously chiming guitars are warmed by the addition of Eleanor Whitmore's fiddle. Hubbard's voice is plain spoken with just the right amount of gravitas and a pleasing rumble.
"Chick Singer Badass Rockin'" name checks Joan Jett ("Joan Jett is a goddess" and hell yes, that's right) and Chrissie Hynde (who is also a goddess, but it isn't explicitly stated, but we all know she is). Stomping and garagey with witty lyrics and grungy guitars, it's heavy and enormously engaging. "Bad On Fords" also rocks. A dirty, bluesy song with Hubbard's tidy harmonica playing, the car thief narrator's pick up line is a keeper: "I'm bad on Fords and Chevrolets/but I'll be good to you!"
The spare "Mr. Musselwhite's Blues" sports an incredible drum sound. A fitting tribute to Charlie Musselwhite, Hubbard's vocals are perfectly suited to the sparse sound. Again, Hubbard evokes so much with few words and thoughtful playing.
"Down By The River," though, is my favorite; it's a song that works perfectly. It's evocative with rapid-fire vocals and Hubbard pulls off clever turns of phrase. It's urgent and dangerous as well as understated. A warning about crossing the border from Texas, the guitars mimic sirens.
There's a richness and swagger to The Ruffian's Misfortune, the kind that comes from an artist who's been kicking as long as Ray Wylie Hubbard. The man has history and the wisdom that comes with experience. His band, including son Lucas Hubbard, a stellar guitarist in his own right, is tight and accomplished. The Ruffian's Misfortune is the kind of album that it takes a lifetime to make, and Ray Wylie Hubbard has had one hell of an interesting lifetime.
The Ruffian's Misfortune was released on April 7 via Bordello Records.