Published on April 3rd, 2015 in: Current Faves, Music, Music Reviews, Reviews |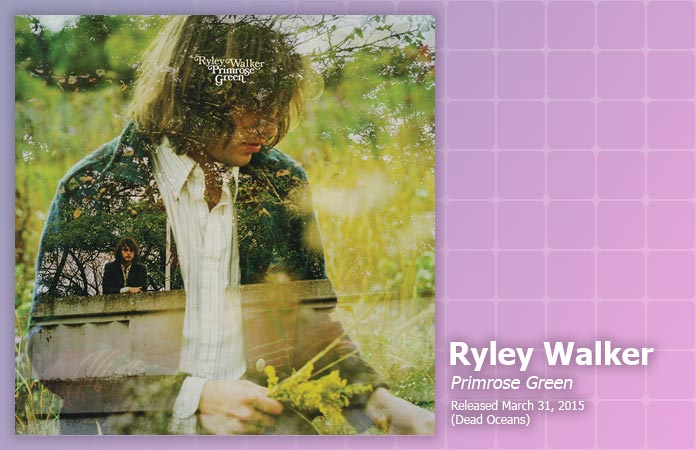 Ryley Walker's album Primrose Green feels like it was made by a man unstuck in time. It could be a lost Tim Buckley or Nick Drake album with its jazz-inflected, acoustic guitar-driven pastoral quality. Walker is an amazing guitar player, taking the instrument from gentle, bucolic strumming to aggressively percussive. His fingerpicking is otherworldly.
Wisely, Walker has surrounded himself with outstanding musicians on Primrose Green, notably drummer Frank Rosaly. Rosaly's intuitive rhythms and brilliant, crisp playing complements Walker's inventive guitar work. Together, they forge a retro yet avant sound that is both electrifying and soothing.
The titular track sounds as if it could have been lifted from a Nick Drake album. It feels very "folky England in the 1970s," gently rambling with lush layers of guitar. Ben Boye's dissonant piano delivers a lively undercurrent that becomes more dramatic and urgent before settling into a rustic groove again. It's an auditory treat.
The loose, jazzy "Summer Dress" is a folk mind bender. It's wild and hallucinogenic with a wandering bassline that's dreamy and vibrant. The tight drumming of Frank Rosaly is a focus of the spacey prog rock "Same Minds." Walker's voice is open throated here with a pleasant huskiness to it, while his wail has a bit of gravel. "Sweet Satisfaction" feels much like "Same Minds," from its vocal style to its jazzy drumming. The difference here is the addition of a fuzzed-out guitar that cuts in like a hive of angry, chainsaw-wielding bees. It erupts into a full on driving frenzy, theatrical and compelling.
"Love Can Be Cruel" is richly textured and frantic, but subdued. Walker's playing here is incredible; his guitar sounds like a sitar. It's a particularly unbridled track. The only quibble is that the vocals are buried so far down in the mix they're almost unintelligible. The guitar, of course, is the focus so that's completely understandable.
The sundrenched "On The Banks Of The Old Kishwaukee" is a change of pace, leaning more toward Americana than jazz. Here, Walker sings mysteriously over shimmering guitars in a remarkable song that advances with quiet locomotion. On the melancholy yet buoyant "All Kinds Of You," Walker delivers easy vocals. It's a bit disconcerting to hear effects on his guitar on this track and the fadeout feels like a particularly raucous Doors track.
The final song is exquisite. "Hide In The Roses" is just Walker's acoustic guitar and his plaintive vocals. His fingers are lightning fast on this Celtic flavored track that is both immediate and elegant.
Primrose Green is a dazzling album. Ryley Walker's unbelievable guitar work is eclectic and brilliant. The songs feel timeless and organic, a marriage of folk and jazz that dismisses the more annoying parts of either genre.
Primrose Green was released on March 31 via Dead Oceans.
Tour Dates:
Mon. Mar. 23 – Birmingham, AL @ Bottletree (w/ Steve Gunn)
Wed. Mar. 25 – Savannah, GA @ Hang Fire (w/ Natalie Prass)
Thu. Mar. 26 – Athens, GA @ 40 Watt Club (Slingshot Festival)
Fri. Mar. 27 – Knoxville, TN @ Big Ears Festival (w/ Sqürl, Steve Gunn)
Sat. Mar. 28 – Louisville, KY @ The New Vintage (w/ Steve Gunn, Watter, Nathan Salsburg)
Sun. Mar. 29 – Columbus, OH @ The Spacebar (w/ Steve Gunn)
Mon. Mar. 30 – Chicago, IL @ Chopin Theatre (Record Release Show)
Thu. Apr. 2 – Iowa City, IA @ Mission Creek Festival (w/ Real Estate)
Thu. May 7 – St. Louis, MO @ The Luminary Center for the Arts
Sat. May 9 – Austin, TX @ Levitation
Mon. May 11 – Atlanta, GA @ 529
Tue. May 12 – Carrboro, NC @ Cat's Cradle
Fri. May 15 – Portland, ME @ SPACE Gallery (w/ Death Vessel, Blood Warrior)
Sat. May 16 – Hudson, NY @ The Half Moon (w/ The Pigeons)
Mon. May. 18 – Cleveland, OH @ Euclid Tavern
Fri. May. 29 – Nelsonville, OH @ Nelsonville Music Festival
Tue. June 2 – Los Angeles, CA @ The Echo
Wed. June 3 – Long Beach, CA @ Carpenter House
Sun. June 7 – Vancouver, BC @ Levitation – Vancouver
Mon. June 8 – Seattle, WA @ Barboza (w/ Amen Dunes)
Tue. June 9 – Portland, OR @ Doug Fir Lounge (w/ Amen Dunes)
Thu. June 11 – Santa Cruz, CA @ The Catalyst Atrium (w/ Amen Dunes)
Fri. June 12 – San Francisco, CA @ The Chapel (w/ Amen Dunes)
Sat. June 13 – Sonoma, CA @ Huichica Festival (w/ Amen Dunes)
Thu. June 18 – Montreal, QC @ La Vitrola (Suoni per II Popolo Festival w/ Myriam Gendron)
Sat. June 20 – Toronto, ON @ The Mod Club (NXNE w/ Angel Olsen)
Sat. June 27 – North Adams, MA @ Solid Sound Music Festival
Fri. July 17 – Chicago, IL @ Union Park (Pitchfork Music Festival)