Published on March 20th, 2015 in: Current Faves, Film Festivals, Horror, Movie Reviews, Movies, Music, Reviews |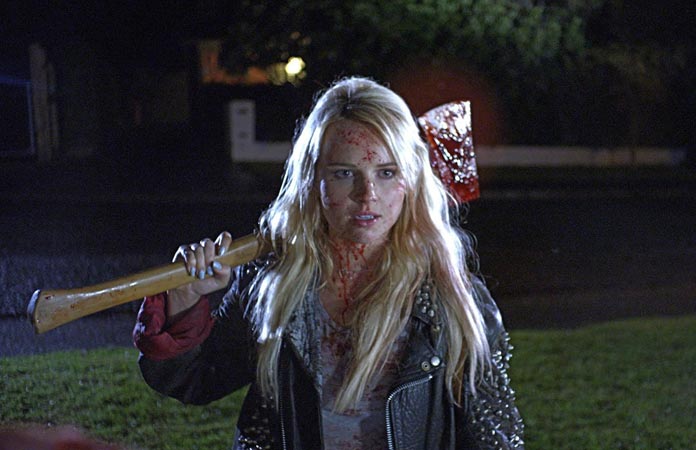 At the beginning of the Deathgasm screening Sam Zimmerman from Shock Till You Drop asked the audience, "Have you ever seen a movie and thought, 'Yes, that film was made for me'?" I truly feel that the filmmakers of Deathgasm somehow knew that I love and cherish heavy metal horror and decided to bring me their movie. Heavy metal and horror movies are similar in many ways and they work even better when they are blended together.
I've been a fan of heavy metal horror since the first time I saw Trick Or Treat. I soon became obsessed with these kinds of movies and hunted down Blood Tracks, The Gate, Rock 'n' Roll Nightmare, Shock 'Em Dead, and Rocktober Blood. Are you thinking I left out Black Roses? No, it's I just that I didn't see that until way later in my life, but I love it, too. It feels like Deathgasm is an homage to Black Roses, Evil Dead 2, and Trick or Treat mixed with modern metal.
Even if you're not a metal fan there are a lot of things to enjoy about Deathgasm thanks to extremely likeable characters and buckets of blood. Two metal heads uncover an unreleased song from a former metal band that unleashes some devilish events and they discover they are the only ones who can stop it with their love of metal, badassness, and garden tools from the garage.
Deathgasm is another film that is a throwback without consciously trying to be one. It's all due to the mindset of what the filmmaker loves and wants to accomplish. Deathgasm succeeds with such finesse and heart that it will make you melt in your seat. You are witnessing the type of shit you grew up on and still love as an adult.
A lot of filmmakers get the whole universe of metal wrong. Just putting studs and a Slayer shirt on someone doesn't make it "metal." (Same goes for punks in movies, by the way.) Metal isn't a look; it's an attitude and lifestyle. It's portrayed perfectly in Deathgasm. You instantly become friends with your main characters because you believe they are actual metalheads instead of actors. It's quite obvious that the filmmakers and most of the people involved understand metal and how it should be used in a movie such as this.
This isn't a spoiler or anything but one thing that made me grin from ear to ear while watching Deathgasm was a line from lead character Brody. When asked how he can listen to something as angry as metal he replies that metal feels so good to listen to because through the music you know that the singer is going through the same shit you are.
New Zealand seems to be knocking it out of the park these past few years with films such as Black Sheep, The Devil's Rock, The Ferryman, What We Do In The Shadows, and the festival favorite Housebound. Luckily, we have the mad mind of Ant Timpson to bring these films to us since Peter Jackson basically abandoned horror after The Frighteners. Deathgasm will be another film to mark down in the books as being a cult classic. Horror fans are going to go nuts for this one.