Published on March 6th, 2015 in: Current Faves, Feminism, Music, Music Reviews, Reviews |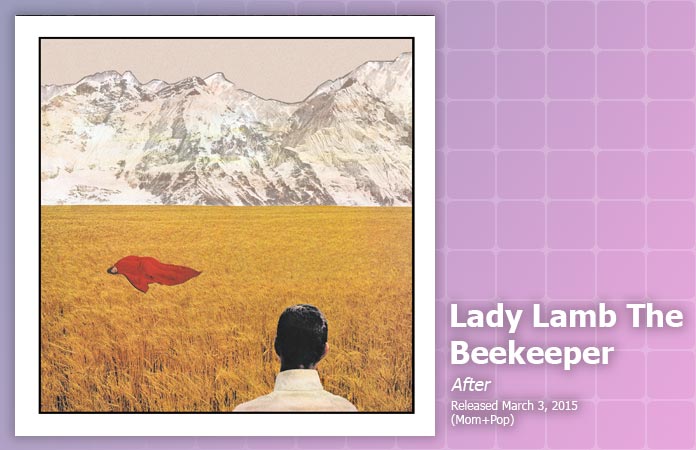 On After, Lady Lamb The Beekeeper (a.k.a. Aly Spaltro) unleashes her magnificent, versatile voice in miniature symphonies that are rich in detail and often deliciously surreal. Her songs are packed with moments of everyday (a steaming mug of coffee, watching TV) and a strong feeling of place (her current home in Brooklyn), coupled with inventive melodies. And that voice. Her voice is everything: rough, raw, delicate, fragile, astounding.
"Vena Cava" takes a quiet/loud/quiet/loud dynamic, with gentle, easy verses and heavy choruses, deep with fuzzy guitar, roaring with intensity. On the verses, her voice lilts so effortlessly. Her lyrics are poetry, and the music is wildly vibrant.
"Billions Of Eyes," too, veers from cozy intimacy to Spaltro's anthemic vocals. The observational lyrics are inspired ("The clouds look a lot like wool gone through the wash" and "When gravity's a palm pushing down on your head/Like the devil's got a paw dug in your shoulder/And the other one is rubbing your back." Not to mention the third verse story of her great grandmother's sister, who was deemed a saint.) and the rhythm barrels along politely.
The repeated lyric in "Violet Clementine" ("You build a nest of yellow yarn/You hope to guide the yellow yarn/It's soft enough to break your fall/Should you fall") is sung in such an open-throated way, it's as if you can almost see her heart beating. It takes the Russian folk song-flavored motif and sends it on a journey with mandolin and tambourine and a dash of horns, then it is transformed again and again, through different styles and feelings, into an entire musical in the space of an under five-minute song.
The stark beauty of "Sunday Shoes" is incredibly moving. Delicately picked acoustic guitar paired with Spaltro's silky, tender voice make the song deeply intimate. The lyrics (in which she leaps a fence to chase the wolves from her baby sister, who is eating dirt in the flowerbed) are vivid and end with the beautiful sentiment that in death "you will become your most favorite color." It's breathtaking and heartbreaking.
"Dear Arkansas Daughter" is dark and powerful. Spaltro's versatile voice rips madly through emotions, and the lyric "My heart is full of swords" is one for the ages. "Milk Duds" could be its polar opposite: soaring vocal line, stream of consciousness lyrics, and handclaps with jangly guitar. It's surprisingly light but still substantial.
On After, Lady Lamb The Beekeeper has made complex treasures of songs, rare and layered with meaning. Her voice, lyrically, is honest and thoughtful. Her voice, sonically, is stunning and glorious. It's a remarkable album, cohesive in her identity.
After was released by Mom+Pop on March 3.
Tour Dates:
Sat. Mar. 7 – Cambridge, MA @ The Sinclair *#
Fri. Mar. 13 – Portland, ME @ Port City Music Hall *#
Fri. April 3 – Providence, RI @ Columbus Theatre ^
Sat. April 4 – Northampton, MA @ Pearl St. Nightclub ^
Mon. April 6 – Burlington, VT @ Signal Kitchen ^
Wed. April 8 – Philadelphia, PA @ World Cafe ^
Thu. April 9 – Washington, DC @ Rock & Roll Hotel ^
Fri. April 10 – Durham, NC @ The Pinhook ^
Sat. April 11 – Nashville, TN @ The High Watt ^
Mon. April 13 – Atlanta, GA @ The Earl ^
Wed. April 15 – New Orleans, LA @ Gasa Gasa ^
Fri. April 17 – Austin, TX @ Lamberts ^
Sat. April 18 – Dallas, TX @ Sons of Hermann Hall ^
Tue. April 21 – Phoenix, AZ @ Rhythm Room ^
Wed. April 22 – San Diego, CA @ Soda Bar ^
Thu. April 23 – Los Angeles, CA @ Echo ^
Sat. April 25 – San Francisco, CA @ Rickshaw Stop ^
Mon. April 27 – Portland, OR @ Mississippi Studios ^
Tue. April 28 – Vancouver, BC @ Electric Owl ^
Wed. April 29 – Seattle, WA @ Barboza ^
Thu. April 30 – Boise, ID @ Neurolux ^
Fri. May 1 – Salt Lake City, UT @ Kilby Court ^
Sat. May 2 – Denver, CO @ Larimer Lounge ^
Mon. May 4 – Omaha, NE @ The Slowdown ^
Tue. May 5 – Minneapolis, MN @ 7th St Entry ^
Wed. May 6 – Chicago, IL @ Schubas ^
Fri. May 8 – Ferndale, MI @ The Loving Touch ^
Sat. May 9 – Toronto, ON @ The Garrison ^
Mon. May 11 – Montreal, QC @ Le Divan Orange ^
Tue. May 12 – Hamden, CT @ The Space ^
Wed. May 13 – Portsmouth, NH @ The Press Room ^
* = w/ Cuddle Magic
# = w/ Henry Jamison
^ = w/ Rathborne