Published on February 27th, 2015 in: Cartoons, Music, Music Reviews, Retrovirus, Reviews, TV |
By Tyler Hodg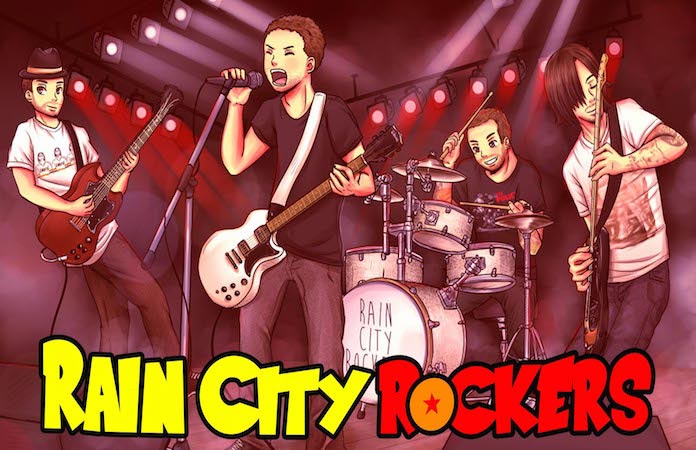 Never has so much nostalgia been so perfectly packed into a five-song, seven-minute EP. Then again, how often does a compilation of re-recorded anime theme songs get released?
Any '90s child (or geek) will be delighted to hear the fresh air breathed into some of his or her favorite TV themes. Send thanks to Andrew Conroy and his punk-rock "supergroup," consisting of Tom Thacker (Sum 41, Gob), Anthony Bleed (Die Mannequin), and Darrin Pfeiffer (Goldfinger), for creating this amusing celebration of the golden age of anime shows. The themes for Pokémon, Dragon Ball Z, Digimon, and Sailor Moon are some of the catchiest songs to ever grace TV intros, so it comes as no surprise that Rain City Rockers' Anime EP is delightfully mirthful.
In a recent press release for the EP, Conroy offered his views on the compilation by saying, "Theme songs really resonate with viewers, even years after the show has ended, and I wanted to do my own take on these songs." The choice of which themes appeared on the record was predictable, yet embraced. Rain City Rockers' punk-rock style works magically with the songs to create a desirable fusion of two things that don't get to meld enough: geek culture and punk music. As opposite as those two things may be, together they will undoubtedly always result in total awesomeness.
The final song of Anime is an original track, written by Rain City Rockers. "If You Don't Like Pikachu" is a witty, tongue-in-cheek love letter to the geek community and their refusal to grow up. With a line like, "If you don't like Pikachu/Then I'm sorry baby, I won't choose you," it's easy to see the song's purpose isn't to create some sort of intellectual debate over a global issue, it's all about taking music—and yourself—a little less seriously. The song is surprisingly well written and has definite moments that will have any Pokémon fan (or anyone who understands geek culture) laughing out loud.
Although Anime is over before you know it, that doesn't mean the music is any less enjoyable. What the compilation lacks in length, is made up for in the amount of childhood memories flooding back with a single listen of these songs. Rain City Rockers' Anime is a nostalgia-filled blast from the past, and is a fitting homage to the TV shows and themes that hold special places in most of our hearts.
Anime was released on February 24 by Flashlight Music Group and is available for free at Arcadesushi.com.