Published on February 27th, 2015 in: Current Faves, Music, Music Reviews, Reviews |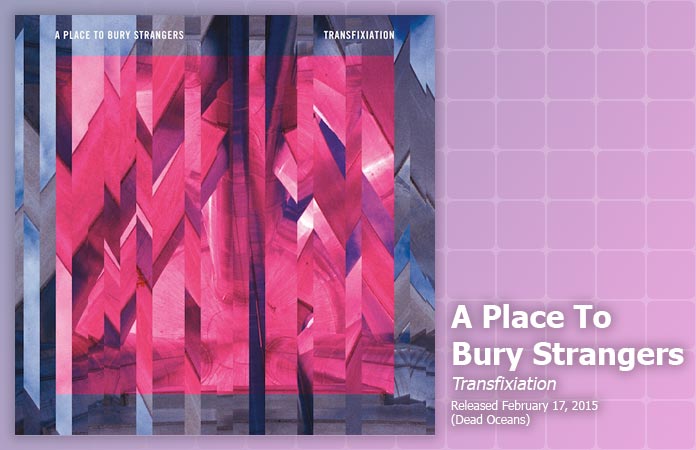 How I went this long without hearing A Place To Bury Strangers is an embarrassing mystery. To rectify my mistake, I spent a lot of hours delving into their discography before writing this review. Alternating between brooding and buoyant shoegaze, this New York trio has elevated feedback to an art form. Although they're frequently compared favorably (and appropriately) to The Jesus And Mary Chain, over the course of their three previous albums they've also managed to incorporate influences such as Tones On Tail, Love & Rockets, and The Church. And that's what makes Transfixiation such a frustrating listen.
The album starts off strong with the sexy staccato of "Supermaster" and "Straight," both of which integrate cavernous spaces into APTBS's normally claustrophobic soundscapes, and represent an exciting evolution from 2012's fantastic Worship. Then things fall apart a bit.
I don't think I've ever criticized an album for the order of the songs, but the placement of "Love High" and "What We Don't See" is befuddling. They drag the album down just when it should be amping up. The band's self-titled 2007 debut was a collection of singles recorded over time but sounded remarkably cohesive, and the first half of Transfixiation sounds like a bit of a mess.
The terrific "Deeper" is a nasty bit of business and far darker than anything APTBS has done before. "Lower Zone" is an instrumental track that is short but follows up on the promise "Deeper" teased. The two sublime subsequent songs, "We've Come So Far" and "Now It's Over" are not only the highlights of the album but possibly the best that the band has ever produced. The former feels like flying through comforting turbulence while the latter possesses a piercing feedback motif and subtle chord changes that act as amphetamines for the soul. "I'm So Clean" and "Fill The Void" remind everyone why A Place To Bury Strangers is often called the loudest band you've ever heard, but "I Will Die" is even more brutal, blowing out the speakers in a frenzy of heavy psychedelic intensity that is mind- and eardrum-blowing.
The progression of the band's songwriting over the last decade has been extraordinary. Even though only part of Transfixiation represents a definable leap forward for A Place To Bury Strangers, it's enough to make me happy to have finally found them and to look forward to wherever they decide to go next.
Transfixiation was released on February 17 via Dead Oceans.
Tour Dates:
Fri. Feb. 27 – Dallas, TX @ Club Dada (w/ Creepoid)
Sat. Feb. 28 – Austin, TX @ Red 7 (Pysch Fest Kickoff Party)
Sun. Mar. 1 – San Antonio, TX @ The Korova (w/ Creepoid)
Wed. Mar. 4 – Oklahoma City, OK @ The Conservatory (w/ Creepoid, Depth and Current, Power Pyramid)
Fri. Mar. 6 – Albuquerque, NM @ Sister Bar (w/ Creepoid)
Sat. Mar. 7 – El Paso, TX @ Lowbrow Palace (w/ Creepoid, Mattox)
Mon. Mar. 9 – Tuscon, AZ @ Club Congress (w/ Creepoid)
Tue. Mar. 10 – Phoenix, AZ @ Valley Bar (w/ Creepoid, Sleep Money)
Wed. Mar. 11 – San Diego, CA @ Casbah (w/ Creepoid, District 9)
Thu. Mar. 12 – Las Vegas, NV @ Beauty Bar (w/ Creepoid, Close to Modern)
Fri. Mar. 13 – Santa Cruz, CA @ The Catalyst Atrium (w/ Creepoid)
Sat. Mar. 14 – San Francisco, CA @ The Chapel (w/ Creepoid)
Sun. Mar. 15 – Los Angeles, CA @ The Echoplex (w/ Creepoid, Tennis System)*
Tue. Mar. 17 – Portland, OR @ Star Theater (w/ Daydream Machine, Miracle Falls)
Wed. Mar. 18 – Seattle, WA @ Crocodile (w/ Nightmare Fortress, Grave Babies)
Tue. Mar. 31 – Dublin, IE @ The Workmans Club (w/ September Girls)
Wed. Apr. 1 – Belfast, IE @ Voodoo
Thu. Apr. 2 – Glasgow, UK @ King Tut's Wah Wah Hut
Fri. Apr. 3 – Leeds, UK @ Belgrave Music Hall (w/ September Girls)
Sun. Apr. 5 – Manchester, UK @ Sound Control Basement (w/ September Girls)
Mon. Apr. 6 – Nottingham, UK @ The Bodega Social Club (w/ September Girls)
Tue. Apr. 7 – Birmingham, UK @ The Rainbow (w/ September Girls)
Wed. Apr. 8 – Cardiff, UK @ Clwb lfor Bach (w/ September Girls)
Thu. Apr. 9 – London, UK @ Oslo (w/ September Girls)
Sat. Apr. 11 – Lille, FR @ La Peniche (w/ zZz's)
Sun. Apr. 12 – Ris-Orangis, FR @ Le Plan (w/ zZz's)
Mon. Apr. 13 – Paris, FR @ Le Divan du Monde (w/ zZz's)
Tue. Apr. 14 – Lyon, FR @ Le Marche Gare (w/ zZz's)
Thu. Apr. 16 – Zurich, CH @ Viadukt – Bogen F) (w/ zZz's)
Fri. Apr. 17 – Bologna, IT @ Locomotiv
Sat. Apr. 18 – Düdingen, CH @ Cafe Bad Bonn
Sun. Apr. 19 – Munich, DE @ Strom (w/ zZz's)
Tue. Apr. 21 – Berlin, DE @ Lido (w/ zZz's)
Wed. Apr. 22 – Cologne, DE @ Underground (w/ zZz's)
Thu. Apr. 23 – Courtrai, BE @ De Kreun (w/ zZz's)
Fri. Apr. 24 – Amsterdam, NL @ Melkweg (w/ zZz's)
Sat. Apr. 25 – Groningen, NL @ Vera
Mon. Apr. 27 – Hamburg, DE @ Hafenklang (w/ zZz's)
Tue. Apr. 28 – Copenhagen DK @ BETA (w/ zZz's)
Wed. Apr. 29 – Malmo, SE @ Babel (w/ zZz's)
Thu. Apr. 30 – Gothenburg, SE @ Pustervik (w/ zZz's)
Fri. May 1 – Stockholm, SE @ Debaser Strand (w/ zZz's)
Sat. May 2 – Oslo, NO @ John Dee (w/ zZz's)
Fri. May 8 – Sun. May 10 – Austin, TX @ Austin Psych Fest