Published on February 20th, 2015 in: Current Faves, Music, Music Reviews, Reviews |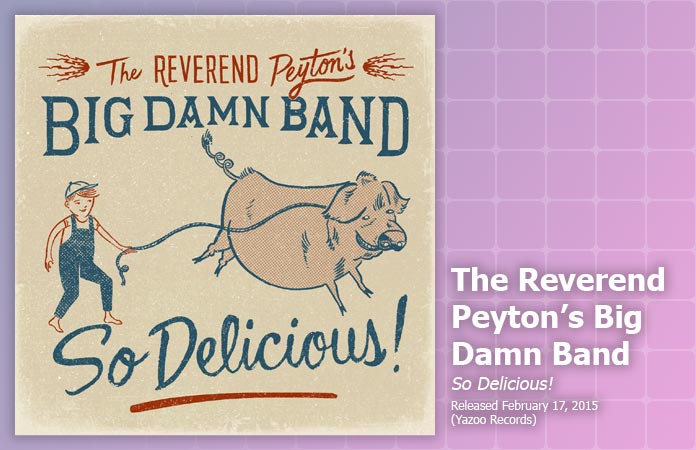 For a trio, The Reverend Peyton's Big Damn Band sure do make a lot of noise. I listened to their latest, So Delicious, without knowing a thing about them, and assumed that there had to be at least six people in the Big Damn Band. It's called The Big Damn Band, after all. And they're loud. Looking at their bio, though, I was stunned to realize that the band is the Reverend Peyton, a Delta-style guitarist who sings; Breezy Peyton, who plays washboard and supplies backing vocals; and drummer Ben Bussell.
The Rev. Peyton's guitar style is so cunning that it sounds as if he has a whole army of deeply talented guitarists and a bassist (or two) playing with him. He fingerpicks, but in an unusual style. The notes don't typically ring after he picks; they stop flatly. It's like nothing I've heard and it's extraordinary. He's able to wrest notes and tones from his guitar that sound like they've come from the earth itself.
His voice, too, is singular. "Burly" is the descriptor I keep coming back to. His mix of singing and chanting is truly effective on the songs of So Delicious. It's an honest sounding record, full of songs about singing on the front porch, jumping trains, and dirt.
So Delicious kicks off with the appropriately chugging "Let's Jump A Train." The rhythm laid down by Ben Bussell clacks along like wheels on tracks, and the Reverend Peyton's guitar solo is a compressed work of wonder. It's followed by the truly sweet love song, "Pot Roast and Kisses," a sunny, busy ode to the Rev.'s wife, Breezy, whose washboard adds an unexpected texture. The guitar line here is a joyful, bubbling treat.
"Front Porch Trained" is a paean to learning music on a front porch. It's forceful and driving, with a squirrelly slide guitar part and seriously raw vocals. It's gritty and loopy and authentic with a nice vocal melody. The slow blues groove of "Dirt" is an ode to the hardworking people that keep the world moving. The line "That dirt'll come away with a little bit of Lava soap" should be part of Lava's advertising strategy. There's no better spokesperson for them than the Reverend Peyton.
So Delicious gets raucous on "Raise A Little Hell" ("Not too much hell, just enough" as the song says). Bussell's drums are snappy, and the Reverend Peyton's guitar is, frankly, kick ass here, a buzz saw slide that sounds as if it's being dragged out of hell. The kids singing along on the chorus are surprisingly unannoying. "Hell Naw," is also rowdy and he chorus of "Hell Naw"s sound like angry angels. "We Live Dangerous" is more restrained than the title would suggest, but in it, Peyton sings, "We like knives and 45s and real oak guitars" and the control actually makes it feel more dangerous.
The closing track, "Music And Friends," is a fitting final song with great sentiments. In it, you can hear what a great show closer it would be. A joyful mission statement, it's sweet without being cloying.
The Reverend Peyton's Big Damn Band are the kind of band that brings juke-joint stomp and killer Delta-style blues together with an unbridled, thrilling enthusiasm. So Delicious is a delightful mix of honest songwriting, amazing guitar work, and an unusual, interesting voice; a smart marriage of retro and punk ethos. It really is So Delicious. (Sorry. I had to.)
So Delicious was released on February 17 through Yazoo Records. h
Tour Dates:
Fri. Feb. 20: CINCINATTI, OH; Shake It Records (In Store)
Sat. Feb. 21: NASHVILLE, TN; Grimeys (In Store)
Sun. Feb. 22: ST. LOUIS MO; Vintage Vinyl (In Store)
Wed. Feb. 25: CHICAGO, IL; Reggie's Rock Club
Thu. Feb. 26: FLINT, MI; Machine Shop
Fri. Feb. 27: FERNDALE, MI; Magic Bag+
Sat. Feb. 28: DAYTON, OH; Oddbody's
Sun. March 1: TOLEDO, OH; Frankie's Toledo
Wed. March 4: SPRINGFIELD, IL; Donnie's Homespun
Thu. March 5: MADISON, WI; Frequency+
Fri. March 6: ST. PAUL, MN; Turf Club
Sat. March 7: DES MOINES, IA; Gas Lamp
Tue. March 10: JACKSONVILLE FL; Jack Rabbit
Thu. March 11: ORLANDO, FL; Will's Pub
Fri. March 13: DELRAY BEACH, FL; Vintage Tap
Sat. March 14: BRADENTON, FL; Ace's
Sun. March 15: TAMPA, FL; State Theater
Tue. – Fri. March 17-20: AUSTIN, TX; SXSW
Sat. March 21: DALLAS, TX; Gas Monkey
Tue. March 24: ALBUQUERQUE, NM; Low Spirits
Wed. March 25: FLAGSTAFF, AZ; Orpheum
Thu. March 26: PHOENIX, AZ; Crescent
Fri. March 27: SAN DIEGO, CA; Merrow
Sat. March 28: LOS ANGELES, CA; The Mint
Sun. March 29: LAS VEGAS, NV; Beauty Bar
Wed. April 1: SALT LAKE CITY, UT; Urban Lounge
Fri. April 3: DENVER, CO; Bluebird Theater
Sat. April 4: FORT COLLINS, CO; Hodi's
Sun. April 5: LINCOLN, NE; Bourbon Theater
Tue. April 7: KANSAS CITY, MO; Knuckleheads
Wed. April 8: ST. LOUIS, MO; Plush
Thu. April 9: FAYETTEVILLE, AR; George's Majestic Lounge
Sat. April 11: CLARKSDALE, MS; Juke Joint Festival
Sat. April 18: INDIANAPOLIS, IN; Butler Arts Fest
Wed. April 22: COLUMBUS, OH; Woodlands Tavern
Thu. April 23: CLEVELAND, OH; Grog Shop
Tue. April 28: LEXINGTON KY; Cosmic Charlie's
Wed. April 29: ASHEVILLE, NC; Grey Eagle
Thu. April 30: ATLANTA, GA; The Earl
Fri. May 1: CHAPEL HILL, NC; Local 506
Sat. May 2: WASHINGTON DC; The Hamilton
Tue. May 5: ANNAPOLIS, MD; Ram's Head Live
Wed. May 6: HARRISBURG PA; Appalachian Brewing Co
Thu. May 7: NEW YORK, NY; Mercury Lounge
Fri. May 8: BOSTON, MA; Thunder Road