Published on January 23rd, 2015 in: Cartoons, Comedy, Current Faves, Reviews, TV |
By Megashaun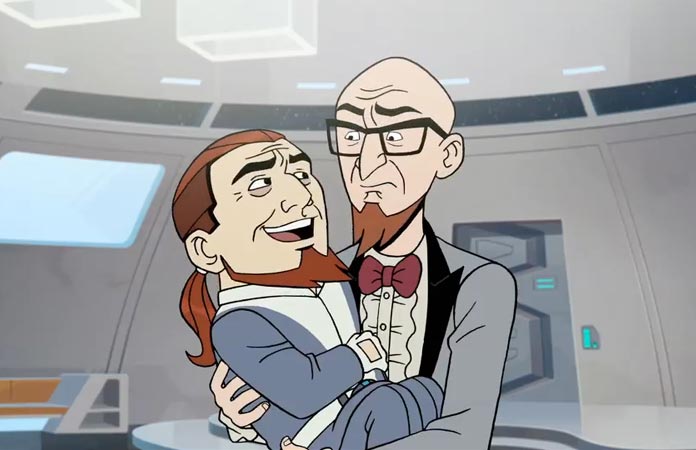 Fans of The Venture Bros. are a diverse bunch, but at least two things unite us: a love of all things Venture, and patience. Though the show's been around for 12 years now, it has yet to begin its sixth season. But unlike a lot of other animated television, particularly those in its Adult Swim family, The Venture Bros. has always displayed a high degree of polish in everything from the writing, voice acting, animation, and score.
For a show that features failure as a primary theme, its creators certainly strive for perfection. This, coupled with the sheer amount of work creators/writers/voice actors Jackson Publick and Doc Hammer have to do for each episode, helps explain the necessary long wait between seasons, but it by no means makes this wait any less painful.
Thankfully, we were treated to "All This and Gargantua-2" this past Monday. While the one-hour special certainly gave many a much-needed fix of Team Venture, it also did much more to whet our appetites for the show's upcoming season, setting the stage—or rather, clearing it—for more of the show's brand of hilarious and unpredictable storytelling.
Any given regular episode of The Venture Bros. is packed with strange twists, character revelations, and world-altering events. Hammer and Publick have an unrivaled skill of putting as much as possible into as little time as possible, which sometimes makes the infrequent "slower" episodes seem like nothing is going on, even though a lot still happens!
"All This and Gargantua-2" features just about every still-living character in the Ventureverse coming together thanks to a grand event being held at Jonas Venture Jr.'s magnificent space station, the titular Gargantua-2 (which was teased throughout season five, and which we finally get to visit in all its splendor). Everyone, it seems, has a stake or at least an interest in being on the station, from the villainous Revenge Society (which features Stephen Colbert reprising his role as Professor Impossible) to the creepy and mysterious Investors. We see characters we've not seen in a long time, and we see some surprising, previously unknown aspects of characters (what is up with Billy's mom!?).
While the special juggles the story lines of several groups of characters, some feel like they're left out as the relationship between the miserable Rusty Venture and his twin brother, Jonas Jr., takes center stage. To say the two have had a troubled relationship throughout the show's run would be an understatement. After all, Rusty had devoured JJ in utero, and when JJ was freed, he immediately became a super scientist with lucrative contracts. He's everything Rusty is not: cheerful, compassionate, and successful. He even has a full head of hair.
The series is known for its outlandish over-the-top nature, so it's nice to see its occasional tender character moments, and we get some of that with the older Venture brothers as their personal conflict is cast aside for the greater good when Gargantua-2 comes under attack from various villains and asteroids.
Outside of this character conflict resolution, the entire villain world is shaken up, too. The Revenge Society plots and executes an attack on Gargantua-2 but there are other, more shadowy, figures involved. The Guild of Calamitous Intent has a hand in the way things unfold, with The Sovereign playing a big role while also changing up the Council of 13. The Monarch and Henchman 21 cause a hilarious amount of damage to Venture property while ultimately and unfortunately not accomplishing much of anything. Brock kicks a bunch of ass in the name of OSI, and the original Team Venture get in on the action, too.
Perhaps most surprising, though, is the sheer amount of casualties in this episode, which is an effective if not brutal way of tying up any loose ends so that season six can start up and possibly complicate the character dynamics even further. Anyone who's followed the show since the beginning knows that no character is sacred and that battles tend to result in a lot of deaths. These deaths can be heartbreaking, but they're also refreshing to see in an animated series. And while some characters have cheated death repeatedly, the tally in "All This and Gargantua-2" is nonetheless impressive!
The special does more in its runtime than most shows manage to do with one season, yet after it was done it still didn't feel like an hour had passed. Major movements have been put into place for what could be the show's biggest season yet, and the most exciting thing now regarding the wait for season six is the speculation of where things could possibly go from here. Hey, at least we can re-watch seasons one to five repeatedly before then. That's not weird at all.
You can watch "All This And Gargantua-2" on the Adult Swim website.