Published on January 16th, 2015 in: Music, Music Reviews, Reviews |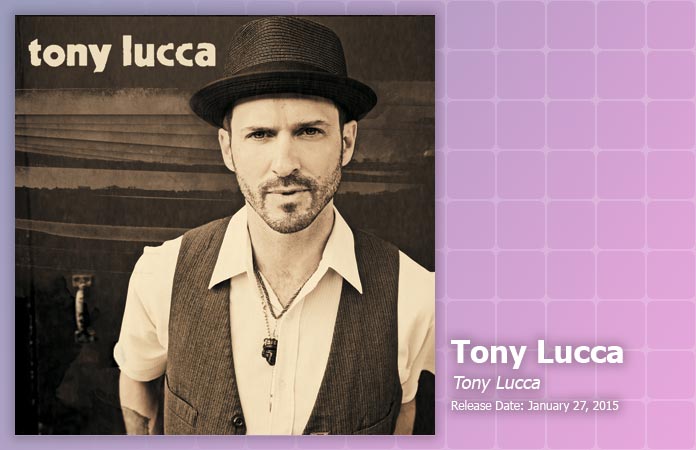 I liked Tony Lucca's self-titled album better when I wasn't paying full attention to it. Full of chunky guitar and "whoo"-ing backup singers, it's decent, if pedestrian. The songwriting reflects nights out in California and frisky women, and Lucca's voice is pretty swell; husky in the right places, soulful where it needs to be. The problem is listening to it closely. His voice deserves better than these songs. He can sing, and sing well, but the material isn't strong enough.
Look, his stripped down, plaintive version of Daniel Johnston's "Devil Town" from Friday Night Lights is pretty much perfect. I don't know if that has to do with the excellent placement of it on the show; it's the soundtrack to emotional, important moments, and now it's so inexorably linked to FNL I'll never be able to separate the two. But what I do know is that Tony Lucca is capable of making music that makes you feel. That means something.
Lucca's approach was to make this, his eighth studio album, a record that felt live. I can't dispute that this album does feel "live," but it also feels like a Firehouse album. Tony Lucca's music has that strange, bloodless feeling of late '80s – early '90s gentle hair metal, though it's not metal. It's a strange mash up of cock rock guitar, Huey Lewis-like shimmery harmonies, and seriously overdone backup singers.
However, the last third of the album is great. Starting with "Smoke 'Em," Lucca abandons the bar band tendencies, and shows off his vocal chops. It feels honest, opening with acoustic guitar and Lucca's truly fine voice. The bombast that makes the previous songs feel so overdone isn't here, and it is a relief. "Right On Time" is relaxed and pretty, but in a manly way. He sings just a couple of notes a cappella here, and it made me yearn to hear more of his voice that way. The closer, "Sparrow" is lovely, acoustic, and genuine. He shines here and he sounds at home.
The earlier tracks, though, are a bit of a mess. Opener "Old Girl" occupies that odd space where chunky guitar and backup singers overshadow Lucca's pleasing voice. It's an oddly '80s feeling track, but things get a little better on the following stomping "My Confession." Again, the backup vocals are just a bad choice; they're too shimmery, too dated.
"Delilah" starts off well, atmospheric and edgy, and I found myself hoping against hope that it stayed edgy and a little spare. It's best when Lucca's voice is the focus, like it should be, straightforward. Then, the ghostly female backing vocals with their not-quite-ethereal "whoo"'s come in and it doesn't work so well. The tendency to go big and overdone is just painful. "North Star" starts gorgeously with piano, Lucca's excellent vocals and then. . . backup singers, big guitar, and bombast that takes what could be something extraordinary and makes it mediocre. Perhaps this one will be a ballad on his Unplugged special.
Listening to Tony Lucca is an exercise in frustration. I know that he's capable of so much more. His voice is wonderful and versatile, but his material doesn't live up to his potential.
Tony Lucca will be self-released on January 27.
Tour Dates:
Jan. 23: StageIt in Nashville, TN
Jan. 27: Hotel Cafe in Los Angeles, CA
Jan 29: Yoshi's in Oakland, CA
Feb. 13: Hideaway Cafe in St. Petersburg, FL
Feb. 14: Eutaw Place in Baltimore, MD
Mar. 07: Tin Angel in Philadelphia, PA
Mar. 08: Jammin Java in Vienna, VA
Mar. 10: Eddie's Attic in Decatur, GA
Mar. 11: Evening Muse in Charlotte, NC
Mar. 13: Charleston Harbor Resort & Marina in Mt. Pleasant, SC