Published on January 2nd, 2015 in: Best Of Lists, Books, Holidays, Music |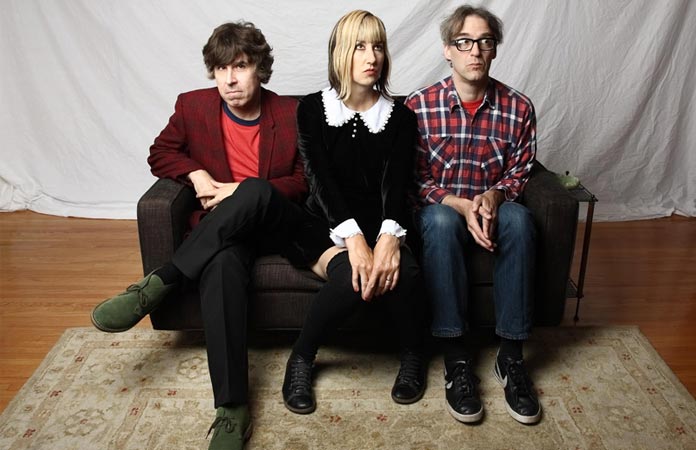 Kim Shattuck: Top Ten Xmas Songs
1. "The Man with the Bag," Kay Starr: Awesome, climbing-up melody with a cool, detailed bridge. Sweet trumpet accents. Bass solo climb down at some point. Cool.
2. "The Merriest," June Christy: Amazing intro. Super cool beatnik lyrics sung with that smoky, strained, and slightly off-key vocal. You can't go wrong.
3. "Trim Your Tree," Jimmy Butler: Bluesy and tinkly piano. Kinda innuendo laden.
4. "Santa Claus is Coming to Town," Ella Fitzgerald: I love her voice. She rocks this out in a cool beatnik way.
5. "December," Kay Starr: Voice and melody like butter.
6. "Here Comes Santa Claus," Doris Day: Swoopy, sweet vocals. Lots of chimey bell sounds and very upbeat as Doris Day trades vocals with a chorus. Nice.
7. "White Christmas," Charlie Parker: Perfect. I love the random kick drum hits throughout the song.
8. "I'm Gettin Nuttin For Christmas," Shirley Temple: Her little voice is so bratty and cute. Love the way she sings, "climbed a twee and tore my pants."
9. "Frosty the Snowman," Bing Crosby: He's so mellow and warm. Love the way he starts improvising at the end.
10. "White Christmas," The Ravens: The low-voiced guy kills me every time. Then a high-voiced person (probably a guy) sings opera style and scares the crap out of me.
Ronnie Barnett: Top Ten Reissues
1. The Shivvers, S/T (Sing Sing)
I get everything on Sing Sing but they really did the lord's work issuing this early '80s Wisconsin power pop group's work.
2. Game Theory, Blaze Of Glory, Dead Center (Omnivore Recordings)
Scott Miller could be my favorite songwriter. Omnivore's comprehensive career reissue campaign starts with these.
3. Clay Allison, Live At The Electric Banana 5-22-1984 (LP, no label)
David Roback (Rain Parade) and Kendra Smith (Dream Syndicate) started this project after leaving their respective bands. They later changed their name to Opal.
4. Hollywood Stars, Shine Like A Radio: The Great Lost 1974 Album (LP, Last Summer)
Makes you wonder how many bands made rejected albums only to see them shelved in favor of something inferior.
5. Mars, Rehearsal Tapes And Alt Takes, NYC 1976-1978 (three-cassette box set, Anomia)
Sometimes all I have to do is stare at this package and I smile at its mere existence.
6. Crosby, Stills, Nash & Young, CSNY 1974 (three-CD/one DVD, Rhino)
Sure they were "living large" on this tour, but as the music on this box set shows us. . . they deserved to!!
7. Big Boys, Where's My Towel/Industry Standard, Lullabies Help The Brain Grow, No Matter How Long The Line At The Cafeteria, There's Always A Seat (LPs, Light In The Attic)
Growing up in Texas I was lucky enough to be in the same room as the Big Boys a dozen times or so. Still the best live band I've ever seen.
8. The Dishrags, Three (LP, Supreme Echo)
Vancouver all-girl punk band from the late '70's finally gets their due.
9. Wayne Cochran, Goin' Back To Miami: The Soul Sides 1965-1970 (Ace)
The first time I saw and heard him I just went crazy!
10. Jethro Tull, A Passion Play: An Extended Performance (two-CD/two-DVD, Chrysalis)
This is really quite a piece of work.
Roy McDonald: Top Ten Rock Books I Read This Year
Note: Not all of these books were released this year, but 2014 was when I got around to them.
1. Clothes, Clothes, Clothes, Music, Music, Music, Boys, Boys, Boys by Viv Albertine (2014)
2. Unknown Pleasures by Peter Hook (2012)
3. I Dreamed I Was a Very Clean Tramp by Richard Hell (2013)
4. Follow the Music: The Life and High Times of Elektra Records in the Great Years of American Pop Culture by Jac Holzman and Gvan Davis (1998)
5. Yeah! Yeah! Yeah! The Story of Pop Music from Bill Haley to Beyonce by Bob Stanley (2014)
6. Jerry Lee Lewis: His Own Story by Rick Bragg (2014)
7. Respect: The Life of Aretha Franklin by David Ritz (2014)
8. Cowboys and Indies: The Epic History of the Record Industry by Gareth Murphy (2014)
9. I'm Your Man: The Life of Leonard Cohen by Sylvie Simmons (2012)
10. Sound Man by Glyn Johns (2014)
Honorable Mention: Autobiography by Morrissey—This would have made the top ten ahead of a few others if he hadn't gone on ad nauseam about the Mike Joyce court case.
The Muffs' latest album, Whoop Dee Doo, was reviewed on Popshifter in August. They will be touring the US and Canada in 2015.