Published on December 5th, 2014 in: Culture Shock, Current Faves, Movies, Music, Music Reviews, Reissues, Retrovirus, Reviews, Science Fiction, Soundtracks and Scores, Underground/Cult |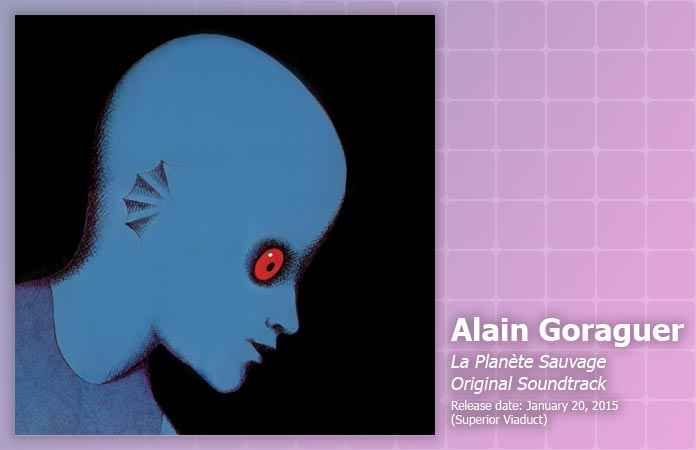 OK, full disclosure: as a sort of sommelier of the strange, I'm embarrassed to say I had never seen La Planète Sauvage (a.k.a. Fantastic Planet) until recently. But never fear, because this should prove to even the most jaded, freaky, boogie children that it's never too late to discover something mind blowingly cool. If you haven't seen this gorgeously animated Science Fiction philosophical allegory, seek it out immediately. Do not pass go; do not collect 200 dollars.
Prior to viewing the 1973 Cannes Film Festival Jury Prize Winner I gave the soundtrack a few spins and had images of all sorts of wild things spinning in my head. At one point I expressed to Popshifter's editor that I had thought, "Well, this bit has to be some sort of robotic tantric sex thing." And it turned out that image, induced by the music alone, is not too far from the general ballpark for one of the film's scenes. The music combines lush, complex orchestration and multiple instruments as well as a myriad of effects making it a difficult task for a novice to pinpoint them all.
The score is entirely unique, eclectic, and bizarre, but put me in the mindset of French duo Air and the Logan's Sanctuary project by Brian Reitzell, Roger Joseph Manning, Jr., and Jason Falkner. As it happens, the La Planète Sauvage soundtrack has been cited as an influence by both Air and hip hop producers J Dilla and Madlib.
The heavy wah wah pedal "bow chicka bow wahhw" guitar vibe blends with Sixties jazz as well as Sixties and Seventies art film and blaxploitation trademark sounds. It includes saxophone, flute, electric guitar, marimba, theremin, bells, keyboards, and who knows what else, but at one point it sounds like bird whistles and dolphin sonar. Composed by Alain Goraguer (Serge Gainsbourg's long time musical arranger), this evocative music is as essential listening as the film is essential viewing for those who like a little challenging thought in their entertainment.
La Planète Sauvage will be released on vinyl on January 20, 2015 through Superior Viaduct. The first 500 copies will be on translucent blue vinyl and include a 24" x 36" full-color poster. This limited edition version is a mail-order exclusive but black vinyl copies (sans poster) will be available in stores.