Published on November 21st, 2014 in: Current Faves, Music, Music Reviews, Reissues, Retrovirus, Reviews |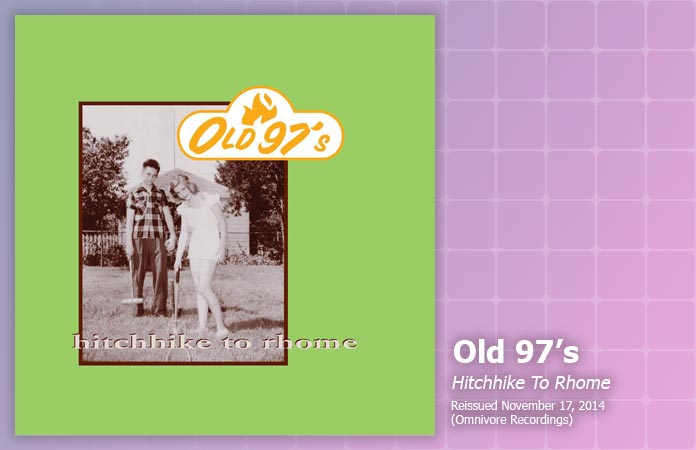 It's been 20 years since the Old 97's released their debut album Hitchhike To Rhome. Listening to Omnivore's reissue, I'm struck by how it sounds like The Old 97's are a seemingly impossible creation: the bastard son of Merle Haggard and Roger McGuinn. Ken Bethea's jangly guitar is there and Rhett Miller's boozy, yelpy delivery is too, along with his witty lyrics that are chock full of wordplay. They've refined their sound, only just, over the years, but there's something remarkable about a band that knew who they were and what their sound was from the get go.
This reissue of Hitchhike To Rhome comes in a two-disc CD set, as well as in digital form or on a double vinyl LP (in translucent orange!) with rare photos, liner notes, and memorabilia. The first disc, of course, is the original album remixed, and it is wonderful. Some of the best goodies come on the second disc. It includes unreleased and rare tracks, some cassette demos, and four early songs from Miller and multi-instrumentalist Murry Hammond that illuminate the Old 97's sound before the band existed.
The songs on Hitchhike To Rhome are giddy and eager, if a bit shambolic. The playing is loose and sometimes Miller's vocals are, perhaps, interpretive. Baby band syndrome isn't apparent until more seasoned players join them, like Andy Owens playing mandolin on "Doreen." He's professional and tight, and the Old 97's sound as if they're barely holding it together, like a train careening off the tracks. Certainly, there's nothing wrong with wild enthusiasm. Fiddler Reggie Reuffler adds something indefinable to "Hands Off," though Miller's clever turns of phrase steal the show, especially the lyric, "You slipped a mickey in my heart."
I wonder sometimes if Rhett Miller regrets writing such canny lyrics from the beginning. There's no walking back his intelligence and humor. I can't imagine the Old 97's singing, "ooh, I love you baby" songs when on their first album they recorded the runaway train of brilliance that is "504." It's the story of a story: a man writing a book called New Orleans (it "Ain't no city, it's a star") and the various characters within and without the book. It's layered and delicious. The chorus of the appropriately drunky sounding "Wish The Worst" is a little masterpiece: "I hope you crash your momma's car/I hope you pass out in some bar/I hope you catch some kind of flu/Let's say I wish the worst for you." The music in itself is a steady lope, nicely broken.
Hitchhike To Rhome is a fine reissue, and it reminded me of why I love the Old 97's. They are completely who they are: clever, sometimes chaotic, always enormously earnest, and sincerely, honestly themselves. Their most recent album, Most Messed Up, is perfectly on the trajectory they began with Hitchhike To Rhome. Their longevity and integrity are pretty damned admirable.
Hitchhike to Rhome was reissued by Omnivore Recordings on November 17.