Published on November 21st, 2014 in: Blu-Ray, Current Faves, DVD/Blu-Ray Reviews, Horror, Movie Reviews, Movies, Reissues, Retrovirus, Reviews |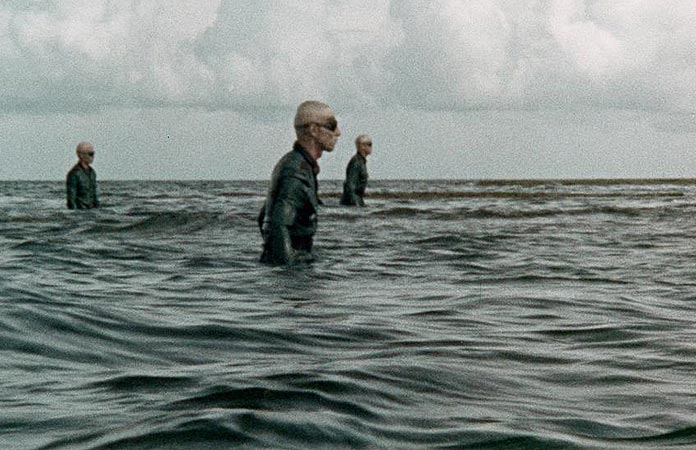 When I started watching all the zombie films I could get my hands, I stumbled into the realm of Nazi zombies, a.k.a. Nazisploitation. I started with Zombie Lake (which looked great but is not a good film) and then I watched Oasis Of The Zombies (I'm thankful I didn't slit my wrists during that viewing). Needless to say, when Shock Waves came into my hands I looked away, rolled my eyes, and took a step back. After a year or so, I finally gave it a shot because I found out Ken Wiederhorn directed it and I loved Return Of The Living Dead Part 2, Meatballs 2, Eyes Of A Stranger, and a lesser-known film called Dark Tower.
Later on, I screened it for a friend or two and then my mom. That Prism box has been sitting on my shelf ever since. Recently Blue Underground reissued it on Blu-ray and I finally got to revisit it. I completely forgot how badass this film is.
With Nazi zombie flicks the plots are usually relatively simple . . . like most zombie flicks. This movie tries hard to be clever and it works; a higher-up in the Nazi regime forces scientists to create a race of badass killer zombies that wouldn't think, they'd just be relentless and kill. They are known as The Death Corps (the original title of the film) and since they were good at what they did, they were never captured and eventually disappeared. A group of friends go off the coast of Florida and run into these indestructible monstrosities and have to survive!
Blue Underground has done up a killer package for this release, featuring interviews with Wiederhorn, producer Reuben Trane, composer Richard Einhorn, and actress Brooke Adams (who I love), as well as the star of this film, Luke Haplin (who was also in Flipper). Blue Underground also provides an awesome commentary track featuring Wiederhorn, special effects artist Alan Ormsby, and filmmaker Fred Olen Ray.
This release includes a brand new transfer of the film. Apparently there is only one copy of Shock Waves in existence, which is the personal copy of the director. This film looks like it has been through the wash and to hell and back but the transfer looks great for what they were working with. It's gritty, dirty, and smelly, but that's how I want to watch a film like this. The soundtrack is incredible, sounding great despite being in 1.0.
I'm hoping Blue Underground doesn't get flack for this release because it truly does look good and it feels they brought the best they could to the table. I think we can expect more and more from Blue Underground because their releases keep getting better.
Shock Waves will be released by Blue Underground on November 25.