Published on November 15th, 2014 in: Canadian Content, Current Faves, Documentaries, Film Festivals, Horror, Movie Reviews, Movies, Reviews |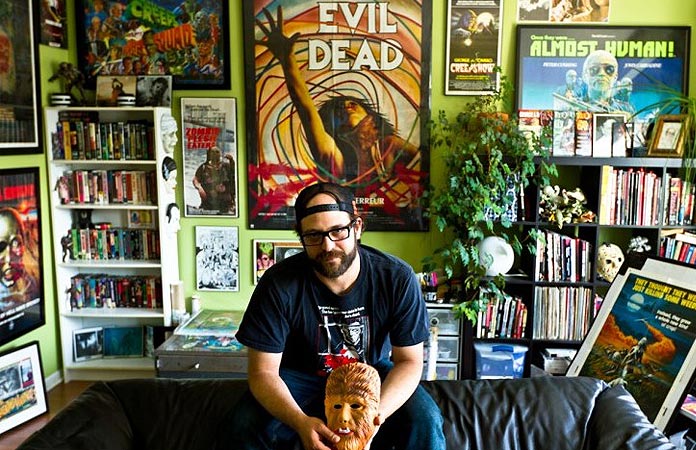 Why Horror? is for every person who's been mocked for loving everything encompassed within horror film fandom. Horror writer and hardcore fan Tal Zimerman is the subject of this documentary from Nicholas Kleiman and Rob Lindsay that explores why people are drawn to one of the more maligned, misunderstood genres in popular culture.
The film features insights from and interviews with an impressive array of folks, including those who contribute to the horror genre itself. Filmmakers Alexandre Aja, John Carpenter, Don Coscarelli, Álex de la Iglesia, Eli Roth, Takashi Shimizu, Ben Wheatley, and others provide their thoughts on what makes horror culture so enticing. Rue Morgue Magazine managing editor Dave Alexander and Fangoria editor Chris Alexander are also interviewed, as well as other horror writers.
These folks have spent their lives and careers on this stuff, so of course they're going to have interesting, insider perspectives on the subject. But Why Horror? also talks to a variety of people from other fields, such as anthropologists, philosophers, psychologists, and sociologists. This gives the film a wider spectrum of expertise than one might expect, especially when it tackles interpretations of horror outside of English speaking cultures, like Mexico's Dia de los Muertos and Japanese horror-themed bars.
Two of the more interesting segments involve Zimerman undergoing an MRI while watching a horror movie and a standard drama and measuring which parts of his brain do different things. He also watches clips of horror movies with his mother, who is not a horror fan, while both are attached to electrodes that indicate brain activity. The outcome of both of these experiments are fascinating, so I won't spoil them for you, but I will say that the results lend themselves to a visual interpretation that ties the whole film together in a clever way.
Rather than just limit themselves to movies, Zimerman, Kleiman, and Lindsay also reach back into the origins of the horror genre in art and literature as well as more current iterations like video games. There is also a much-welcomed, forward-thinking debunking of stereotypes about women within the horror fandom, including great interviews with actress Barbara Crampton, writers Monica S. Kuebler and Andrea Subissati, and filmmakers like Karen Lam and Jen and Sylvia Soska.
One of the things that makes Why Horror? work so well are the delightful, charming interviews with Tal Zimerman's family members, which prove that horror fans are just like everyone else: they have people that they love and care about. The other is how the documentary shows the camaraderie amongst the members of the horror community; they are shown to be loyal, enthusiastic, open-minded, and always happy to welcome new members into the fold.
Why Horror? is the perfect documentary to show to those friends and family members of your own who roll their eyes when you insist that yes, your favorite movie of all time really is The Exorcist. Horror has been crucial to the development of cinema as an art form, as well as popular culture as a whole, so at a time when Universal Studios is planning to reboot horror icons like Dracula, Frankenstein, and The Mummy into action-adventure films instead of horror ones, perhaps the next documentary on this subject should be called Why NOT Horror?
Why Horror? screened at Toronto After Dark on October 23. It will available to watch On Demand via Super Channel through November 27. For more on the film please visit the Why Horror? website.