Published on November 7th, 2014 in: Blu-Ray, Current Faves, DVD/Blu-Ray Reviews, Horror, Movie Reviews, Movies, Reissues, Retrovirus, Reviews |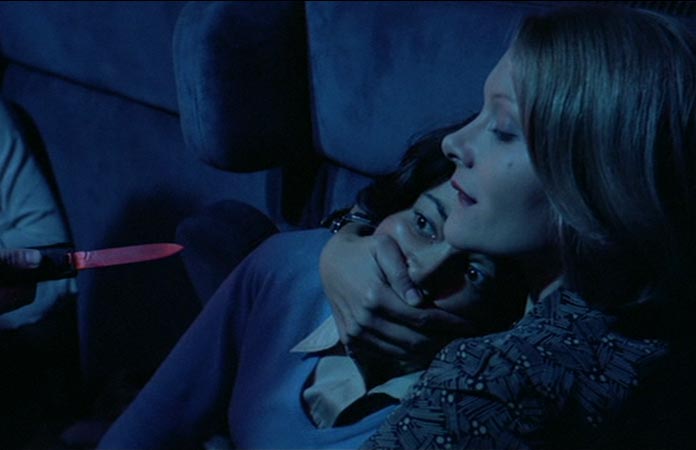 Aldo Lado has made some intense films in his day, including Short Night Of Glass Dolls, Who Saw Her Die?, The Humanoid, and Night Train Murders. Lado's films look incredible: he has a great eye for using just the right amount of light in his shots, always giving a heavy, giallo, neo-noir look to his films.
Recently I rewatched Night Train Murders (a.k.a. Last Stop On The Night Train) and I was reminded how much I dig this film. When you first watch Night Train Murders it feels very much like a Giallo because of the sleaze and sexuality, but then it turns into a gut-wrenching revenge film that uses plot points from The Last House On The Left. I feel like Wes Craven's film was a big influence on Night Train Murders in not only the narrative and the reveal, but also the brutality that is shown. You can actually find Night Train Murders listed under the titles New House On The Left, Last House 2, and Second House On The Left.
Night Train Murders contains a very basic story but the way that Lado portrays even the simplest things is fascinating to watch. Between the music, tone, and lighting he epitomizes what Italian cinema is all about. Films from Italy capture a distinct flavor that other countries can't (aside from Canadian films). Not saying that other countries don't have good-looking films but there is something totally unique about Italian films.
The people involved with Night Train Murders were not strangers to Giallo at all; in fact, most of them worked in that genre before this film as well as afterwards. Irene Miracle, Flavio Bucci, and Marina Berti all give great performances, but Macha Méril stands out because her sadistic portrayal is carried out with such elegant and sinister finesse. The score to this film is by the genius himself, Ennio Morricone, who needs neither introduction nor background.
Like I said earlier, the story is simple; it's basically the same premise as The Last House On The Left but on a train. The sexual assault aspects loom a lot larger but in a way that isn't as tasteless as The Last House On The Left. I think that's perhaps because Night Train Murders isn't as gritty and cheap so it feels "classier." I know it's weird to imply that a movie about rape can be classy, but it can be done. There's a way to make a film about the topic that isn't exploitative, and with the exception of one sequence, Night Train Murders succeeds. In my opinion, that part is needed to indicate the over the top aspect of the revenge.
The audio and video quality of this Blue Underground release kicks ass and displays some of their best work. The special features are a little sparse here, but the disc does have an interview with the legendary Aldo Lado, which is pretty nuts. Keep in mind, too, that this was released before Blue Underground started ramping up their reissues.
Night Train Murders is an older Blue Underground release—January 12, 2012—but I'm going through their catalogue and giving them the love they deserve.