Published on November 7th, 2014 in: Blu-Ray, Current Faves, DVD/Blu-Ray Reviews, Horror, Movie Reviews, Movies, Reissues, Retrovirus, Reviews |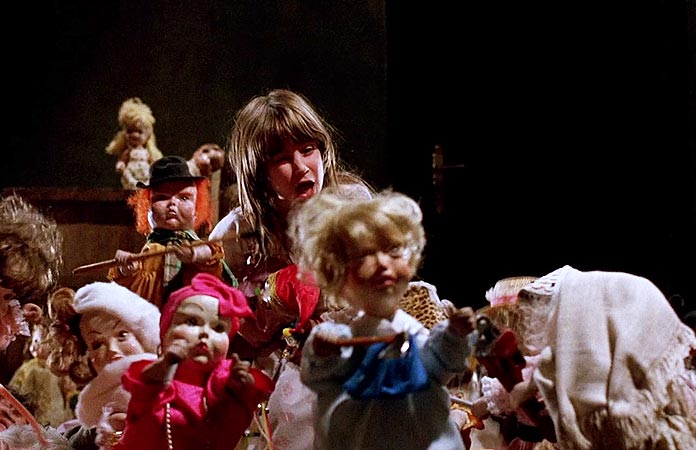 Stuart Gordon was one of the first directors I fell in love with. It started when I saw Robot Jox and then continued from there. Gordon's films have had a huge impact on the horror industry and he still rocks people to this day. He hit it big with Re-Animator and From Beyond at the start of his career and pretty much everything that followed is considered a classic and loved by almost every horror fan. With Re-Animator and From Beyond we have films that blend sci-fi and horror, but both tell ambitious stories. I've always thought that Stuart Gordon was diverse because of his multiple styles, as seen in films like Space Truckers, Fortress, and of course, Dolls.
I was seven when I first watched Dolls and I remember renting it as a new release along with Dolly Dearest. I wasn't scared of dolls at all; the only doll film that scared me was Child's Play but I quickly moved past that. I was submerged in horror at such a young age that watching those films just became natural. I think it all happened so fast I was unable to formulate any type of fear of anything or be scared of any imagery. I guess I'm lucky in that sense.
I will say that night of watching Dolls and Dolly Dearest did freak me out a little bit and it was because of the dolls' faces. Their smiles, soulless eyes, and lack of emotion are enough to give you an unsettling feeling. Dolls is an R-rated kids film but it really feels like it's PG-13 at times. There isn't a lot of blood in Dolls and even though there are a couple of sexual references, all in all it is pretty tame.
Scream Factory has done another superb collector's edition release for Dolls. There are some nice featurettes on this disc along with stills and behind the scenes stuff, but what really shines is the informative commentary with Gordon and screenwriter Ed Naha. You can tell these guys have stayed close friends after all these years.
Dolls retains the grain in its visuals, which is consistent with the film's natural look. These are the kinds of Scream Factory transfers that I love because they make the film look old but clear at the same time. Fans of older films want to see this kind of transfer, especially at this price point. It also makes us feel like we are young again, watching a VHS tape on a tube television back in the '80s.
Dolls will be released by Scream Factory on November 11.