Published on October 31st, 2014 in: Halloween, Holidays, Horror, Music |
By Tyler Hodg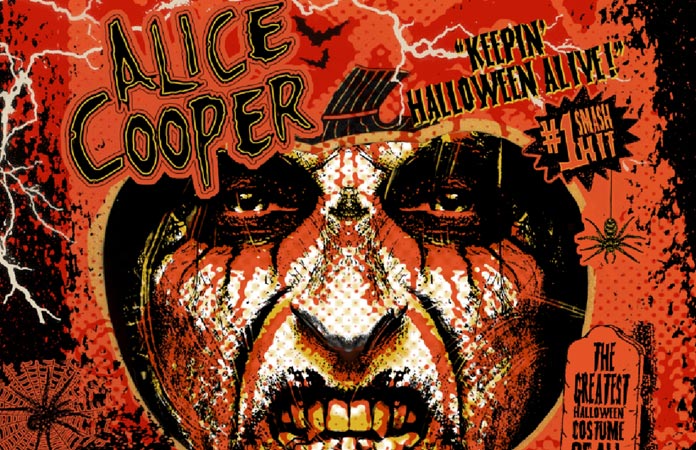 Unless you've lived under a rock your entire life, you know that Alice Cooper makes a living out of shocking and scaring audiences. This year marks the fifth anniversary of the King of Hallowe'en's spooktacular single "Keepin' Halloween Alive," and it's only fitting that the song sees a revision. Released digitally and on glow in the dark vinyl, "Keepin' Halloween Alive" is definitely not a trick, but a high energy, extremely fun treat. You know, brand name, none of that generic crap.
I can't fathom the fact that it took Alice Cooper 40 years to make an official Halloween song. Nonetheless, "Keepin' Halloween Alive" not only rocks, it's scary good. It's up-tempo and is the perfect way to get into the spirit for the day of the dead.
Buying the digital version of the song is great and all, but the seven-inch glow in the dark vinyl is definitely the way to go. Side A features the song "Keepin' Halloween Alive" and if you flip the vinyl over, side C (very clever, Alice!) is a live version of the fan favorite "I Love the Dead."
I don't know where Alice Cooper has been hiding, but Halloween is alive and well. His song hasn't exactly become a mainstream Halloween hit, which is a shame seeing as it's the perfect song for the occasion. Just as we're keeping Halloween alive, we should be keeping this song alive as well. Long live Alice Cooper and may everyone's Halloween be a thriller of a night.
Boo!