Published on October 31st, 2014 in: Blu-Ray, DVD/Blu-Ray Reviews, Horror, Movie Reviews, Movies, Reissues, Retrovirus, Reviews |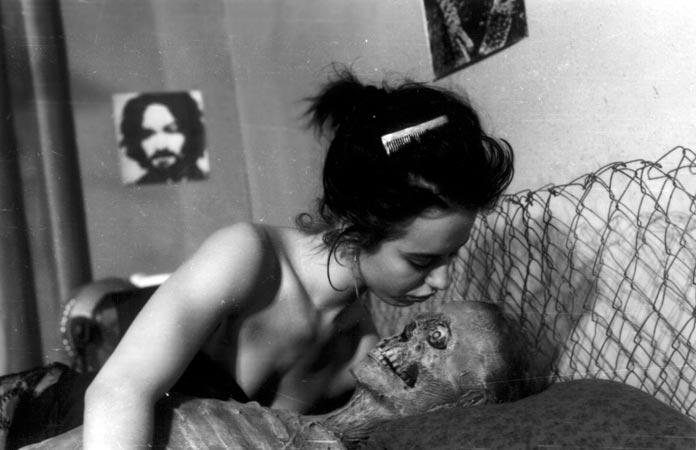 Years ago I came across a VHS bootleg of Nekromantik. All these years later, I thought I had seen Nekromantik in its entirety. I was wrong.
I'm almost at a loss for words at this point to actually explain Nekromantik. This is a film that is just batshit insane and makes you cringe. . . a lot.
Before I actually talk you into watching it, I will say there is a killing and skinning of a rabbit. Yes, a bunny rabbit, a cute bunny rabbit. It obviously isn't fake; it is totally real and very hard to watch. I'm all for blood/gore and fucked up shit, but it is the real shit that gets me. No matter how hardcore the special effects are, however fucked up the story line, I'm cool because I know it is fake. But when it comes to real life shit, I can't deal with it.
Of course, everything else in the movie is done with special effects (I hope), but I'm still weirded out by what I've witnessed. I feel that the director had something in his past history that he wanted to express in a way that was honest and brutal. There aren't too many films that make it big by doing this sort of thing; in fact, most suffer when they do. I think that these filmmakers just want to get it out there and don't care if it is successful or not, kind of like an artist that paints or does sculptures. They may never put it out for the public to see but it is something that they needed to do. I know filmmakers go this route as well and I can appreciate them doing something that they know might fail. That's how I feel about this film; there is more to it. . . or it just could be about two people that like fucking corpses.
In Nekromantik we follow the story of Rob who works at a company that cleans up accidents and deaths. Rob brings home body parts to share with his girlfriend and they "do" stuff with the parts, but one day Rob brings home a full decomposing corpse and his girlfriend shows more affection to the corpse.
Yeah. . .
Cult Epics is giving Nekromantik a very good release and they have taken a large amount of time and effort to give you everything you want. There are two different transfers of the film on this Blu-ray: there is an approved Director's HD transfer from the original Super 8mm (which I watched) and a Grindhouse HD version taken from the 35mm (which I skimmed) and both look incredible and flawless. There is quite a bit of bonus material from director Jörg Buttgereit, including a Q&A, introduction, commentary, and a never before released short called Hot Love, another HD transfer with a commentary track.
Companies like Scream Factory or Kino will release bare bones editions of films, but when someone as small as Cult Epics puts out Nekromantik and the disc is filled to the brim with special features and additional material, it's impressive. I've seen most of the Cult Epics releases and there is a reason why they aren't shooting off discs every Tuesday. They take their time with each and every release making sure you get something for every penny you spend. I'm hoping with a substantial release such as Nekromantik we can expect more from Cult Epics in the future. I'm also curious how the UK company Arrow is going to compete with a release like this. We shall see.
Nekromantik was released by Cult Epics on October 7.