Published on October 24th, 2014 in: Current Faves, Music, Music Reviews, Reviews |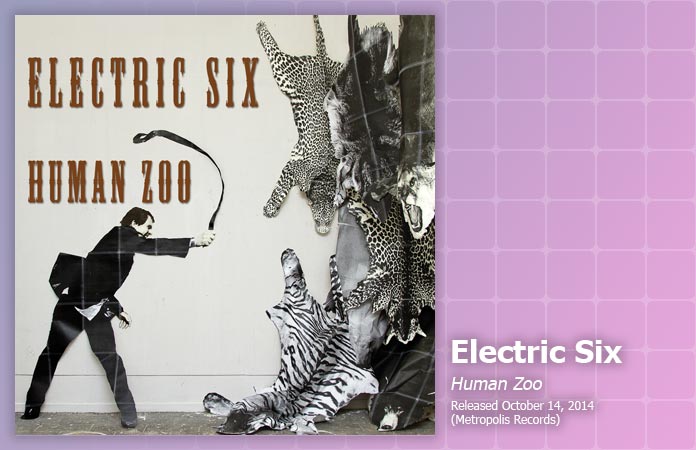 The first Electric Six album I heard was I Shall Exterminate Everything Around Me That Restricts Me From Being The Master. As if that title wasn't strange and unwieldy enough, I literally could not process what I was hearing. What the fuck was I listening to exactly?
After seven years and several albums, I've figured out more about Electric Six. But it doesn't mean that every new album from the band doesn't make me ask that same question again. Human Zoo, their tenth (!!), is perhaps weirder than most E6 albums, but is also possibly their most cohesive since Heartbeats and Brainwaves, which was itself a bit of an anomaly in the canon.
Opening track "Karate Lips" is a hard rock bit of fun, with a narrative somewhat similar to Zoe Bell's recent movie Raze, only it's about (what else?) karate. (Also there's no mention of anyone actually fighting to the death.) The Gap Band's "You Dropped A Bomb On Me" haunts the '80s disco funk of "It's Horseshit!" an instant E6 classic that should be played at every show from now on. In fact, '80s disco funk could apply to several of the tracks on Human Zoo, particularly the guitar and bass of "Satanic Wheels." As a Duran Duran lifer, I am not complaining.
But wait, there's more! Impossible to describe or categorize due to their many influences and frequent appropriation of various musical genres—often within the same song—Electric Six has decided to try their hand at Motown this time around. One would think that being from Detroit, this would be something that would have occurred long ago, but with the exception of their cover of The Spinners' "Rubberband Man," it hasn't. "Alone With Your Body" is the result, and like many of the band's finest tracks (of which it is one), it uses hilarious lyrics to tell a creepy story, along with synthesized horns and appropriately styled female backup vocals from Kristin Von. D.
It's hard to determine what song on Human Zoo is the weirdest and/or most off-putting. "Gun Rights," which could be a Neil Hamburger sketch gone awry or Dick Valentine channeling the vocal style of JG Thirlwell, is as bizarre as it is straightforward. Then there's the twisted "(Who The Hell Just) Call My Phone?" with its catchy guitar riff. Both are going to get stuck in your head even if you hate them. That's the Electric Six guarantee. (For the record, I don't hate either.)
The Evil Cowards-esque "I've Seen Rio In Flames" makes good use of orchestral synths and car crash noises while "I Need A Restaurant" continues the Sparks vibe that began on Mustang's "Gimme The Eyes." The emotive guitars and keyboard wails of "Worst Movie Ever" both support and contradict the overwrought humor of the lyrics.
One of at least a dozen E6 songs that references the Devil or one of his minions, "I'm The Devil" cuts through the bullshit and gets straight to the point, featuring one of the best lyrics on the album: "I consulted with your bogeyman and he told me how to get to you/I feed off the fear of folks like you who hate what the world's comin' to." Jesus gets his turn, too, in case there was any question. "Good View of the Violence" has a fantastic groove and slide guitar and lyrics that remind me of that part in Highlander where The Kurgan plows a car through pedestrians while Brenda is trapped in the passenger seat.
Wrapping it all up with a poignant ending has become an Electric Six trademark and while it might not be "White Eyes" (my personal favorite poignant wrap-up song), "The Afterlife" is pretty great on its own terms, with some impressive keyboard melodies and lyrics.
All of the music on Human Zoo is amazing, with the band sounding tighter and more vital than ever, which is impressive in its own right, especially after 11 years, ten albums, and near-constant touring. Here's to ten more albums, Electric Six. When the sign changes to "over one million served," I'll be there, cheering.
Human Zoo was released on October 14 through Metropolis Records. If you're not already following the band on Facebook, what the hell is your problem?
Tour Dates:
Nov 18: Kosmonavt Club, Saint Petersburg, Russian Federation
Nov 19: Theater Club Moscow, Russian Federation
Nov 20: La Maroquinerie Paris, France
Nov 21: Patronaat, Grote zaal Haarlem, Netherlands
Nov 22: De Oosterpoort Groningen, Netherlands
Nov 23: parde van troje The Hague, Netherlands
Nov 25: O2 Academy 2 Sheffield Sheffield, United Kingdom
Nov 26: Manchester Gorilla Manchester, United Kingdom
Nov 27: Liquid Room Edinburgh, United Kingdom
Nov 28: Limelight Belfast, United Kingdom
Nov 29: The Academy Dublin, Ireland
Nov 30: Ucheldre Centre Holyhead, United Kingdom
Dec 02: O2 Academy Newcastle Newcastle Upon Tyne, United Kingdom
Dec 03: O2 Academy 2 Birmingham Birmingham, United Kingdom
Dec 04: O2 Academy 2 Liverpool Liverpool, United Kingdom
Dec 05: O2 Academy Islington London, United Kingdom
Dec 06: Concorde 2 Brighton, United Kingdom