Published on October 24th, 2014 in: Blu-Ray, Current Faves, DVD/Blu-Ray Reviews, Movie Reviews, Movies, Reissues, Retrovirus, Reviews, Underground/Cult |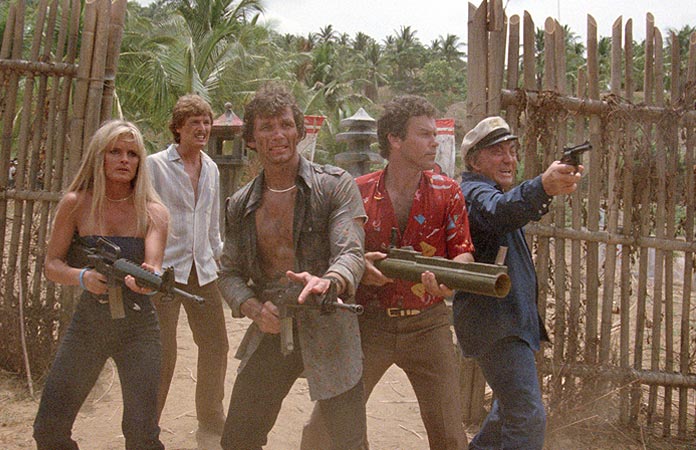 I could go on and on again about how important Vinegar Syndrome is to cinema but I'll refrain . . . for now. Instead, I'm going to attempt to explain the awesome and completely nutty Raw Force. I first saw this film about a year and a half ago and didn't know what to say. It has everything that I want in old cheesy B-movies: comedy, action, boobs, karate, rocket launchers, zombies, weird parties, horrendous acting, people breaking ice with their faces. (Seriously, a dude breaks a block of ice with his face, but it isn't for show; it is actually to get ice for a drink he is making for someone. I shit you not on this.)
Raw Force is also known as Kung Fu Cannibals over here in the US. I agree that title is a little misleading and Raw Force is a little more fitting. A group of martial arts students are on a cruise ship to stop by a place called Warrior Island, a home to ghosts of martial arts warriors. Some Chinese Hitler guy is running a female slave operation and ruins the party, pisses off some cannibal monks, and then tries to capture some ladies on a cruise ship! Movie boner? Yup.
I'm sure people will wonder if Raw Force is a good movie or not because Vinegar Syndrome has been known to release some obscure and wild stuff but this movie is thoroughly enjoyable. I'm not a fan of the old saying "so bad it's good." If you find yourself using this cliché, you need to reevaluate your taste. If you say you like something of this caliber, then you actually do like it and not because it is "bad." If you think a film is bad, then you simply don't like it. I used to use this expression all the time because it's a way to get people to watch something ridiculous, but it's time for all of us to stop.
Another cool thing about Vinegar Syndrome: they put a great deal of work into all of their releases. The transfers on their Blu-rays are amazing (and they do a wonderful job on DVDs as well). With the release of Raw Force, Vinegar Syndrome did a 2k scan from the 35mm so it looks fantastic. They put together a wonderful featurette with the director and cinematographer that made me smile multiple times and there is an audio interview with the legendary Jim Wynorski that made me laugh as well. If you told me a couple of years ago I would be watching films like this on Blu-ray along with brand new featurettes I would have called you insane.
2014 was a huge year for Vinegar Syndrome and I'm stoked to see what they have planned for us in 2015. Thank you again Vinegar Syndrome, for making me and a good portion of the hardcore film community very happy. Raw Force is the one of the reasons I'm happy that Vinegar Syndrome exists and without this company it would probably have disappeared. A few years ago cinephiles were the only ones who knew about films like this and now many others can discover this film without having to scrounge to find it.
Raw Force was released by Vinegar Syndrome on October 7.