Published on October 10th, 2014 in: Current Faves, Feminism, Music, Music Reviews, Reviews |
By Ben van D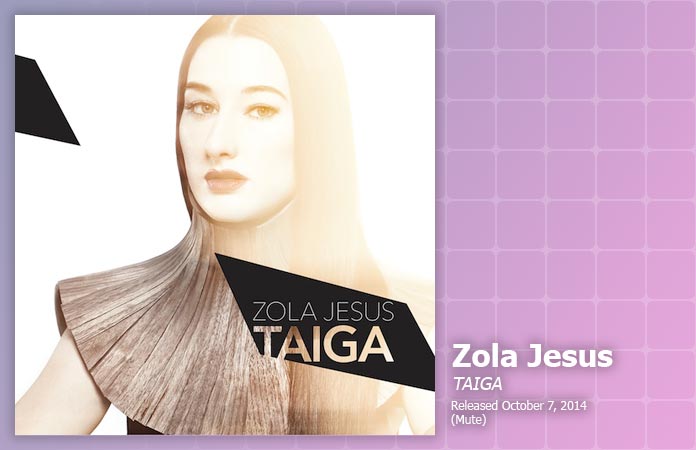 If Frozen were a greasepaint opera, a Brechtian musical set in a hinterland abyss, and directed by Robert Wilson, it would bear a passable resemblance to TAIGA. "Let It Go" would fit in surprisingly well with the themes of self-reinvention and severance from the tethers of the past running through Zola Jesus's (Nika Danilova) latest offering. Even the winter woodland setting from which the album draws its name is a parallel. None of these are to TAIGA's detriment, however. This is markedly a pop album, more so by far than any of Danilova's offerings to date, and any passing likeness to Disney's ubiquitous pop monster hit is a feather in its cap.
Fans of Zola Jesus's earlier work will find as much has changed as has remained the same in TAIGA. Gone are the sparser, trance-like tracks; gone, too, are the telltale earmarks of a more restrained production, and the special sort of innovation that comes from working within those limitations. Where before Danilova's voice was obscured by a wall of sound or buried in static blasts of noise, it now stands starkly in front, leading the orchestra confidently. The intimate lyricism remains, as does much of her broad and scenic soundscapes, now somewhat simplified and only slivered into flint sharp hooks and heartbeats.
As pop reinventions go, this one seems to be coming from an honest place. Danilova is at the helm of the change rather than coaxed there uncomfortably by the persuasion of a strong-armed marketing team. She remains as much an outsider in the popular music realm as she was anywhere else, and has not compromised any of what makes her interesting in some Faustian exchange for fame. This album is most certainly higher profile than previous offerings and noticeably more effort has gone into its promotion. A gorgeous video backing the single, strong social media presence, and most significantly perhaps, a move to Mute from her previous home on Sacred Bones for this album all signal a change in approach. There is a discernible effort to appeal to a wider audience, backed by an ample confidence in the content of this album; it looks very much like that effort will pay off.
Synths and sparse strings lend emphasis when needed and otherwise step shy of the spotlight to showcase Zola Jesus's lyricism. Danilova's voice has the feel of a sober Amy Winehouse in its best moments. More vodka than whiskey; it is distilled to a clarity, rounding off rough edges for a polished and precise delivery. This push for technical perfection is not exactly necessary, but illuminates each verse so that its full weight is felt. It inoculates this album from the epidemic of by the numbers, nakedly formulaic pop that has long held reign over the charts and fallen from the tongues of the disinterested in place of sincerity.
The percussion on TAIGA is of the driving electronic sort, keeping time and adding intensity where appropriate. Those familiar with producer Dean Hurley's recent work with David Lynch will recognize his ability to balance sizzling, crisp pop with ominous, occasionally downright menacing undertones. These skills are put to great effect here, stretching the skins of Zola's orchestration over the bones of modern pop hits. It is this skilled sonic taxidermy that results in a whole new animal from the sum of the others. It is a mermaid skeleton, an albino jackalope.
"Dangerous Days" is a throbbing dance track with a hook like a buzzard claw and an obvious choice to set the tone of the album. Listen to this one first, listen often; it will hold up, I promise.The video is loaded with relevant imagery ranging from her father's hunter/trapper trade, to glitched out coldwave-era outlines flickering about, to the snowy forests of her isolated youth in rural Wisconsin.
"Hunger" is an easy favorite on an album with lots to offer. It's a driving, head down into the wind sort of track. good for strutting through a fire-hose or getting your mom through spin class in a pinch. It's well past satisfying to belt it out along with it, and has ZJ gems like "waiting on point nemo/absolute zero/mother lung give me a hard shake/self-abuse maze I gotta break." "Nail" is a slow burning, snuffing-out-the-torch-song that pleads "set me free pull the nail out with your teeth."
TAIGA may not be Zola Jesus's operatic masterpiece, but it is a damn wide step in the right direction, and well worth a listen. It is encouraging to know that subversively clever pop is alive and well and if you ever wanted proof that Zola Jesus is more Königin der Nacht than Lana Del Rey, this is it.
TAIGA was released on October 7 through Mute.
Tour Dates:
10/8 – San Francisco, CA – Bimbo's w/ Operators
10/9 – Los Angeles, CA – El Rey w/ Leech
10/16 – Chicago, IL – Thalia Hall w/ The-Drum
10/17 – Washington, DC – Hirshhorn Museum
10/19 – New York, NY – Webster Hall w/ Martin Rev (Suicide) & Lee Bannon
10/29 – Bristol, England – Colston Hall
10/30 – Leeds, England – Belgrave Music Hall
10/31 – Glasgow, Scotland – Stereo
11/1 – Manchester, England – Manchester Cathedral – Columns
11/4 – Paris, France – Badaboum
11/5 – Strasbourg, France – La Laiterie
11/6 St Gallen, Switzerland – Palace
11/7 Geneva, Switzerland – l'Usine
11/8 – Reims, France – La Cartonnerie
11/10 – Köln, Germany – Gebäude 9
11/11 – Berlin, Germany – Berghain
11/12 – Hamburg, Germany – Uebel and Gefährlich
11/13 – Frankfurt, Germany – Zoom
11/14 – Brussels, Belgium – La Nuit Botanique
11/15 – Amsterdam, Netherlands – Melkweg
11/18 – London, England – KOKO