Published on October 10th, 2014 in: Current Faves, Horror, Music, Retrovirus, Reviews, Soundtracks and Scores |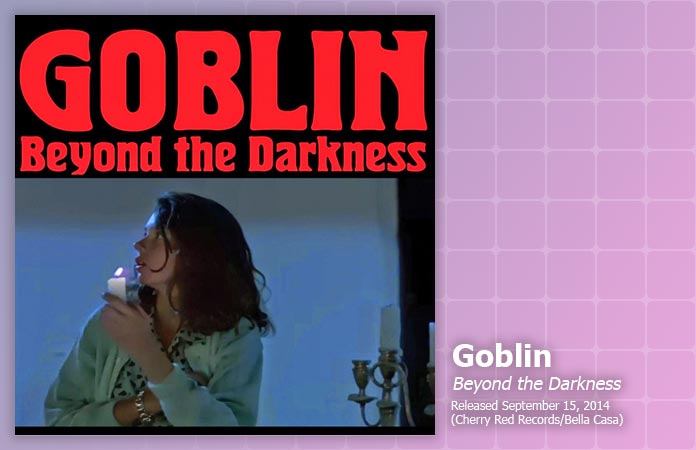 The Italian progressive rock band Goblin has been in existence, in some iteration or another, for over 40 years. Most people know them from their multiple collaborations with film director, Dario Argento, in creating soundtracks for his horror movies. Goblin hasn't made any new music, though, since the soundtrack for Non so honno in 2001. At this point, they've earned the right to rest on their laurels a tad, so instead of new music, Goblin releases a lot of greatest hits compilations.
This makes sense from a financial standpoint, to be sure, and also from a band dynamic standpoint. With founding members splitting up into different versions of Goblin (Goblin, New Goblin, Back to the Goblin, Simonetti's Goblin, and so forth), the easiest thing to do is release greatest hits albums. It works for Rush, right?
The newest set from the band, Beyond the Darkness, strays away from their more familiar material and heads for the deep cuts. You'll find none of their music from Suspiria or Dawn of the Dead here. There are two advantages to a collection like this. First of all, there's not a lot of double-dipping. Sure, you may have the opening theme to Buio Omega or Phenomena, but this record gives us some of their non-horror soundtrack music, too. That's the second advantage to this set; because the music is a little more obscure, the listener is not distracted with trying to visualize the scenes that go with the music they're hearing.
Beyond the Darkness highlights Goblin as a band, with and without key member Claudio Simonetti, not just as some guys who make spooky music.
Just for example, take the song "Funky Top." It's from a film called Amo non Amo, which starred Jacqueline Bisset. Internationally, it was retitled Together? In fact, in the United States, the movie was totally rescored by Burt Bacharach. He was married to Carole Bayer Sager! The chances are good that a lot of fans have not heard this music before, and they should. "Funky Top" is a smooth little rocker, showing off the fretless bass licks of Fabio Pignatelli. It's certainly on par with their better work, and one that could become a fan favorite. It's the inclusion of those exposure-deserving tracks that makes Beyond the Darkness a different kind of Goblin compilation than what we've previously received.
Also represented are songs from Luigi Cozzi's wonderfully dreadful Contamination, music which literally drips with tension. We get music from the Australian coma horror film Patrick, which is nice and eerie. There is also music from some of the Italian crime movies (the proper name for that genre being poliziotteschi) like Spy Connection and Squadra Antigangsters. The cop music tends to borrow fairly heavily from James Bond themes, particularly the song "Nocturne," but it plays more lightly than John Barry bombast, feeling more like something you would listen to while playing the old arcade version of Spy Hunter.
Goblin has garnered new fans with their newfound devotion to touring, and Beyond the Darkness should be essential listening for those with only a passing familiarity with their work. Those folks will find an unexpected depth and musicality within Goblin that their horror soundtracks don't always emphasize. Older fans may enjoy finding some lesser-known Goblin tracks all in one place.
Beyond The Darkness was released by Cherry Red Records/Bella on September 15.