Published on October 3rd, 2014 in: Current Faves, Feminism, Music, Music Reviews, Reviews |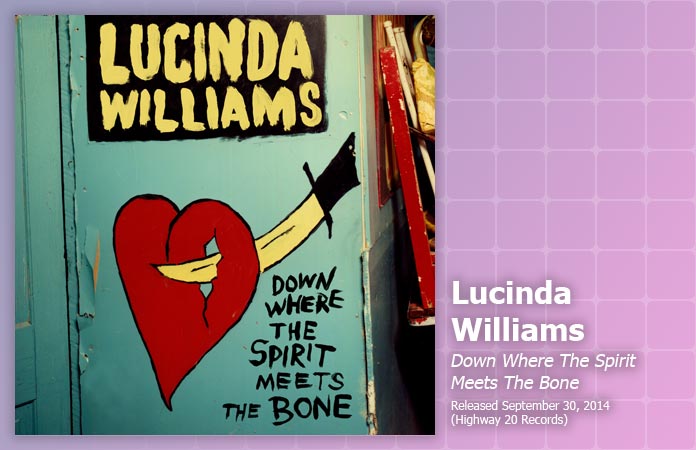 There is no one quite like Lucinda Williams: her voice, her particularly Southern identity, her phrasing, her stunning writing. A true American iconoclast, she has been recording for over four decades, and shows no signs of compromising her integrity or sense of self. On her new album, Down Where The Spirit Meets The Bone, released on her own independent label, Highway 20 Records, Williams speaks for the poor, the rejected, and the disenfranchised while asking for compassion. Of the 20 songs on the album, she wrote 18 of them, and her very particular voice could not be clearer.
Lucinda Williams has surrounded herself with crackerjack musicians on this outing, including guitarists Tony Joe White and Bill Frisell, Ian McLagan from the Faces, and Stuart Mathis of the Wallflowers. The musicians are showcased on Down Where The Spirit Meets The Bone, and there are times when it seems that they are allowed to go on a bit long. There are moments that go on interminably while the (admittedly talented) guitarists noodle freely and without restraint. Down Where The Spirit Meets The Bone is a double album, and sometimes it feels superfluously padded.
What aren't padded are Lucinda Williams's lyrics. Her stories are sparse and sometimes obtuse. Her words are carefully chosen and convey so much with so little. Her turns of phrase are glorious and evocative. "You have to choose what eyes to look through in the end" from middle-of-the-road rocker "Burning Bridges" is a particular favorite. The opening line of "Stand Right By Each Other"—"something destructive goin' on"—conveys the situation between a couple immediately.
Her gift for lyrics is, perhaps, genetic. Her father, Miller Williams, is a poet and for the first time, Lucinda Williams has recorded one of his poems as a song. The result, "Compassion," is a stunning album opener. Acoustic, low, and rich, the song is a plea to treat everyone with compassion because, "You do not know/what wars are going on/down where the spirit meets the bone." It is so breathtaking that I hoped the whole album would be in a similar vein.
The swampy, low slung "West Memphis," presumably told from the perspective of one of the West Memphis Three (and even more presumably Jason Baldwin) is thick with fuzzy guitar and lonesome harmonica. While the protagonist is railroaded for murder, he's told "That's the way we do things in West Memphis." It's hard not to be outraged all over again about the case and Williams captures it succinctly over a chorus of churchy "mmmm's."
Her voice is worn and lived in like a Dorothea Lange photograph. On "Foolishness," in which she calls out liars and fear mongers in her life, her voice becomes distinctly southern, and she spits out the lyrics like an angry mantra with such vehemence it is devastating. Williams duets with Jakob Dylan on "It's Gonna Rain." His voice is incredibly soothing and their harmonies together are deeply lovely. The lonesome guitar sounds like rain sliding down a window. Williams slips further into Americana territory, or possibly fully into country mode, on "This Old Heartache." She sounds perfectly suited to the style, like she was born to sing country.
While many of the songs do go on a bit long, the final track, JJ Cale's "Magnolia," doesn't, despite being nearly ten minutes long. It's a leisurely, gorgeous version, and here Williams sounds as if she's singing because it just feels good to do it.
Doing a double album is a bold move. Sometimes double albums could use a little editing, and this one is no different. However, lyrically and vocally, Lucinda Williams's Down Where The Spirit Meets The Bone is so pure and honest it feels precious. She's a true American original.
Down Where The Spirit Meets The Bone was released by Highway 20 Records on September 30.