Published on October 3rd, 2014 in: Canadian Content, Current Faves, Feminism, LGBTQ, Music, Music Reviews, Reviews |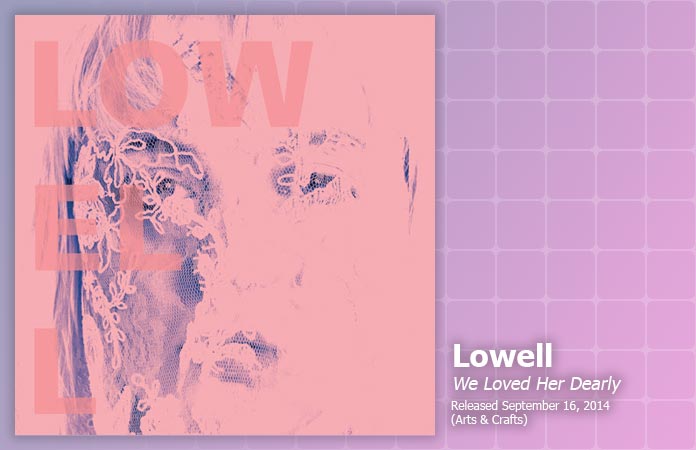 You live in a man's world, I live in my own world.
I tell you I don't want you anymore.
—Lowell, "I Love You Money"
Imagine if there were a female singer/songwriter/musician who's a Britney Spears-loving feminist, a former stripper who self-identifies as bisexual, and who has synasthesia. And imagine that her music is poppy and provocative and that she sings like both an angel and a banshee. That person is real and her name is Lowell.
Lowell first came to my attention earlier this year with her dynamic and delightful EP I Killed Sara V. (review). Its first track, "Cloud 69," is a unique slice of sugary, sexy pop and like nothing else I've heard. We Loved Her Dearly contains that EP's five tracks plus seven more and it's going to blow your mind and break your heart.
We Loved Her Dearly opens with a more low-key, but no less invigorating tune, "Words Were The Wars."
And I was a lonely stone in your path
And you threw me across this hole I was living in
And now I'm a rock and you rock me slowly tonight
Guess who needs who more this time?
Lowell displays the kind of self-confidence that feels hard-won after years of hard knocks, so it's surprising that she's only 22. She sings like the music HAS to come out of her, like she's gliding into the stratosphere on the waves of joy that hearing her own voice brings to her, even if the subject matter of the song itself is less than joyful.
"Summertime" is a simple, stunning tribute to the warmer months that anyone from north of the Mason-Dixon line can appreciate. No heavy politics, just fresh, warm breezes and spotless beaches. "Palm Trees" takes this a step further with double entendres and a lovely piano/vocal fade out. The bounce and the beat of "The Bells" is an ode to the joy of hearing a ringtone when someone you're hot for is hot for you, too, and "88" is an unexpected take on infidelity and hints that unlike piano keys, everything is not black or white.
Perhaps the most experimental song on an album full of idiosyncratic spontaneity is "The Sun," where Lowell's spooky vocals and the sounds of a broken record elicit visions of what it's like when the center of your universe is no longer there. Think of the film Martha Marcy May Marlene and you're almost there.
"I Killed Sara V." (where the title of this album originates) is just as powerful as it was when I first heard it this spring, but in the midst of all these other songs, it takes on a deeper significance, describing the grim, self-loathing undertones of the personas we create, inhabit, and abandon to deal with sexual trauma. Contrast this with the brazen, bossy "I Love You Money," a nod to Lowell's past and remarkably empowering. Not to mention catchy as fuck.
And if there's anyone who's still unconvinced that sexuality and gender are not a choice, I dare them to listen to the most heart-burstingly joyful tune about being born that way I've ever heard, "LGBT," which has the same number of letters as the word L.O.V.E., Lowell is quick to point out. "Some old people hate to change except when they're praying away the things they need to shame" she squeals, riding an emotional and musical high into the upper reaches of her vocal register. It's deliriously, deliciously fun. "Tell Me What You Want Me To Do" continues the fun, with a carnival ride atmosphere and sharp lyrics: "You used to tell me that I read you like you're on a page/how can I convince you that things just do not work that way?"
The album ends with the thought-provoking mantra of "Time I Lower Me Down"—"what I have seen is lost in the dark/what I have done is lost in the dark"—a gorgeous, melancholy sequel of sorts to "I Killed Sara V." with piercing vocals.
How can someone this young be this prescient and talented? One of the best things about We Loved Her Dearly is that it announces the arrival of someone with a fascinating career ahead of her. Lowell deserves all the hype and then some.
We Loved Her Dearly was released by Arts & Crafts on September 16.
Tour Dates:
10/15: Columbus, SC @ Colonial Life Arena (students only) #
10/17: Morgantown, WV @ Morgantown Event Center #
10/18: Ithaca, NY @ Barton Hall #
10/23: St. Louis, MO @ Chaifetz Arena #
10/25: Hattiesburg, MS @ University of Southern Mississippi #
10/28: Indiana, PA @ Ohio Room #
10/30: Bloomsburg, PA @ Nelson Fieldhouse #
11/1: Lewiston, ME @ Bates College #
11/16: Los Angeles, CA @ The Well +
(Red Bull Sound Select Presents: 30 Days in LA)
12/2: Chapel Hill, NC @ Local 506 ^
12/3: Philadelphia, PA @ Johnny Brenda's ^
12/5: Toronto, ON @ The Garrison ^
12/6: Montreal, QC @ Il Motore ^
12/7: Allston, MA @ Great Scott ^
12/9: Columbus, OH @ The Basement ^
12/10: Asheville, NC @ The Mothlight ^
# = w/ Icona Pop
^ = w/ Generationals
+ = w/ Dum Dum Girls
* = w/ Monarchy