Published on September 12th, 2014 in: Canadian Content, Current Faves, Music, Music Reviews, Reviews |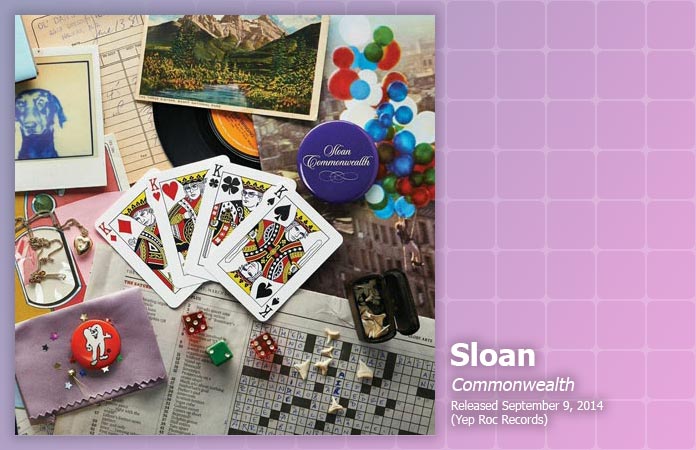 Roughly a million years ago, or probably closer to 12, my new friend Dave and I were chatting with Sloan's Andrew Scott after a show and Dave asked if perhaps one day Sloan might do something like KISS did in 1978: each member release a solo album at the same time and they could have matching covers and see whose sells the best. Andrew replied, laconically, "Oh, Jay would fucking love that." (I'm not paraphrasing there; I'm pretty sure that's what he said exactly.)
I can only imagine how excited Dave is right now, upon hearing Sloan's newest release Commonwealth. On this go 'round, Sloan have given one side of this four-sided album to each member, effectively as a solo record. And while comparisons to KISS's output here are easy, there is no way that those albums contained the sheer amount of finely crafted power pop/rock diamonds that Commonwealth manages to pack into these 15 tracks. I don't know how Sloan manages to do it after over two decades, but they consistently write songs that are fully realized, glorious nuggets that perfectly distill so many of their influences into classic feeling and sounding songs. You always know a Sloan song.
The album kicks off with the radio-friendly, angelic voice of Jay Ferguson, the Sloan member who hews the closest to pure pop sensibilities. His "You've Got A Lot On Your Mind" is awash in goose bump-raising harmonies with bassist Chris Murphy over sunny guitar. At this point, Ferguson has written so many great songs that they're becoming self-referential. This one is both familiar and a stretch. The kicky "Cleopatra" with sassy backup vocals and assured piano is a class in handclaps and harmonies. Acoustic "Neither Here Nor There" is understated and lyrically delightful. ("Some people are born posthumously" and "A case of hypochondria of the heart" are two lovely bits.)
Chris Murphy's contributions are, unmistakably, his. "So Far So Good" is a classic Murphy ballad, with clever lines ("Did you learn nothing from five seasons of The Wire?" is a new favorite), and enormous sounding guitars over piano that leave the whole proposition feeling more than a little like a Beatles song. "Get Out" is urgent, driving, and surprisingly short. He turns in a straightforward rocker in "You Don't Need Excuses To Be Good," which showcases his fine, distinctive voice.
If Chris Murphy is Cheap Trick, and Jay Ferguson is Wings, Patrick Pentland is AC/DC. His songs are, as always, tight, rocking, and, frankly, catchy as hell. "13 (Born Under A Bad Sign)" drives like a jacked-up hot rod with thundering guitar. It's a fine earworm. On "Take It Easy," his pedal board gets a workout with nicely grungy guitar work and smart harmonies. His experimental "What's Inside" is dreamy and reverb drenched, dark and Pink Floydian with feedback wails.
Which brings us to Andrew Scott. Beefhearty and Zappaesque, Scott is uncompromising and wildly experimental. His side of the album is the 18- minute "Forty-eight Portraits." With disjointed piano and barking dogs, children singing and bits of noise, "Forty-eight Portraits" is a collage of song snippets (with an excerpt of his "Delivering Maybes" from Between The Bridges). Why not, indeed.
For a band that has been kicking as long as Sloan has, it is delightful to hear them making music that is as alive and entertaining as that on Commonwealth. They're not reinventing the wheel, here, but they are consistent and endearing as always. They do what they do so well, it's nice to know that they're still out there, fighting the good fight with hooks, harmonies, and enormous charm.
Commonwealth was released on September 9 by Yep Roc.
Tour Dates:
Tue 7 October: Sudbury, ON; Townehouse
Wed 8 October: Thunder Bay, ON; The Outpost
Fri 10 October: St. Paul, MN; Turf Club
Sat 11 October: Winnipeg, MB; The Pyramid
Sun 12 October: Regina, SK; The Lazy Owl
Tue 14 October: Saskatoon, SK; O'Briens Event Centre
Wed 15 October: Calgary, AB; Commonwealth Bar
Thu 16 October: Edmonton, AB; Dinwoodie Lounge
Fri 17 October: Kelowna, BC; Flashbacks
Sat 18 October: Vancouver, BC; Commodore Ballroom
Sun 19 October: Portland, OR; Star Theatre
Mon 20 October: Seattle, WA; Tractor Tavern
Wed 22 October: San Francisco, CA; Rickshaw Stop
Thu 23 October: Los Angeles, CA; Bootleg Theatre
Fri 7 November: Cleveland Heights, OH; Grog Shop
Sat 8 November: Detroit, MI; St. Andrews Hall
Sun 9 November: Buffalo, NY; Tralf Music Hall
Mon 10 November: Hamden, CT; The Ballroom at the Outer Space
Wed 12 November: New York, NY; Bowery Ballroom
Thu 13 November: Allston, MA; Great Scott
Fri 14 November: Washington, DC; Rock & Roll Hotel
Sat 15 November: Carrboro, NC; Cat's Cradle – Back Room
Sun 16 November: Philadelphia, PA; Boot & Saddle