Published on August 29th, 2014 in: Current Faves, Music, Music Reviews, Reviews |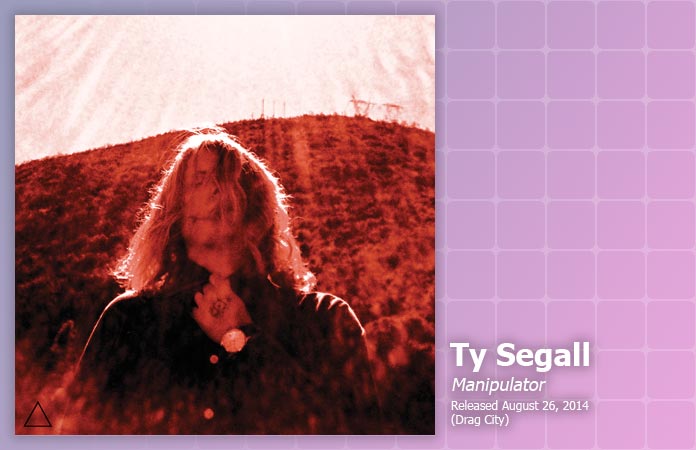 Pick yourself up, walk down the street
Feel the freaks that you shall meet
They are your family now. . .
—Ty Segall, "The Feels"
Singing old Pat Benatar songs at a karaoke party this spring revealed to me something that I hadn't realized: most popular songs today don't have guitar solos, which makes for some slightly awkward, "let's skip to the Taylor Swift track" moments when you're waiting to belt out that last Pat Benatar chorus. It doesn't make those songs any less singalong-able, it just means that a lot of younger (ahem) music fans seem to get bored if a song isn't wall-to-wall vocals.
But no one could be bored by Ty Segall. It's true, the man does have a penchant for shredding, but he can sing like a mofo and doesn't noodle or show off, unless you call displaying his prodigious talents "showing off." Spawning dozens of releases at a breakneck pace for the last six years or so (plus constant touring) means he's had plenty of opportunities to hone his craft and Manipulator is the epitome of that craft thus far.
These songs are nothing if not singalong-able, crammed with hooks, outstanding harmonies, and yes, quite a few tasty guitar solos, too. "Manipulator" jump starts the whole thing with a organ-like synth buzz and Segall's inimitable falsetto, and the album only starts to sag a bit around track 14 ("The Crawler"), but picks up again almost immediately with "Who's Producing You?" At nearly 60 minutes and 17 songs, Manipulator is Segall's longest and most ambitious release to date, so I think we can indulge him a two and a half minute weak spot.
Regardless, there is much to gush over, not the least of which is the mind-blowingly excellent "The Singer," one of those songs that clamors to be heard at least twice in a row and intoxicates your brain for hours. Segall's delivery throughout Manipulator, shifting back from tenor to falsetto without missing a beat, is just goddamn miraculous. Coupled with the push/pull of his signature chord changes, these songs are masterpieces, welcome reminders of what those of us who live to love music crave: pure distillation of joy in sonic form.
While his lyrics are specific enough to be tantalizing, yet personal enough to be inscrutable, Segall has a flair for pairing them with music that transforms them into something more emotionally significant, like the "Ask your boss man for a raise/Tell your momma she better keep her change" couplet in "The Faker." There is some beautiful imagery on Manipulator, like "Still we know/the clock will never show/the wearing and the tearing of your mind" in ""The Clock" and all of "Stick Around," the kind of self-referential song that any self-respecting band would kill to have written and any fan will deeply appreciate.
Segall's influences are vast and varied, but he's not a pop culture hack; if anything, he's a scholar, picking up various bits along the way and showing us what he's learned. Again, he's not parroting back what his elders have taught him, but transforming it into something wholly his own. That said, savvy listeners will notice that Manipulator skews heavy towards the '70s end of the spectrum, alternating (sometimes within the same song) between the early power pop of Cheap Trick, T. Rex on the verge of glam, and early '70s Bowie, including at least three specific nods to the latter. Surely Segall's recent glittery, silver-lipsticked performance on Conan was no mere coincidence.
Considering that as usual, Segall wrote every song but one and performed most of the instruments himself (with a few exceptions, notably the impeccably-placed string arrangements from Mikal Cronin), Manipulator is a singular accomplishment indeed. How does he come up with so many good melodies and riffs without repeating himself? How does he manage to subtly nod to so many of his forebears but still sound so much like, well, Ty Segall? I don't know that it's something we'll ever be able to fully comprehend, but when the music is this transcendent, it hardly matters. Blast Manipulator on the best and biggest speakers you can find.
Manipulator was released by Drag City on August 25.
Tour Dates:
Sat. Aug. 23 – Los Angeles, CA @ FYF Fest
Wed. Aug. 27 – Laguna Beach, CA @ The Marine Room
Thu. Aug. 28 – Los Angeles, CA @ Echo
Fri. Aug. 29 – Los Angeles, CA @ Echo
Sat. Aug. 30 – Los Angeles, CA @ Echo
Sun. Aug. 31 – Los Angeles, CA @ Echo
Wed. Sep. 3 – Tucson, AZ @ Club Congress *
Thu. Sep. 4 – El Paso, TX @ Lowbrow Palace *
Fri. Sep. 5 – Austin, TX @ Mohawk Outside *
Sat. Sep. 6 – New Orleans, LA @ One Eyed Jack's *
Sun. Sep. 7 – Memphis, TN @ Hi Tone *
Mon. Sep. 8 – Nashville, TN @ Mercy Lounge *
Tue. Sep. 9 – Atlanta, GA @ The Earl * [2 SHOWS]
Wed. Sep. 10 – Tallahassee, FL @ Club Downunder (FSU) *
Thu. Sep. 11 – Miami, FL @ The Stage *
Fri. Sep. 12 – Tampa, FL @ Epic Problem (Skatepark of Tampa) *
Sat. Sep. 13 – Athens, GA @ Georgia Theatre *
Sun. Sep. 14 -Durham, NC @ Motorco Music Hall *
Mon. Sep. 15 – Washington, DC @ 9:30 Club *
Wed. Sep. 17 – New York, NY @ Webster Hall *^
Thu. Sep. 18 – New York, NY @ Webster Hall #
Fri. Sep. 19 – Allston, MA @ Great Scott # [SOLD OUT]
Sat. Sep. 20 – Montreal, QC @ Pop Montreal at Club Soda #
Sun. Sep. 21 – Toronto, ON @ Danforth Music Hall #
Mon. Sep. 22 – Detroit, MI @ Trinosopes #^
Tue. Sep. 23 – Chicago, IL @ Thalia Hall #^
Wed. Sep. 24 – St. Paul, MN @ Turf Club #
Thu. Sep. 25 – Omaha, NE @ The Waiting Room #
Fri. Sep. 26 – Denver, CO @ Bluebird Theater #
Sat. Sep. 27 – Salt Lake city, UT @ Urban Lounge#
Sun. Sep. 28 – Las Vegas, NV @ Beauty Bar #
Sun. Oct. 19 – La Rochelle, FR @ La Sirène
Tue. Oct. 21 – Paris, FR @ La Cigale
Wed. Oct. 22 – Toulouse, FR @ Le Bikini
Thu. Oct. 23 – Barcelona, ES @ Sala Apolo
Fri. Oct. 24 – Madrid, ES @ But
Sat. Oct. 25 – Lisbon, PT @ ZDB
Tue. Oct. 28 – Clermont Ferrand, FR @ La Coopérative de Mai
Wed. Oct. 29 – Geneva, CH @ PTR Usine
Thu. Oct. 30 – Bologna, IT @ Locomotiv
Fri. Oct. 31 – Rome, IT @ Locanda Atlantide
Sat. Nov. 1 – Venice, IT @ Interzone Art Centre
Mon. Nov. 3 – Amsterdam, NL @ Paradiso
Tue. Nov. 4 – Hamburg, DE @ Knust
Wed. Nov. 5 – Dresden, DE @ Beatpol
Thu. Nov. 6 – Berlin, DE @ Astra Kulturhaus
Fri. Nov. 7 – Copenhagen, DK @ Pumpehuset
Sat. Nov. 8 – Stockholm, SE @ Kägelbanan Södra Teatern
Mon. Nov. 10 – Manchester, UK @ Gorilla
Tue. Nov. 11 – Leeds, UK @ Brudenell Social Club
Wed. Nov. 12 – London, UK @ Electric Ballroom
# w/ La Luz
* w/ Wand
^ w/ Axis: Sova